Bistek Tagalog is one of the simplest, yet most appetizing dishes of Tagalog region, in the Southern Luzon, Philippines, where "bistek" is believed to have originated.  The Bistek Tagalog Recipe is a local version of western beef steak.  It comes from Spanish word "bistec", it is a type of Mexican dish that made of salted and peppered meat and its covered in breadcrumbs.  It is usually served in tortillas as "bistec taco".  It is one of the all-time favorites and considered a traditional Filipino dish that prepared for special occasions or just a simple meal served in the dining room surrounded by family and friends.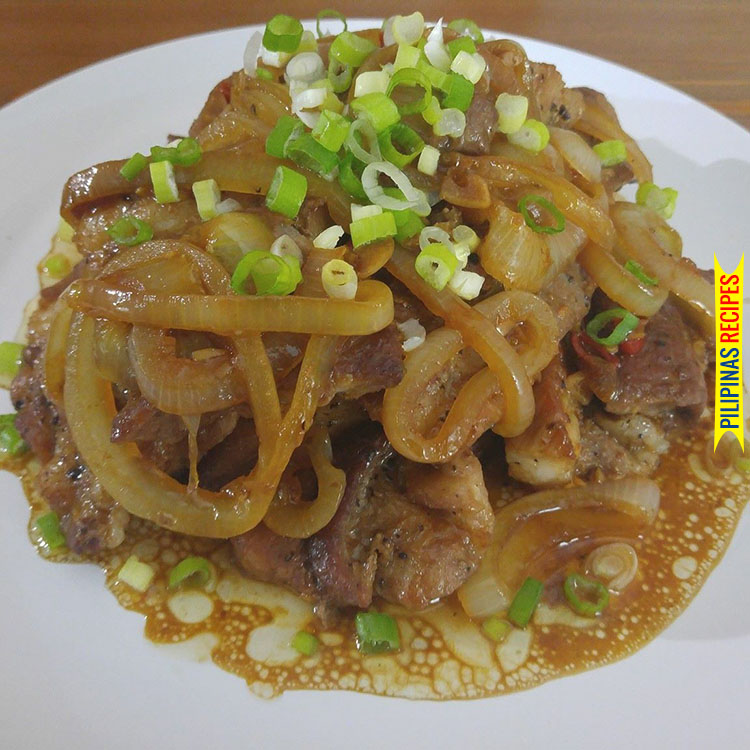 Bistek Tagalog Recipe
Author:
Pilipinas Recipes
Ingredients
1 lb. Beef or Pork sirloin, thinly sliced
¼ cup soy sauce
1 piece lemon or 3 pieces calamansi
½ tsp ground black pepper
3 cloves garlic, crushed
1 large onion, sliced into rings
3 tbsp cooking oil
salt to taste
Instructions
Marinate Beef or Pork in Soy sauce, Calamansi, and ground black pepper for at least 1 hour
Heat the cooking oil in a pan then stir-fry the onion rings until the texture becomes soft.
Set aside.
In the same pan where the onions were fried, fry the marinated Beef or Pork (without the marinade) until color turns brown. Set aside.
Put-in the garlic then saute for a few minutes.
Pour the marinade and bring to a boil.
Put in the fried beef and simmer for 15 to 20 minutes or until meat is tender.
Add water as needed.
Add the stir-fried onions and some salt to taste.
Serve with Rice
This Bistek Tagalog Recipe is a Filipino version of beef steak.  It is made with beef or pork marinated in calamansi juice, soy sauce, and pepper.  Beef is the main ingredient but a typical Filipino use pork chops that include some fats and pork skin as they add flavor to the dish or "liempo" (pork belly) for easy to cook and the meat is more tender and tastier.

Bistek Tagalog Recipe Tips
Bistek Tagalog is delicious and easy to prepare Filipino dish.  Here is the basic recipe.  Cut the beef into slices, marinade in "calamansi" juice, soy sauce, ground black pepper, and salt for about 30 minutes.  Marinade meat to tenderize keep it moist and impart a delightful flavor.  Including salt in the marinade helps to tenderize and moisturize the meat.  While marinating the beef, fry onion rings in the skillet until become translucent and set aside.  In the same skillet, fry the marinated beef steak on the slow fire, turning upside down several time until brown and tender and all the juice get evaporated.  Bring to boil the remaining marinade juice until it becomes a thick sauce.
Poured over the stir-fried onion rings and sauce on top of the Beef Steak.  Served as a main dish with steamed rice.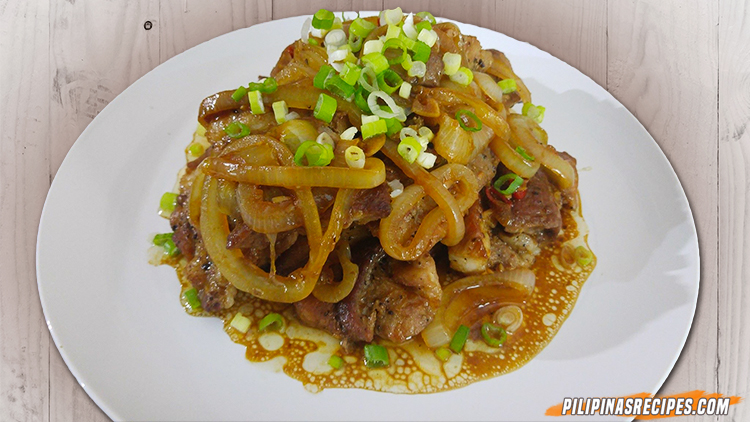 —
PS: Ideas and Suggestions to improve this recipe are much appreciated. Just comment below. Also, don't forget to like our Facebook Page for more Free Filipino Recipes. Search "Pilipinas Recipes" on Facebook or simply click this LINK. Thank You!