Christmas is just around the corner; people are in the rush nowadays to buy gifts, decors and other Christmas related items and many are already planning what they will be cooking on Christmas Eve. We summarize some of the Best Filipino Christmas Recipes below.
Filipinos, in particular, love Christmas so much and as early as now, list of foods to be served on Christmas Day is already set. Without further ado, here are the top 15 Filipino Christmas dishes and a bonus of 10 more top Filipino Christmas recipes video at the end of the article.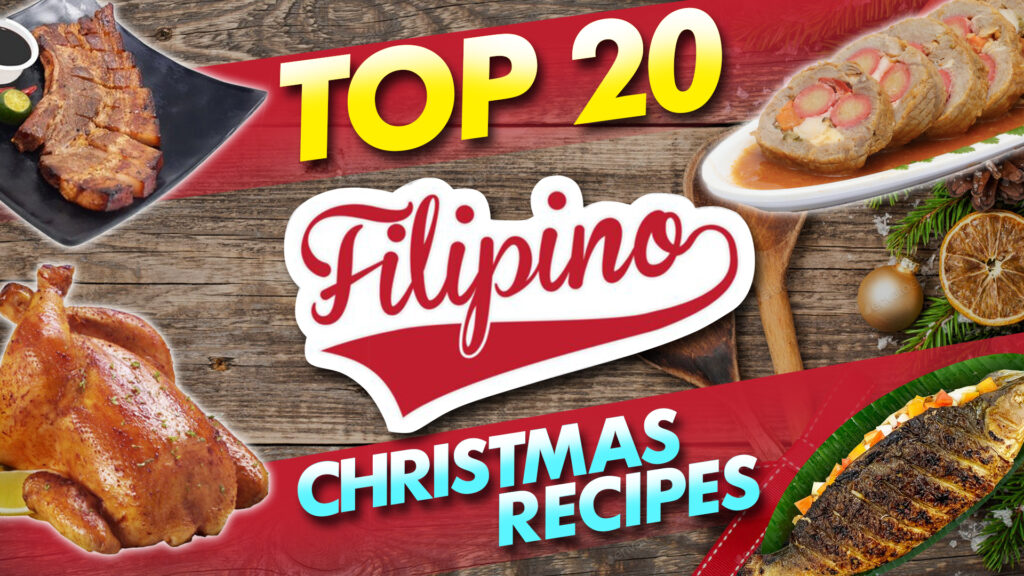 Here are the Top 20 Filipino Christmas Recipes
1. Lechon Manok – Present in All Filipino Christmas Foods

If you have a turbo broiler, you will enjoy your Lechon Manok more because you can choose a big chicken to cook; you also decide what spices, herbs, and other ingredients to put like lemongrass– be creative and put your Filipino's ideas into the mix. The skin will be shiny, dark in color and crispy but the meat is soft and tender.

Morcon is ever present in well to do Filipino families because preparation of this food is quite expensive. You will need beef, lemon, carrots, hot dogs, pickles, boiled eggs and cheddar cheese along with other condiments.Morcon will look beautiful on any Christmas center table because of its round shape and indulgent appearance.
3. Spaghetti and Pancit (Pampahaba ng Buhay for Every Filipino)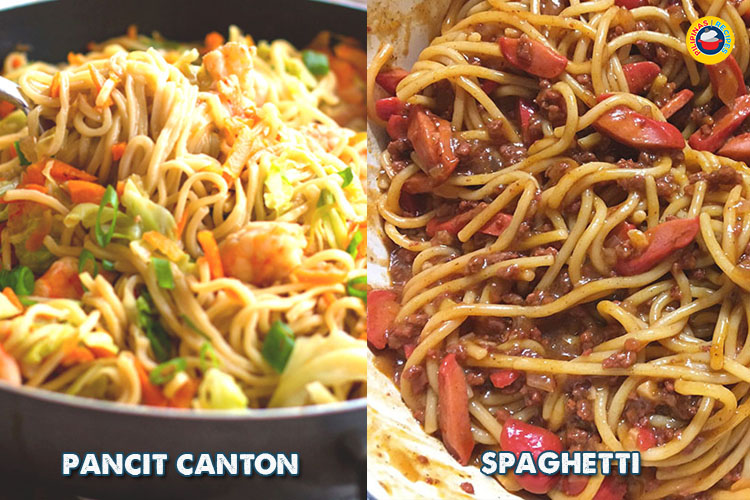 Both grown-ups and kids like both of these. Spaghetti is one of the best pasta dishes consisting of ground pork meat, hot dogs, tomato sauce, and cheese while Pancit is of Chinese origin delicacy which makes use of eggs or rice noodles, pork meat, chicken or beef liver, carrots and cabbage and so good when drizzled with Philippine lime.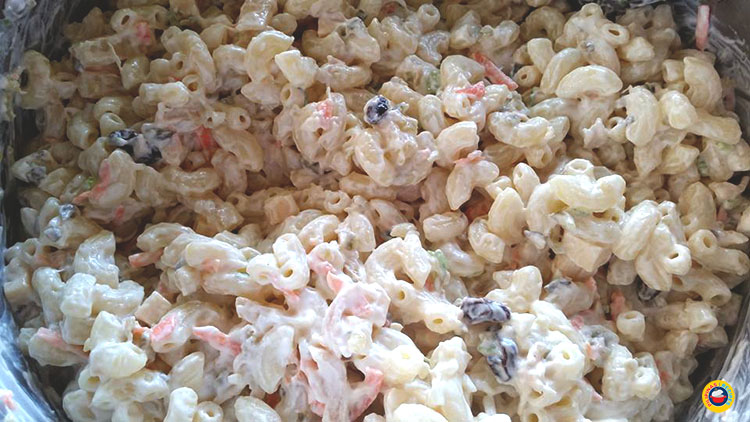 This is a semi-sweet, salty and creamy combination of macaroni pasta, chicken, pineapple chunks, raisins, carrots, onions, all-purpose cream, and mayo. It is often times served cold and topped with cheese. Filipino desserts are perfect after a full meal. For a twist, some people like to add condensed milk.
5. Buko Pandan Salad (One of the Preferred Christmas Recipes)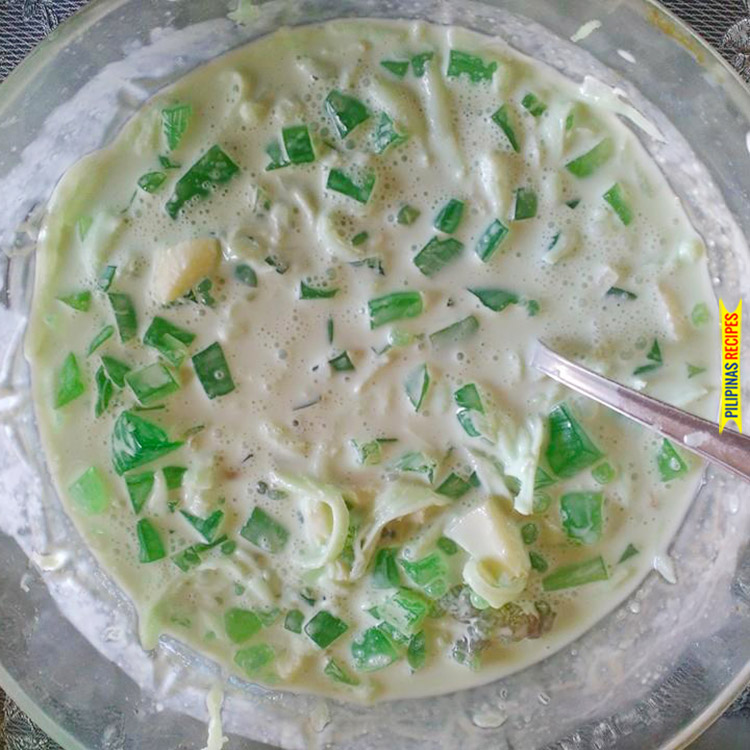 This another sweet treat that makes use of Buko and what will attract you to this dessert is its green color (green gelatin) and wonderful smell because of the pandan leaves. This is sweetened using condensed milk and added with cream. This dessert is a little runny which makes it better because the juice of the Buko Pandan is really addictive. You can also substitute this with Filipino Buko Salad Recipe or make some cotton candies as another sweet alternative during this holiday season!
6. Liempo – A Pork Dish Present in All Filipino Christmas Tables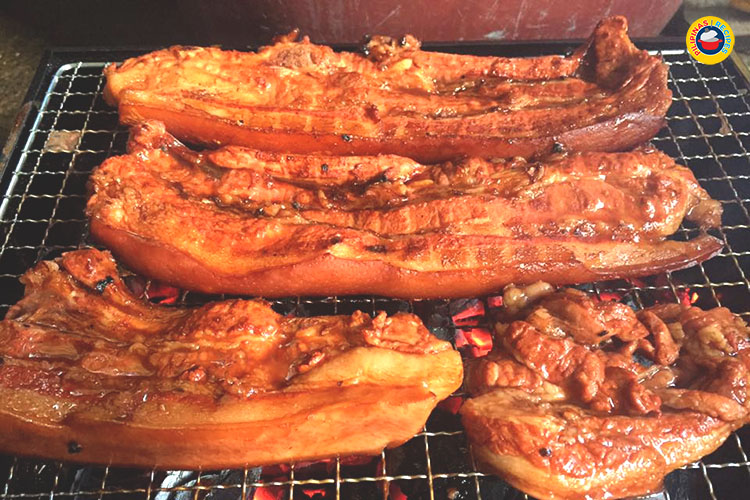 Flavorful pork belly is used in this dish. Some people marinate the pork in soy sauce, a special mix of spices like pepper, paprika and cayenne pepper for those who like it hot and garlic. This is cooked to perfection until the skin becomes crispy but the meat tender. Slow cooking is key if you want the skin to be crispy while maintaining the juiciness of the meat– easily one of the best pork Filipino dishes this Christmas season.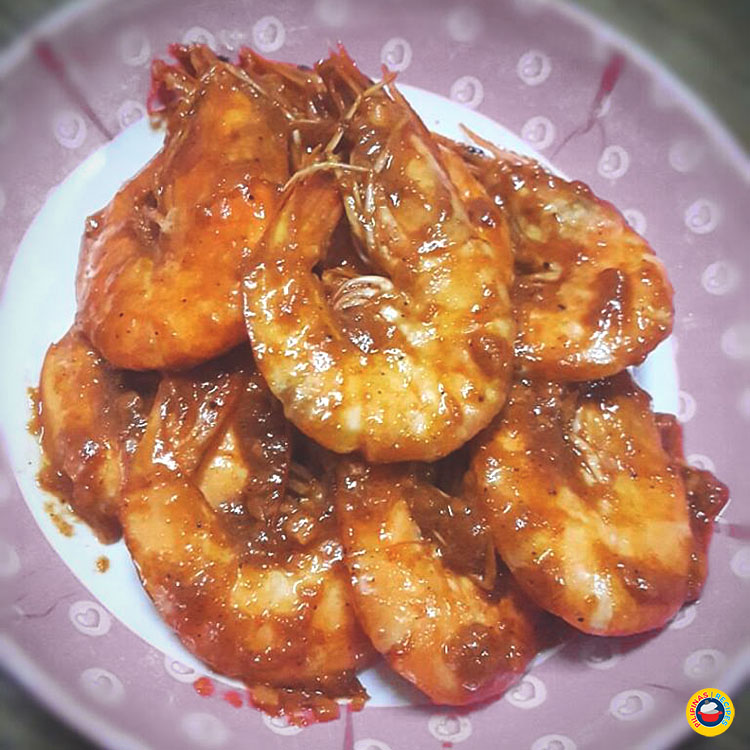 If you like seafood, you will love this dish. This is a creamy and spicy combination because of butter and chili peppers. Don't overcook your shrimps because it tastes better when it is a little half-cocked. Use fresh chili peppers for better flavor and use a lot of butter so that it will turn into sauce.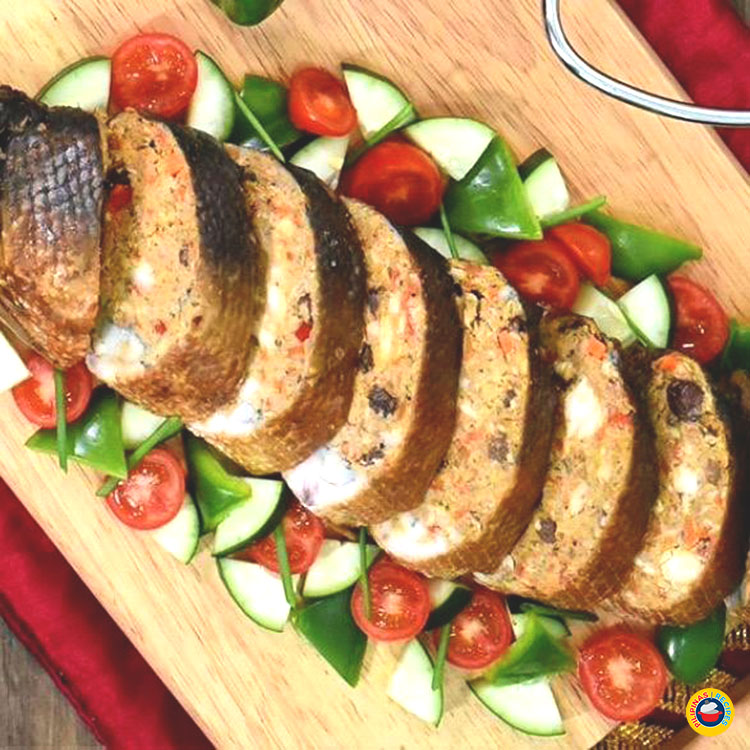 If you know how to debone fish, you can cook this dish at home which has lemon juice, soy sauce, onions, garlic, carrots, green peas, raisins, oyster sauce and flour as well as salt and pepper but you can also buy from the store or order from homemade entrepreneurs which will save you time.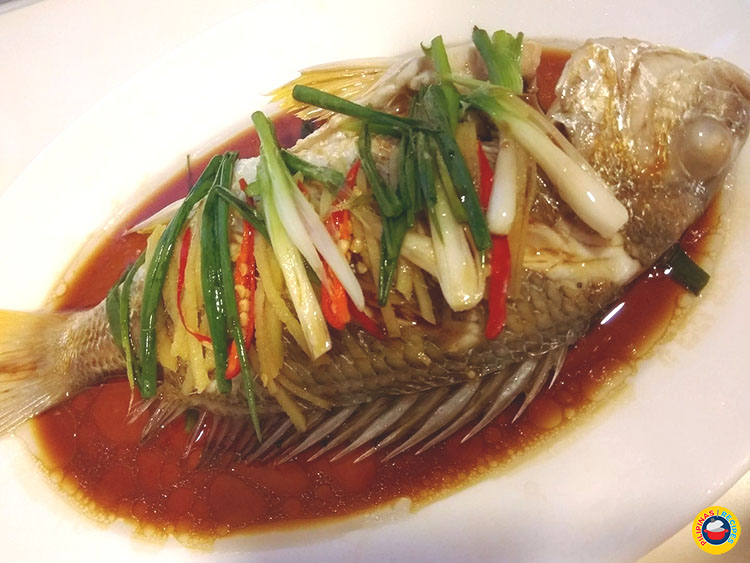 If you want something colorful for the festivities, try making this dish by using a huge fish and steaming it then top it with shredded carrots, cheese, onions, mayo and diced hard-boiled eggs. You can also decorate the sides with some herbs, cucumbers or tomatoes.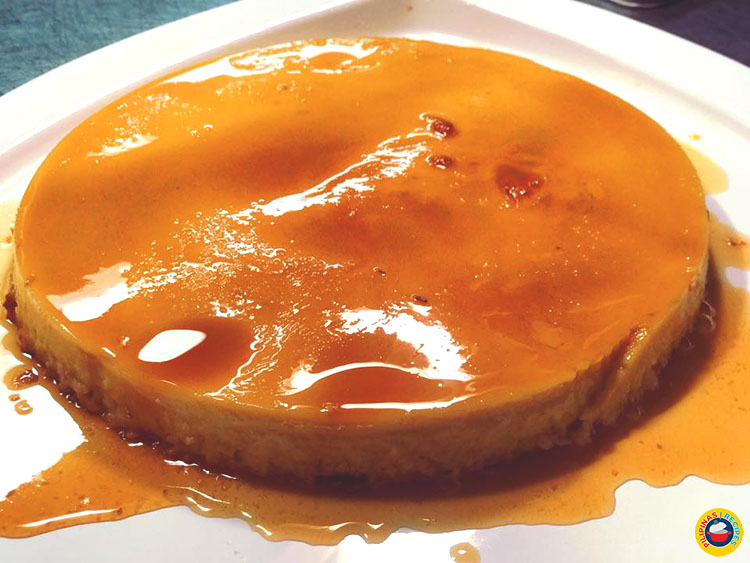 Leche Flan is made of fresh eggs, condensed milk, fresh or evaporated milk, white sugar, and vanilla extract. Some use Dayap, a kind of lime native to the Philippines. To cook leche flan, you need to steam it either using the oven or stove top and you will know it is done when you stick a toothpick or a skewer and it comes out clean.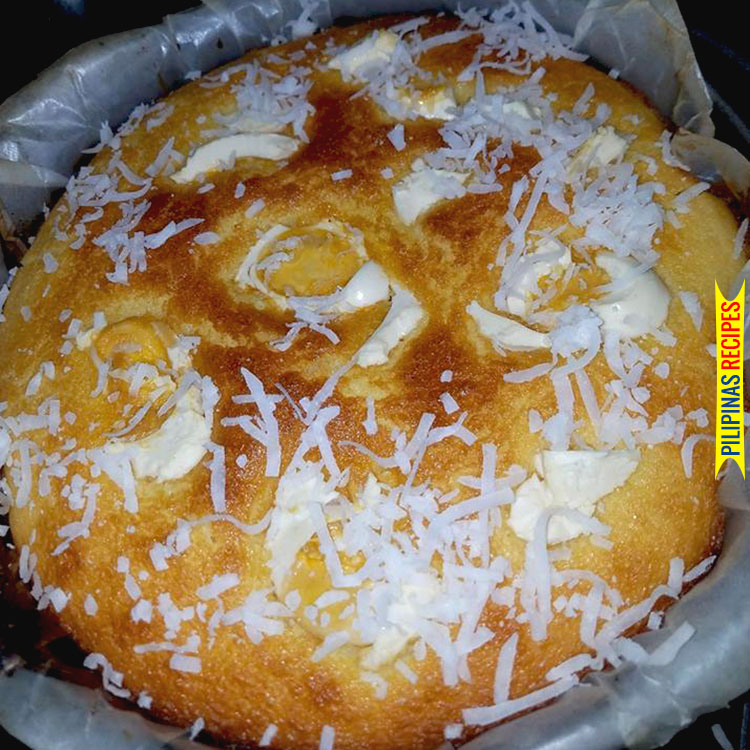 Bibingka and Puto Bumbong are common during Christmas although some sell these native sweets even during ordinary time. Bibingka and Puto Bumbong are both rice cakes prepared in different ways but are equally delicious. Bibingka has a light yellow hue while Puto Bumbong has a dark violet color. This is best eaten with Coffee or hot Choco drink (Tablea Chocolate).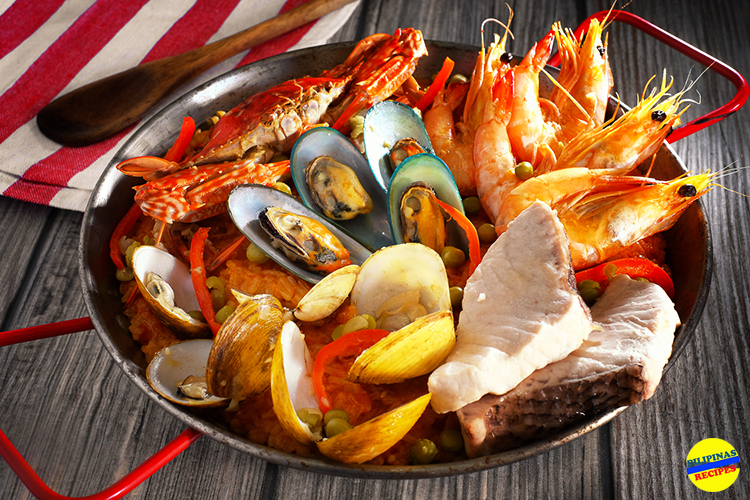 Filipino Style Paella RecipePaella is by no means a Filipino recipe in origin but Filipinos have grown to love this special dish. The Filipino Paella is made by cooking short grain white rice, tomatoes, garlic, chicken, chorizo, mussels, green peas and saffron thread (for color) together. Some people like to add lemon juice in it. The result is a culinary masterpiece because it is an all in one meal and when done properly, it is picture perfect too because of the color combination of the ingredients which you can see on top of the rice.
13. Kaldereta (Can Be Pork or Chicken)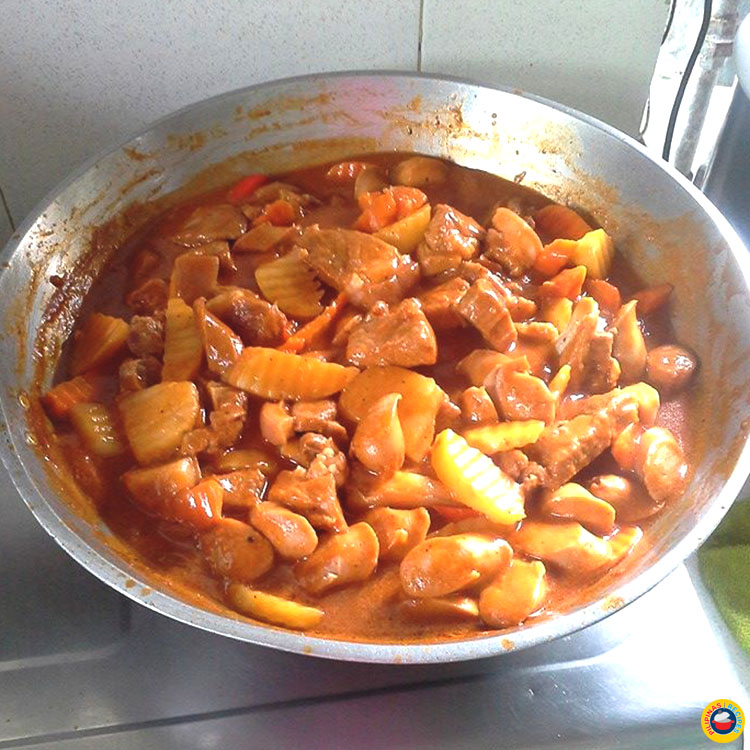 The Kaldereta (Caldereta) is another favorite among Filipinos though it did not really originate in the Philippines. This Recipe was brought to this land by the Spaniards during their three hundred years of colonization. You can say that because of their long stay in the Philippines, they have adopted this recipe by heart thus making this delicious dish a part of the Filipino menu. Kaldereta can be made with Pork Kaldereta, Beef Kaldereta, Chicken Kaldereta and the Kalderetang Kambing.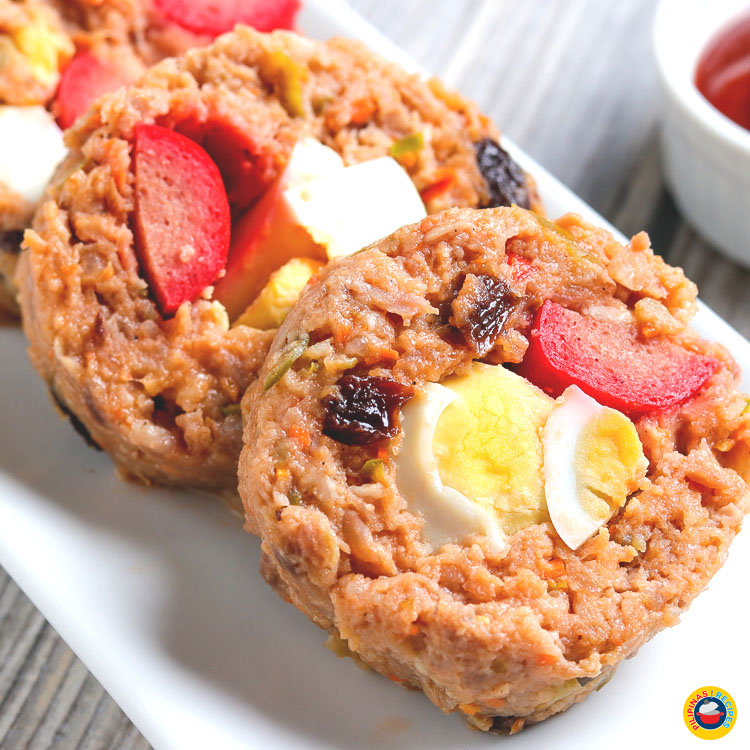 Embutido is enjoyed by many households throughout the Philippines. This sweet and salty dish is either Processed and canned which you can buy at most markets and groceries or homemade by housewives, home entrepreneur, and foodies. This Recipe can be made with Pork and Chicken (Chicken Embutido Recipe).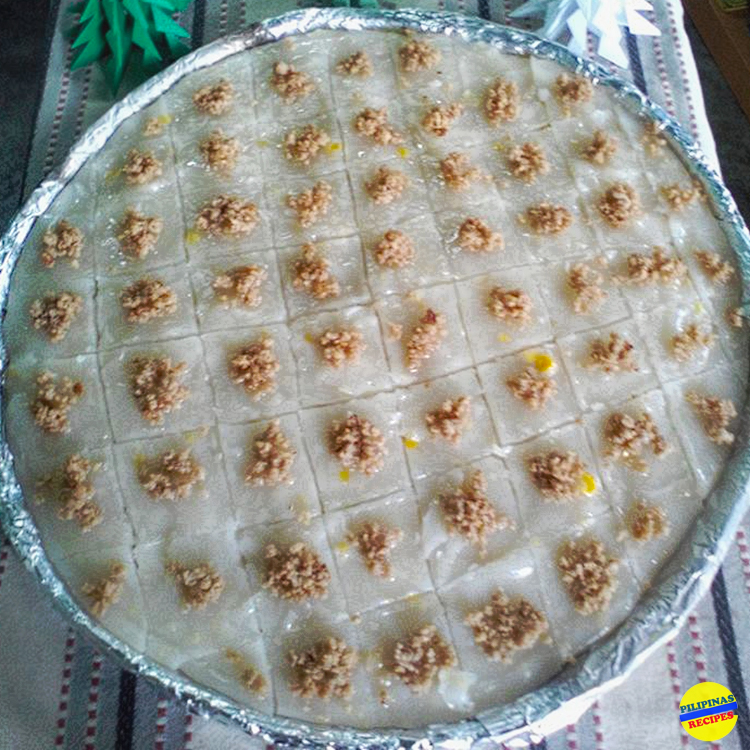 The Maja Blanca Recipe delicacy is made from coconut milk, corn starch or gelatin, sweet corn kernels, milk, sugar and an option to put toasted coconut meat or Latik (browned coconut cream crumbs) as toppings. It is fairly easy to make and the ingredients are very abundant in the Philippines.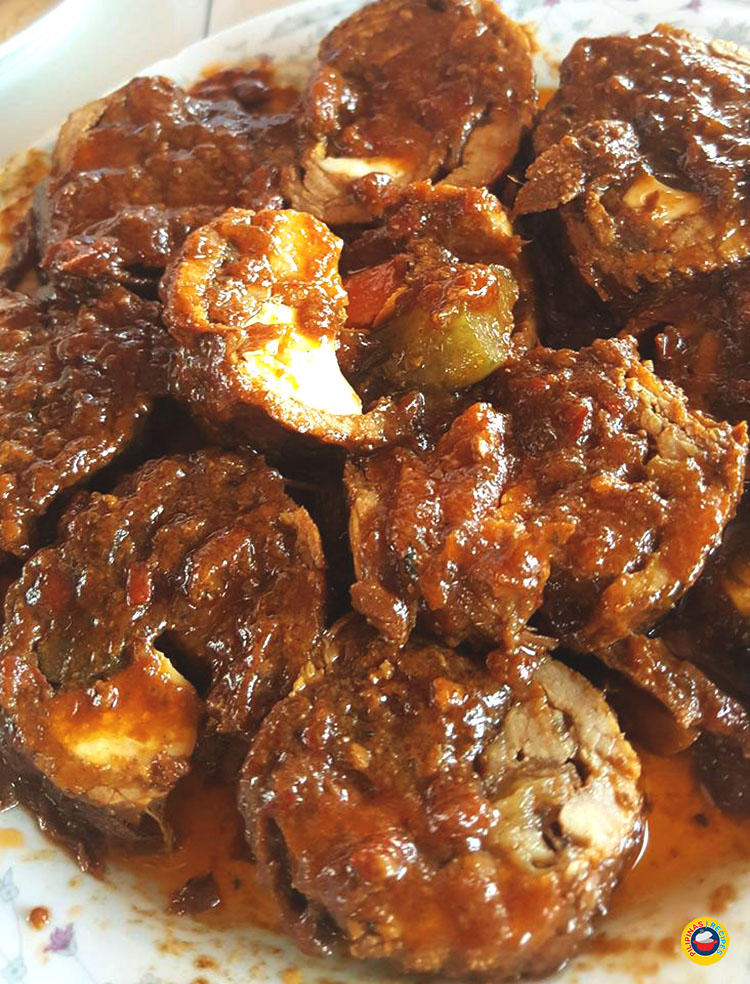 One of the best holiday dishes usually served during Christmas and New Year's eve. Morcon is a Filipino meat roll stuffed with egg, cheese, carrots, pickles, sausage or hotdogs. With the belief that round shaped foods make life prosperous in the coming year, this dish is a highly-recommended one you should prepare.
Here is a video by Kawaling Pinoy showing how their version of Beef Morcon.
You can also watch Cha Lou's Kitchenette's beef morcon featuring the old 7 ingredients of a morcon dish.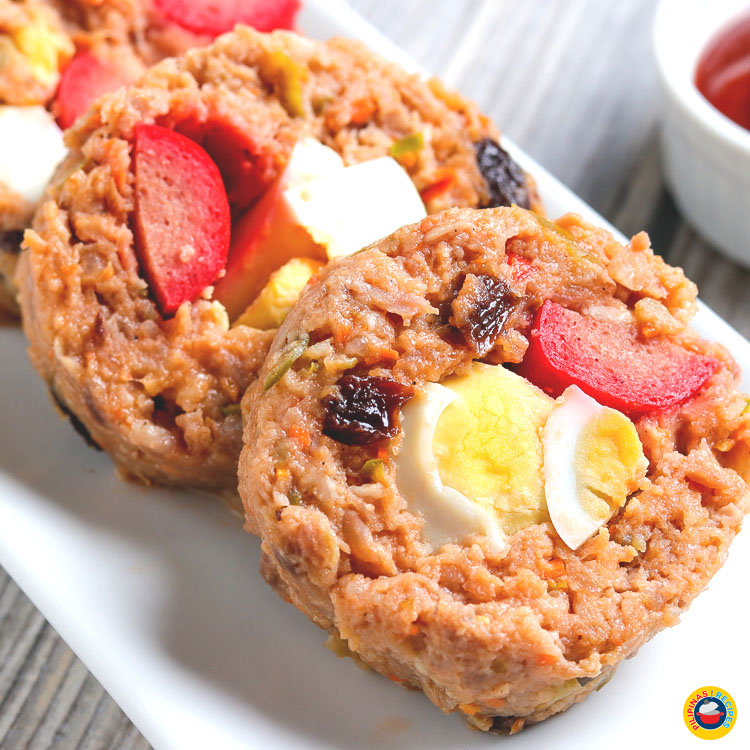 Embutido is another popular Filipino dish during the holiday season. Because they are so easy to make, they can be enjoyed everyday without any hassle. Simply put, Embutido is a meatloaf that is prepared FIlipino style. Due to its popularity, you can now find plenty of meat processing companies that produce this type of meatloaf for commercial purposes.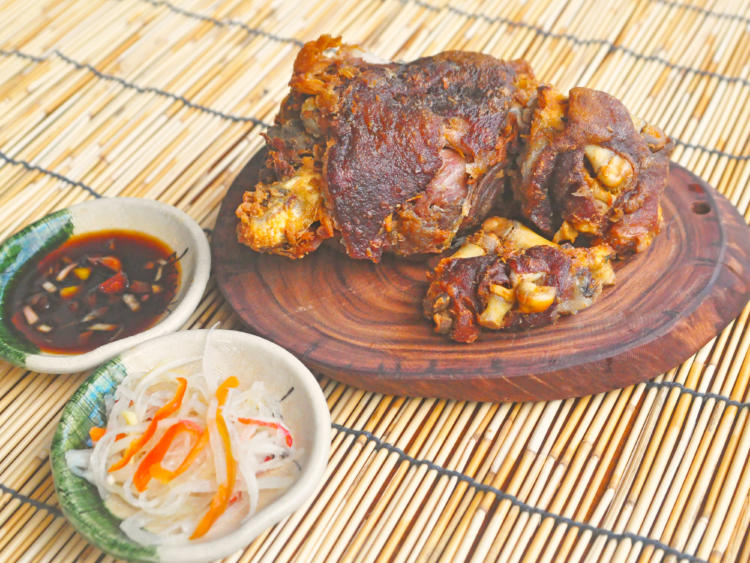 Crispy pata is a popular FIlipino pork dish that is eaten along with rice. But we highly recommend eating it along with atcharang papaya. Moreover, it is rich in fat, which makes it a perfect choice for pulutan and beer. If you want it to be eaten simply, you can just dip it in a spicy vinegar mixture.
Check out Kuya J's very own version of Crispy Pita in the video below.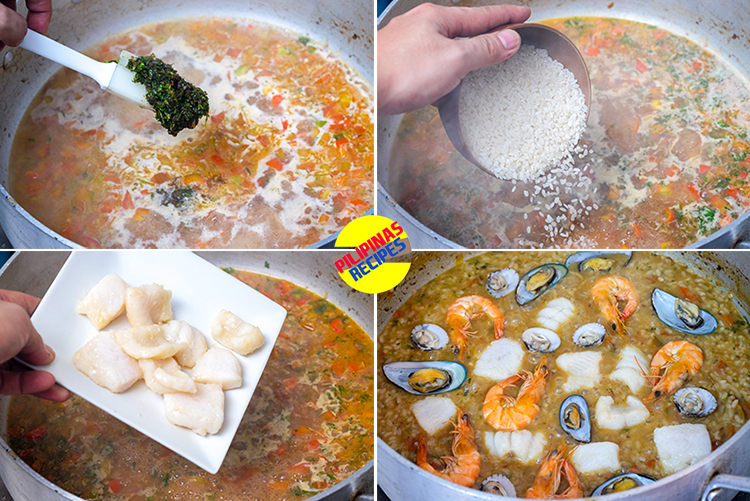 Paella has plenty of variations and it all boils down to whichever type of paella you want prepared during the holidays. May it be tuna, seafood, meat, mixed, or vegetarian, paella is a perfect dish you should prepare during the Christmas holidays.
Here is a quick and easy seafood paella version by Aling Oday.
You can also check out Pinoy Crazy Chef's own rendition of the Seafood Paella in this below below.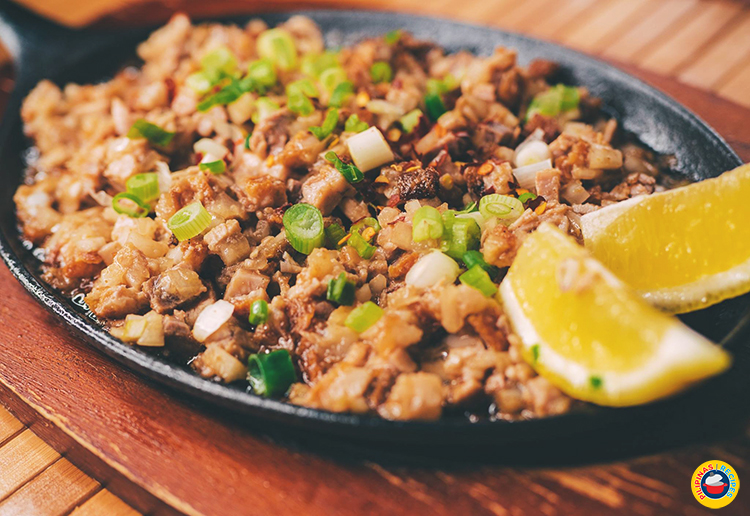 Probably one of the most popular dishes prepared during the Holiday season. Sisig is considered as both an appetizer or main dish. It is mainly composed of pig's parts such as ears, face, and meat minced to tiny cubes. To fully enjoy this magnificent dish, you can mix it with chili peppers, chicken liver, and onions.
Prepare some of this 15 Filipino Christmas Recipes and Specialties or all if you have plenty of visitors to wow them. You can suggest other Recipes by leaving comments Below. Don't Forget to Rate this Article and Follow our Official Facebook Page for more Filipino Recipes. Mabuhay!! 🙂
More Filipino Christmas Recipes
Summary
Spending Christmas with your loved ones and relatives is a given for us Filipinos, but to spend it with the best dishes you could possibly prepare this Christmas season is what makes our Christmas more meaningful!
Share this with your family and friends or tell us in the comments section below which dish is your favorite! Mabuhay at Maligaya'ng Pasko!