The Buko Pandan Salad Recipe is one of the most popular Filipino desserts and which is said originated from Bohol.  A Filipino tropical chilled dessert served in every Filipino gatherings and parties, as it is less expensive and easy to make.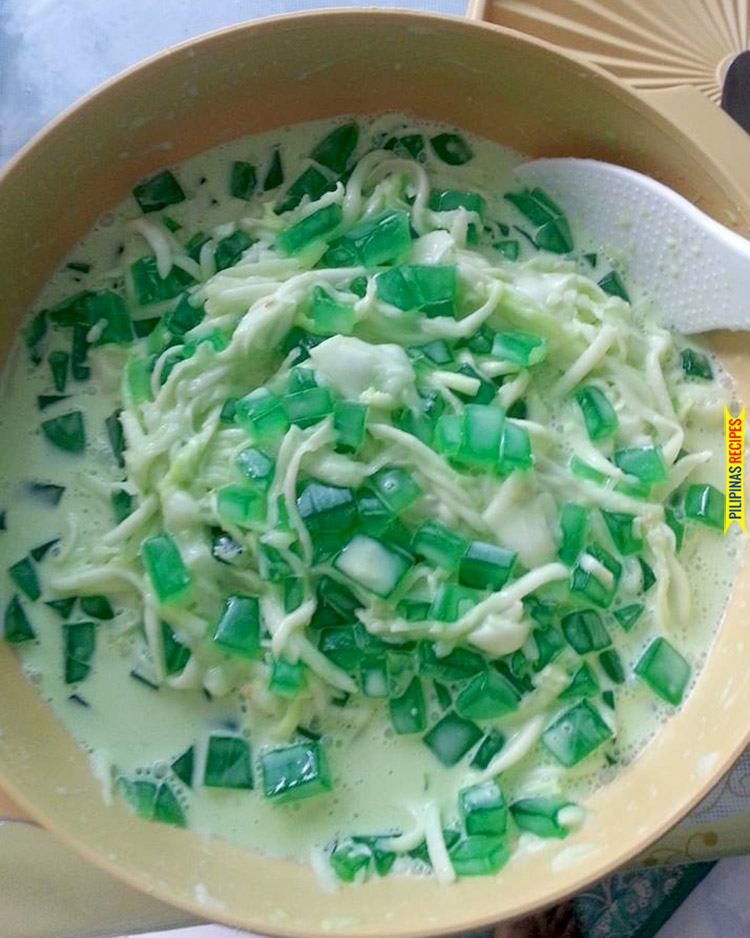 Buko Pandan Salad Recipe and Main Ingredients
There are three main ingredients in making Buko Pandan Salad.  One is "Buko" also known as young coconut meat.  Coconut can be found in rainforest and countries with a tropical climate.  Coconuts are delicious and nutritious, also it is high in potassium, calcium, vitamins and minerals.  The second ingredient is the Pandan or Pandan Leaves.  It is known as a "fragrant" plant because of its unique and sweet aroma.  And use to lend the unique taste and aroma to some savory dishes and mainly used to flavor desserts and some drinks.  Lastly is "Gulaman" also known as "Agar-Agar", it is different from gelatin.  It is a carbohydrate that comes from seaweed and it is available in the form of Flakes, powder or dried bars.

Buko Pandan Salad Recipe
Author:
Pilipinas Recipes
Ingredients
32 oz or 2 packages of frozen Shredded Coconut
1 can (12.8 oz) of table cream
1 can (14 oz) condensed milk
1½ cups coconut gel (nata de coco)
2 cans green gulaman jelly, sliced in cubes
1 tsp pandan essence
½ cup small Sago (optional)
Instructions
Cook small sago as instructed in the package. Set aside.
Combine all ingredients in a bowl starting from shredded coconut (make sure to add the buko juice that comes in the package), gulaman, nata de coco, table cream, condensed milk & sago.
Mix well.
Refrigerate
Serve.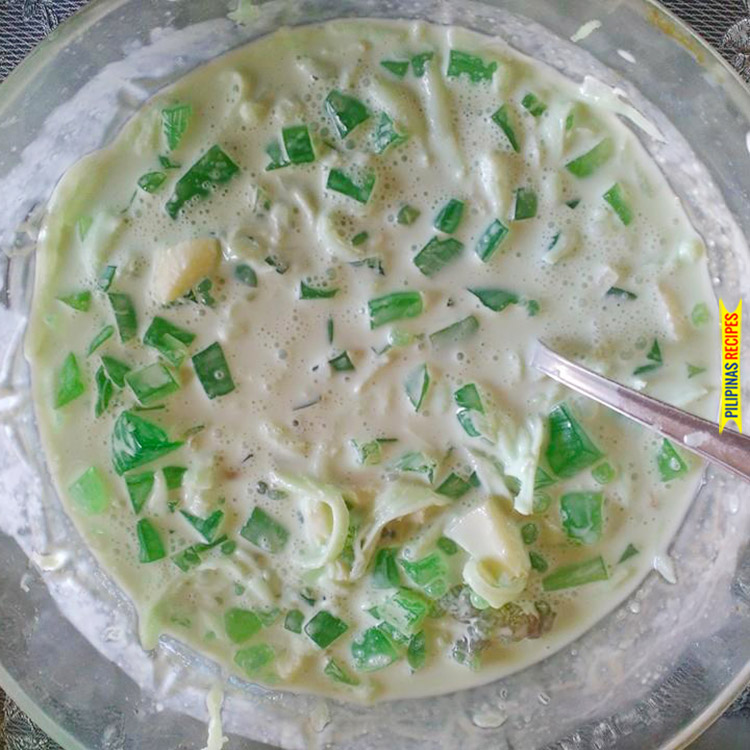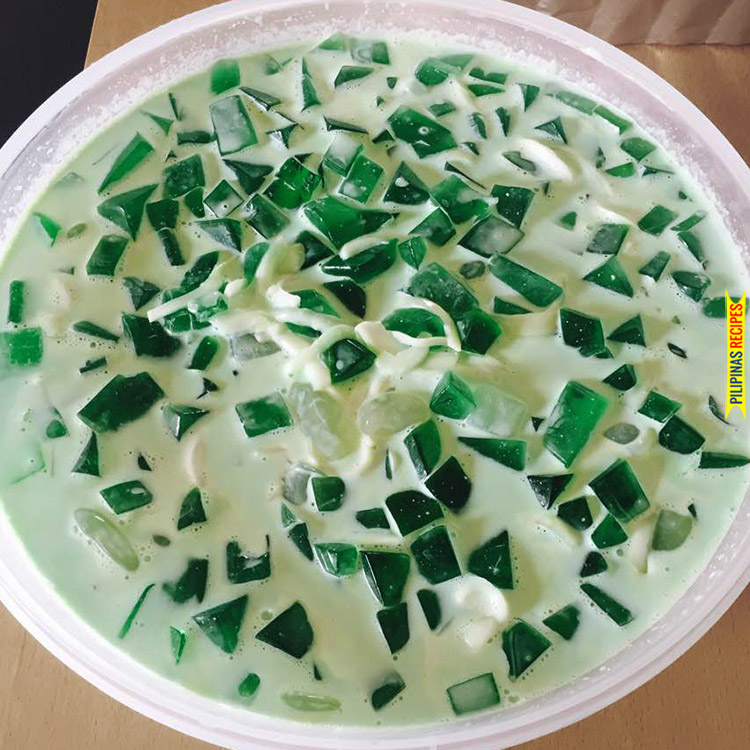 Another Method of Preparing Buko Pandan Salad Recipe
Preparing the dish actually is very simple.  First boil Buko water with the pandan leaves, twisted it to expose the pandan juice.  Then simmer for few minutes, strain and set aside to infuse its flavor.  Let it cool.  In a saucepan, boil the remaining buko juice, dissolve unflavored gulaman and sugar.  Cook until completely dissolve then remove the pandan leaves.  Lower the heat and continue whisking the juice while doing this to prevent lumps from forming.  Once all gulaman is fully dissolved, turn off the heat.  Transfer the mixture into the mold, set aside until the gulaman is formed and firm.  Cut into cubes and set aside.  In a salad bowl, combine the all- purpose cream and sweetened condensed milk.  Toss in the buko meat and cubes green gulaman.  Add sago and nata de coco then mix until fully combined.
Chill it before serving or refrigerate overnight to let the cream mixture absorbed the pandan flavor.
---
PS:
 Ideas and Suggestions to improve this recipe are much appreciated. Just comment below. Also, don't forget to like our Facebook Page for more Free Filipino Recipes. Search "
Pilipinas Recipes
" on Facebook or simply click this 
LINK
. Thank You!