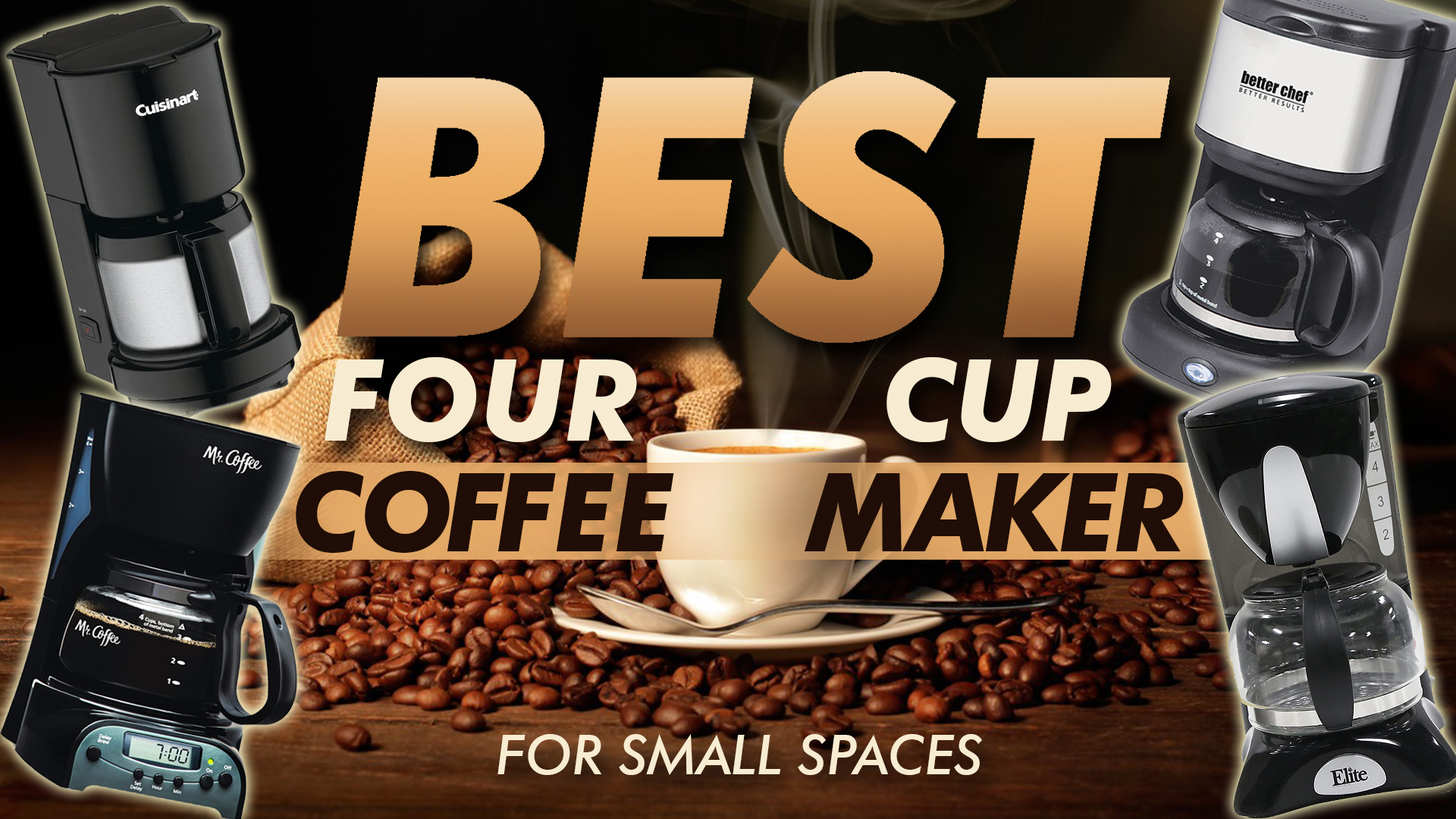 Coffee become a staple for almost everyone. The smell of those brewed aromatic dark beans is so good you would want to drink it on its own, if you like it black and bitter of course. You can add milk and sugar or make it frothy or you can pair it with your favorite treats such as cookies, however you like it, what is important is to have that perfectly brewed coffee to start your day and keep you going. Getting fresh coffee from a cafe can be hard for your pocket and you will have to go out of your house first. So if you are not a fan of instant coffee mix maybe you should get a coffee maker. In this way, you can easily have your caffeine fix every morning.
There are various kinds and brands of coffee makers out there. But before grabbing the cheapest on the shelf, there are things you should consider first. If you will only be serving yourself or have it with another person then a 4-cup coffee maker is what you need. Just remember that in this context, 4-cup doesn't mean 4 mugs or literally 4 cups because a coffee cup is different from the regular cup measurement. Usually these machines only make about 2 regular-sized servings so it's enough if you are the only coffee drinker in the house. If you are also considering space then we got you this list of five best 4-cup coffee maker that will not take up a lot of counter space without spending much but keeping the quality of rich tasting coffee.
Five Best 4-Cup Coffee Maker for Small Spaces
Mr. Coffee 4-Cup Programmable Coffee Maker, (DRX5-RB)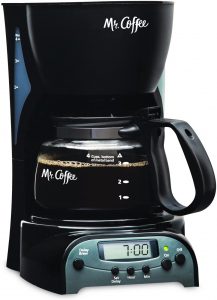 The Mr. Coffee DRX5-RB is a 4-cup programmable coffee maker. You can set it ahead of time with their Delay Brew feature. This is great if you are the type who wants to wake up to the enticing aroma of a fresh pot. It also has a Grab-A-Cup Auto Pause feature which let's you snag a cup while it's brewing. It turns off automatically after an hour so no worries if you forget. It brews fast and quietly and will last for a long while which saves you time and money in the long run. It has an indicator light letting you aware if the machine is on. It has a removable filter basket for easy cleaning. But for the paper filters, it is suggested to use an 8-12 cup filter for a perfect fit. You can also keep the excess cord in its own cord storage to keep your counter neat. It is small so it will not take a lot of space. The only downside is it can only make 2 actual cups of coffee or 1.25 mugs if bigger and the filter compartment do not close securely sometimes, so you have to make sure that it snaps hard. All in all, it brings a rich coffee experience that is perfect with your breakfast meals.
Cuisinart DCC-450BK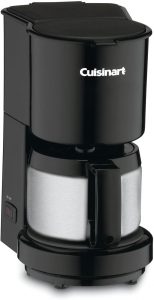 The next one in our list is the Cuisinart DCC-450BK with stainless steel carafe. If you are worried about the glass ones breaking, then this small and compact coffee maker should be on your list. This one is small enough to use for a small household or second home without sacrificing the quality of your coffee and it does not drip! It has a dripless pour spout and a knuckle guard that leaves you mess free when pouring. It has a Brew Pause feature that lets you enjoy a cup while brewing. It comes with a little coffee scoop and uses a number 2 cone filter. It has an ON indicator light. It shuts off automatically after 30 minutes. But this feature also causes the coffee to cool down prematurely. The paint on the plate tends to rubbed off after some time, although it can depend on usage. But all those negatives are minuscule compare to the flavorful coffee it makes.
Mr. Coffee TF4-RB 4-cup Switch Coffee Maker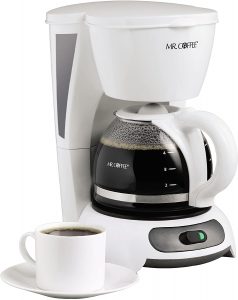 This one is another type of coffee maker from Mr. Coffee. This is a TF4-RB 4-cup Switch Coffee Maker. Unlike the first Mr. Coffee, this is not programmable but it has almost all the other features as the first one and cost less! It has an indicator light that lets you know if it's on, Grab-A-Cup Auto Pause stops cycle if you need a cup before brewing is finished, dual water window allows visibility as you fill, a removable filter basket for quick and easy cleanup, and stain-resistant warming plate. It uses standard coffee filters. This is a small good looking coffee maker that will look good on the counter top. The glass carafe is sturdy. It does not shut off automatically but it will surely give you a nice and strong coffee.
Elite Cuisine EHC-2022 Maxi-Matic 4 Cup Coffee Maker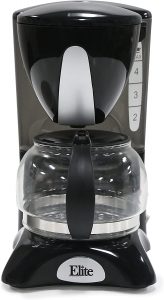 The Elite Cuisine EHC-2022 Maxi Matic is a great basic little coffee maker. This one has a glass carafe that is dishwasher safe. This too has a built-in Pause 'N Serve system that allows you to sneak a cup of coffee while still brewing. The semi-transparent water reservoir holds up to 4 cup capacity with water level indicator that lets you know how much water you are pouring. The best part for this machine is it has a filter compartment with re-usable and washable built-in filter. So no more waste and no more running out of filters! It can make about 2 mugs of coffee and adequate for little kitchen as it does not take up a lot of space, brews quickly and keeps coffee nice and hot. It also comes with a little coffee scoop for accurate measuring. But it does not have an automatic shut off and the glass carafe can be delicate, so you have to be careful. The reusable filter can stain after some time, if you want to use a paper filter you can use #2 cone but since it has a non standard shape it will not fit well, but it works. For the price it works great and make just the right coffee.
Better Chef IM-104S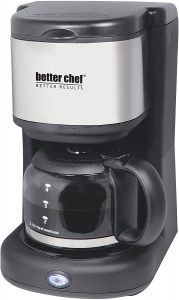 The last one in our list is the Better Chef IM-104S. It has stainless steel accents that work with most decorative styles. It has a built in micro mesh filter that is removable, you can use that or you can add a paper filter. You can easily find a flat 4-cup paper filters for it. It also has a Grab-n-Go feature that stops the brewing process while you pour a cup, then resumes when you place the carafe back on. It has an indicator light and a cord storage to keep the counter top tidy. It is small and you can get about 2 medium sized mugs of coffee. Cons for this machine are sometimes the coffee it makes is not that hot and the coffee can drip from the spout as you pour. For a small amount, it's a great coffee maker for daily use.
4-Cup Coffee Maker Conclusion
We hope that our reviews helped you decide which coffee maker to buy. Most of the time brewed is better than instant mix, but we also don't want bulky items on our counter, especially if there isn't enough space. If you drink several cup of coffees a day or there are several drinkers at home, more likely 2 to 3 people, then a 4-cup coffee maker is a good way to go. They are small, easy to clean and store, they don't cost much and they make decent coffee. In this list, the best selection would be the Mr. Coffee Programmable Coffee maker because who wouldn't love to wake up in the aroma of freshly brewed coffee. But if you are in a budget, Mr. Coffee TF4-RB 4-cup Switch Coffee Maker offers the best value. It got all the features we love for less.
Do you like cotton candy? Check out our reviews for the Top 10 best Cotton Candy Machine.
Recap: Here are the 5 Best 4-Cup Coffee Maker for Small Spaces