The Kare-Kare recipe is a stew which is known for having a thick peanut sauce. This dish is a favorite during Philippine occasions especially the feasts celebrated in every region. No feast celebration is complete without this. Every visitor will be asking for it once they come to eat in your house.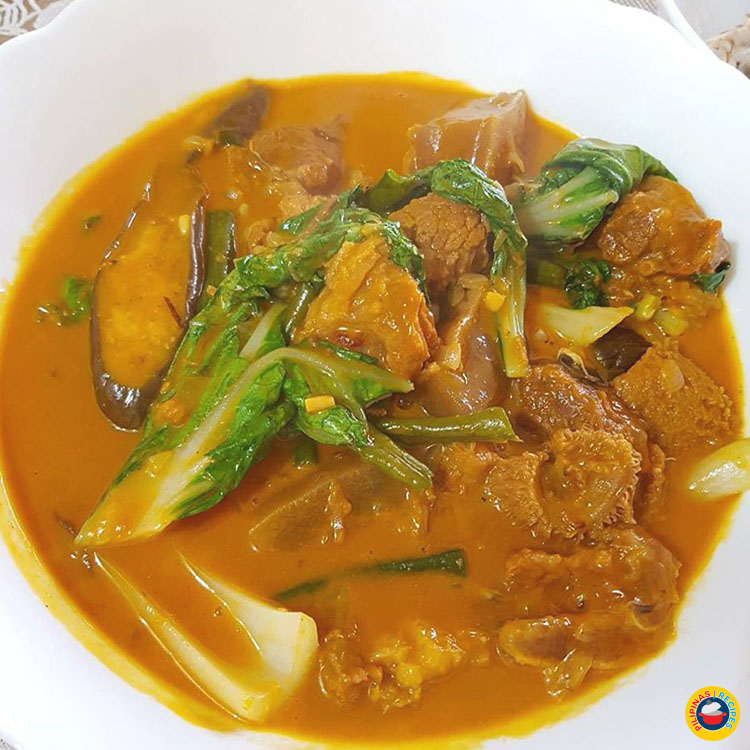 Kare-Kare Recipe Preparation
The Kare-Kare is not a so simple dish. Its main ingredient is the Oxtail. The Filipino Bokchoy, Banana Blossom, Eggplant and String beans are a must in this recipe.  It can be combined with other meat ingredients like Pork hocks or whatever the cook prefers to add. Saute the garlic and onion then the oxtail can be added. When it is already a bit chewable, add in the peanut butter, ground rice, and annatto. When it comes to a boil, the vegetables can be added all together. Just add a pinch of salt and you're almost done. Remove from heat when the vegetables are tender but not over cooked.  Nowadays, there is also the Seafood Kare-Kare or even the Vegetable Kare-Kare.

Kare-Kare Recipe
Author:
Pilipinas Recipes
Ingredients
½ kilo Beef or Beef Tripe
½ kilo Oxtail
3 cups of peanut butter
¼ cup grounded toasted rice
½ cup cooked Bagoong Alamang
2 pieces onions, diced
2 heads of garlic, minced
4 tablespoons atsuete oil
4 pieces eggplant, sliced 1 inch thick
1 bundle Bok Choy (Pechay)
1 bundle of String Beans
1 banana bud (Optional)
½ cup oil
10 cups of water
Salt to taste
Instructions
Boil the Beef Tripe and Oxtail in water for an hour or until cooked.
Strain and keep the stock.
Heat oil and atsuete oil in a pan.
Sauté garlic, onions until golden brown.
Add the stock, toasted rice, beef, oxtail and peanut butter.
Bring to a boil and simmer for 15 minutes.
Salt to taste.
Add the Eggplant, String Beans, Bok Choy and Banana Bud (If available only).
Cook the vegetables for 5 minutes.
Do not overcook the vegetables.
Serve with Rice and Bagoong.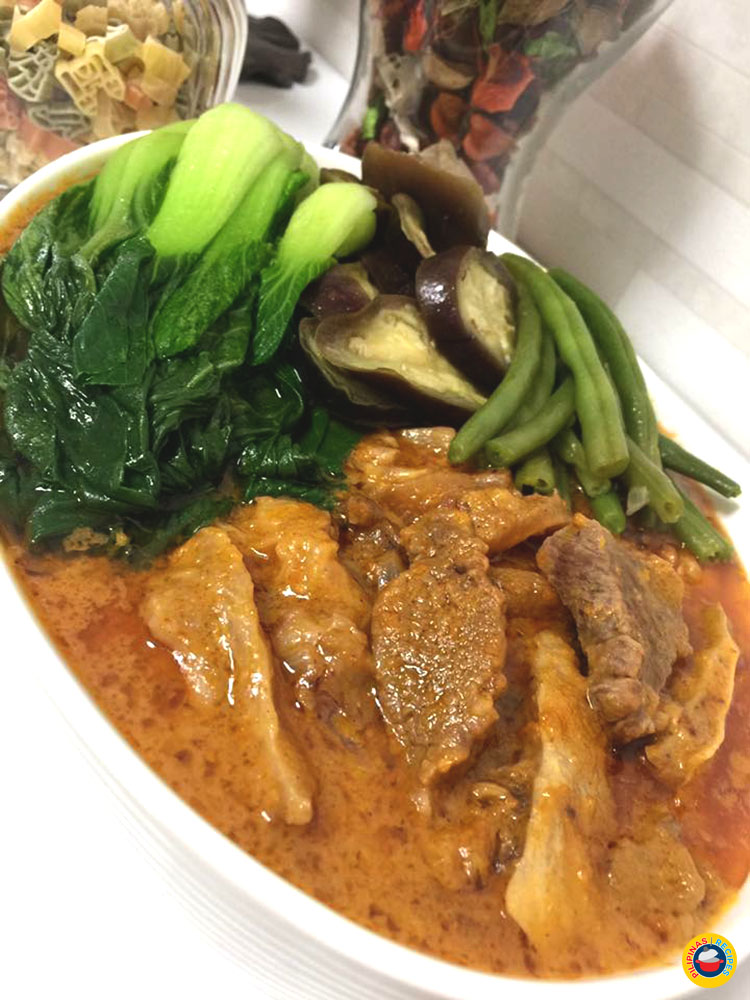 For the seafood version of this dish, prawns, mussels, and squid are the usual ingredients. For the vegetable, Chinese cabbage, eggplant, and other green veggies can be used. The other ingredients needed are garlic and onion obviously. Of course, it's not Kare-Kare if there is no Peanut Butter, ground rice, and annatto for the perfect color. Oh, and who will forget to saute shrimp paste? After all, it is not Kare-Kare without
Shrimp paste
. Saute the perfect shrimp paste to make this dish maintain its ranking as the most well-loved menu in every Philippine occasions. Chop a few garlic, onions, and quite a number of red, ripe tomatoes. Saute then add the shrimp paste. After a few minutes, add some vinegar and a little sugar. When the shrimp paste looks cooked enough, you can pour some oil for a better-looking presentation of the paste. Wow! you now have the perfect combination of Kare-Kare and shrimp paste.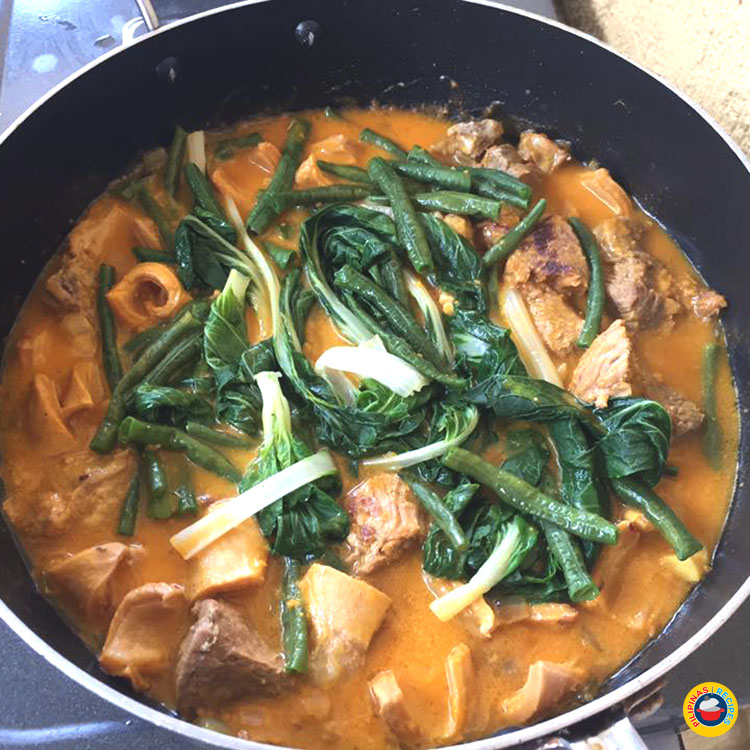 Guests will surely be more than satisfied with this truly delicious recipe and will be looking forward to your next invite and that's because you made them taste a Kare-Kare they will never forget.
PS: Ideas and Suggestions to improve this recipe are much appreciated. Just comment below. Also, don't forget to like our Facebook Page for more Free Filipino Recipes. Search "Pilipinas Recipes" on Facebook or simply click this LINK. Thank You! Please Rate our Recipe below.