Caldereta or Kaldereta in Filipino originated from the Spaniards and was brought in the Philippines during their 300 years of colonization. It was a recipe that the Filipinos have gotten so used to that they have made it a part of the Filipino cuisine, taking it as their very own. Though the Filipinos love the Pork and Chicken Kaldereta, the most popular version of Kaldereta in the Philippines is the Beef Kaldereta Recipe.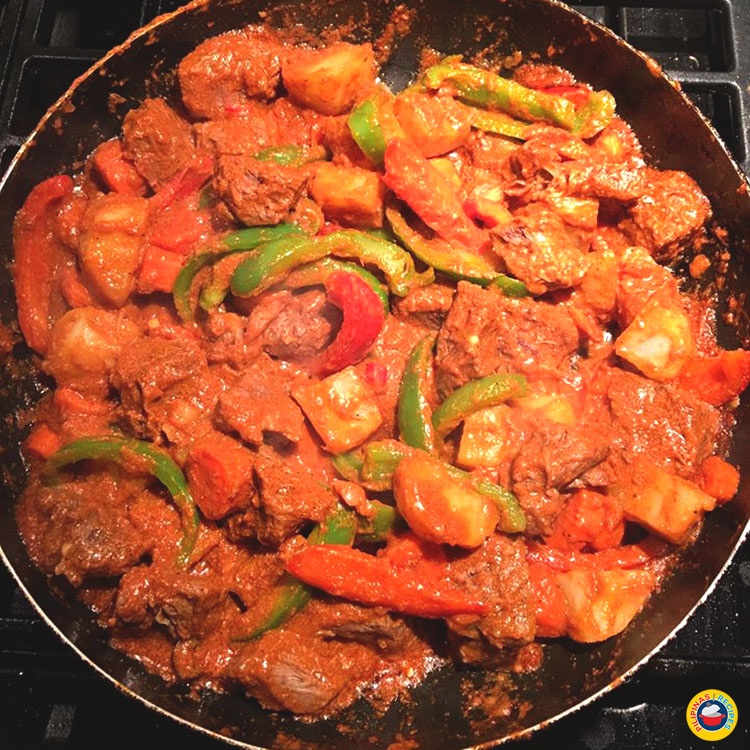 Beef Kaldereta Recipe (Caldereta)
Author:
Pilipinas Recipes
Ingredients
2 lbs. beef brisket, sliced into 1-inch chunks
8.8 oz. (250 g) tomato sauce
2.4 oz. (70 g) tomato paste
½ cup liver spread or liver paste (see tips)
½ cup soy sauce
3 pcs. calamansi limes
1 tsp. peppercorns, coarsely crushed
4-5 cups water
5 cloves garlic, minced
2 small red onions, sliced
3 pcs. potatoes, cut into chunks
2 pcs. small carrots, sliced into rounds
2 pcs. small red bell pepper, julienned
½ cup green peas in can, drained
3 bay leaves
3 pcs. (or more) bird's eye chilies, minced
salt to taste
½ cup grated cheese (optional)
2 tbsps. butter
1 tbsp. cooking oil
Instructions
In a large container, combined together with the soy sauce, juice of calamansi and peppercorns. Add the beef chops and toss to coat with marinade sauce.
Leave covered to marinate for about 30 minutes.
Heat the cooking oil and butter in a large saucepan.
Quickly stir-fry the carrots and potatoes.
Transfer the carrots and potatoes on a plate and set aside.
On the same pan, saute garlic and onions until very fragrant.
Add the beef together with the marinade sauce, bird's eye chilis, and bay leaves.
Bring to a simmer and continue to cook until the beef turns light brown.
Pour water just enough to cover the beef and bring to a boil.
Divide the tomato sauce and tomato paste into two.
Add the first half of the sauce and paste in the pan and set aside the remaining half. Mix all the ingredients in the pan until well blended.
Set the heat to simmer to slowly cook the beef for 1.5 to 2 hours.
Add more water if necessary. If using a pressure cooker, it may take no less than 45 minutes.
Once the beef is tender, add the remaining half of tomato sauce and paste.
Add the liver spread or paste and continue to simmer for 3 to 5 minutes.
Add the red bell pepper and the stir-fried carrots and potatoes.
Simmer until the vegetables are tender and the sauce is thick.
Add and mix the grated cheese. Remove from heat and transfer to Serving Plate.
Best serve with Hot Rice.
Beef Kaldereta Recipe Tips
Choosing a tender part of the beef for Kaldereta recipe is very important. Also, the potatoes, carrots and bell pepper should be fresh. After preparing the ingredients, saute the garlic, onion, and chilis in a skillet. Since the Recipe of Beef Kaldereta is well-known for being hot, there should be more chilis added than that of the Pork and Chicken version. There should also be more onions on this version as this one is known to be more saucy. Say, if you have a kilo of beef, you should have a kilo of onion too. When the garlic, onions, and chilis are tender, the beef can now be added. Simmer it for several minutes until it becomes tender then the potatoes can be added. After a while, add the annatto for the desired color. Allow to boil some more and add some liver spread and cheese. Before removing from the heat, add the carrots and bell pepper. Just wait a few seconds then remove from heat.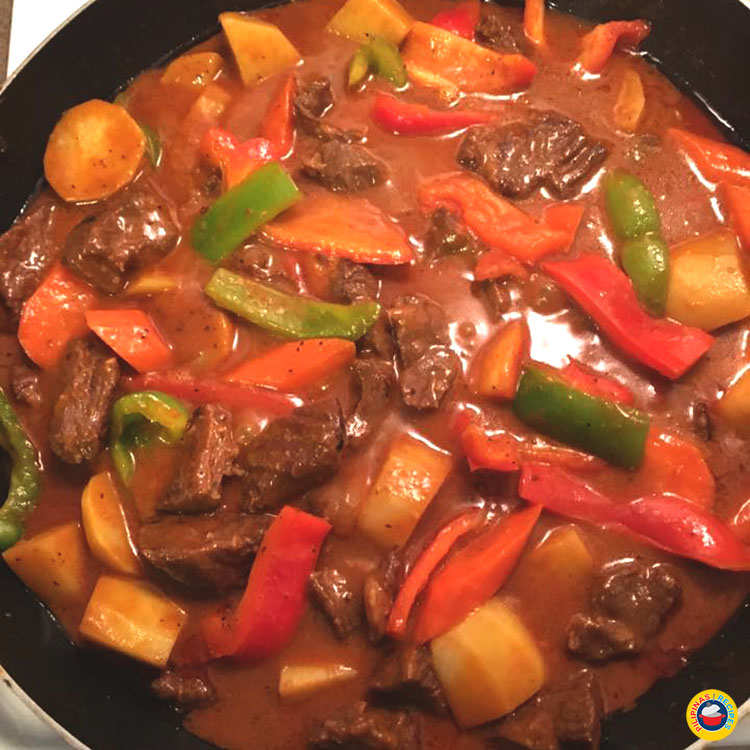 Serving Beef Kaldereta
You now have the best tasting Beef Kaldereta Recipe ever and ready. You just need to have a few cups of rice then you can enjoy this delicious dish to your heart's content. I bet you will be waiting for your next chance to cook and enjoy this together with your loved ones. Isn't this a perfect partner for your bonding time with the family? Not such a bad idea, right? After all, the most loved bonding moments with the family happens in the dining room.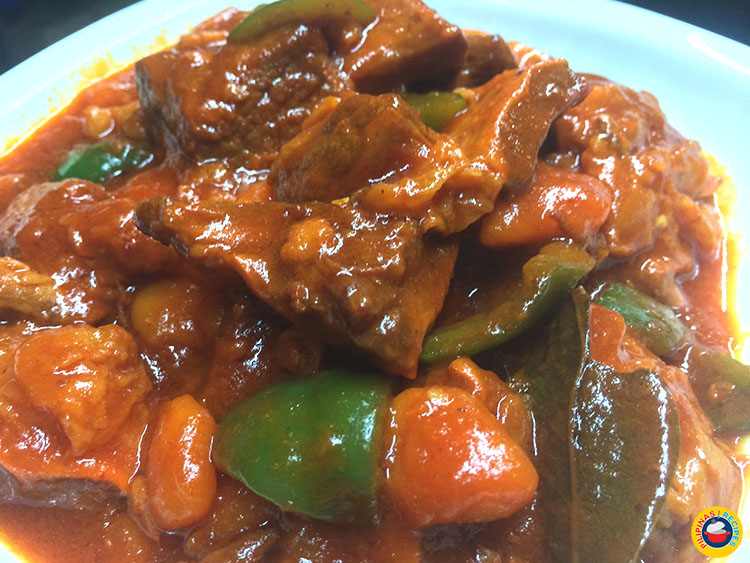 PS: Ideas and Suggestions to improve this recipe are much appreciated. Just comment below. Also, don't forget to like our Facebook Page for more Free Filipino Recipes. Search "Pilipinas Recipes" on Facebook or simply click this LINK. Thank You! Please Rate our Recipe below.