Even in other parts of the world like Andalusia, Extremadura, and Salamance where they use a special marinade of paprika, garlic, and salt and there is a maturity period, Morcon is a popular dish. Morcon in the country is a well-known dish but of a different version. Here in the Philippines a typical Beef Morcon Recipe will consist of meat that is sliced thinly to use for the roll and hard-boiled eggs, ham, sausage, carrots, pickles and/or raisins and hotdogs as fillings and tied with a twine to secure all the ingredients together. It is either cooked by steaming or frying then cut when cool enough and served in parties especially Christmas or Birthdays.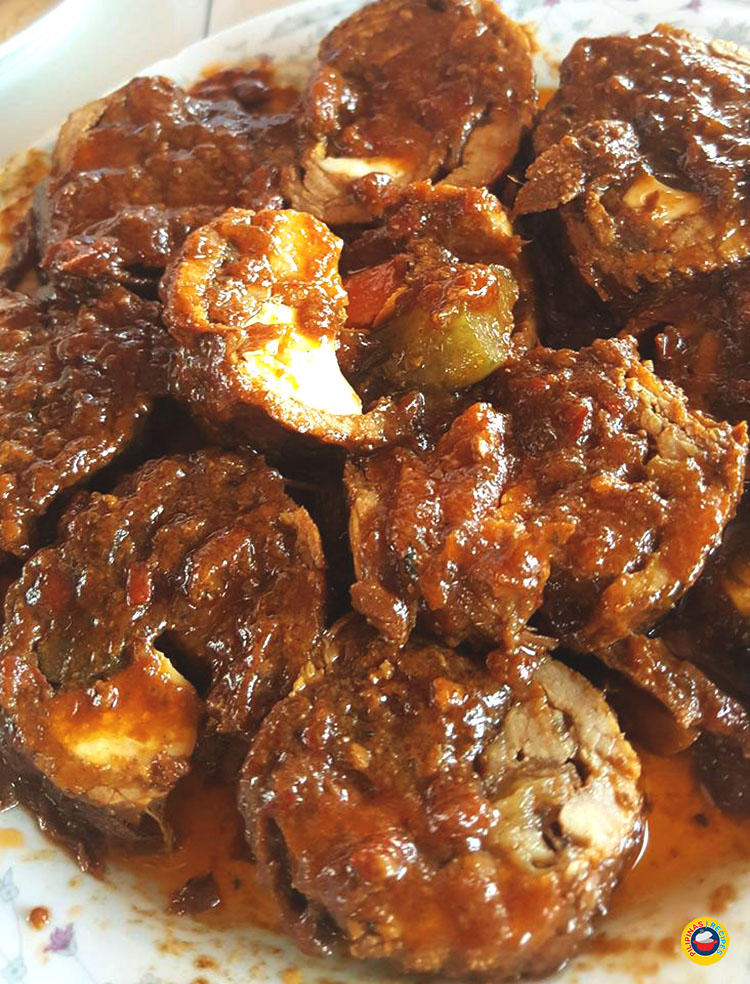 Morcon has been a popular dish in the Philippines and this Beef Morcon Recipe, in particular, makes any occasion even better because of its royal appeal. It may be a little time consuming when it comes to preparing it but you only need to look at how special it is and how it will make your guests pleased with its appearance so that you will be inspired to do it every now and then. This Morcon recipe is a beautiful decoration on your Noche Buena spread but doesn't be limited to cooking it only during Christmas because you can make this on other events like Baptismal, Job promotion or any other milestone in you and your family's life.

Beef Morcon Recipe
Author:
Pilipinas Recipes
Ingredients
For Morcon
2 lbs. Beef Flank or Skirt Steak
2 pcs. Hotdogs or Sausage (Sliced into Strips)
12 slices Bacon
1 pc. Carrot (Peeled and cut into Strips)
4 pcs. Hard-Boiled Eggs (Cut lengthwise into halves)
4 ounces Cheddar Cheese (sliced lengthwise into strips)
4 pcs. Sweet Pickles, (Sliced lengthwise into strips)
½ cup Flour
1 pc. Kalamansi or Lemon
½ cup Soy Sauce
¼ – ½ Cooking Oil
Pepper according to taste
For the Sauce
½ cup liver spread
1-2 cups reserved marinade (from the marinated beef)
1 pc. onion (peeled and chopped)
1 cup Tomato Sauce
2 cups water or beef broth (optional)
2 cloves garlic (peeled and minced)
1 pc. bay leaf
¼ Tsp. salt or salt to taste
¼ Tsp. pepper or pepper to taste
Instructions
Cut the beef round morcon-style (Wide Beef Slices)
Arrange each beef slice between two heavy-duty plastic wrap and with a meat mallet, pound to about ½-inch thick or thinner.
Repeat with remaining beef slices.
Trim sides of meat to shape it as close to a rectangle.
Combine beef, soy sauce, lemon juice in a bowl and pepper to taste and marinate for about 30 minutes.
Fry bacon in a pan over medium heat, until cooked but still limp, not crispy. Remove from pan and drain on paper towels.
Drain beef from the marinade mixture, squeezing any excess liquid and reserving marinade.
Lay beef on a flat surface and arrange bacon in a single layer on top of the beef.
Arrange strips of hotdogs, carrots, cheese, pickles, and halves of eggs lengthwise over bacon.
Gently gather the end of beef upwards and roll neatly into a log, enclosing filling.
Using kitchen twine, tie beef roulades snugly at both ends and center to fully secure and lightly dredge with flour.
Heat oil in a wide heavy-bottomed skillet over high heat. Then gently add the beef roll and lightly brown on all sides and remove from pan and drain on paper towels.
Discard oil from skillet but leave at least 1 tbsp.
Add garlic and onions and cook until limp.
Add the reserved marinade mixture and bring to a boil.
Add tomato sauce and beef broth.
Add bay leaf, salt, and pepper to taste. Bring to a boil.
Gently add beef rolls in a single layer. Lower heat, cover and cook for about 40-60 minutes or until beef is tender.
Remove beef rolls from pan and set aside for about 3 to 5 minutes.
Slice into 1-inch thick rounds and arrange slices on serving platter. Keep warm.
Add liver spread into the sauce and stir until dissolved.
Continue to cook for about 6-10 minutes or until sauce is thickened.
Pour sauce over morcon.
Serve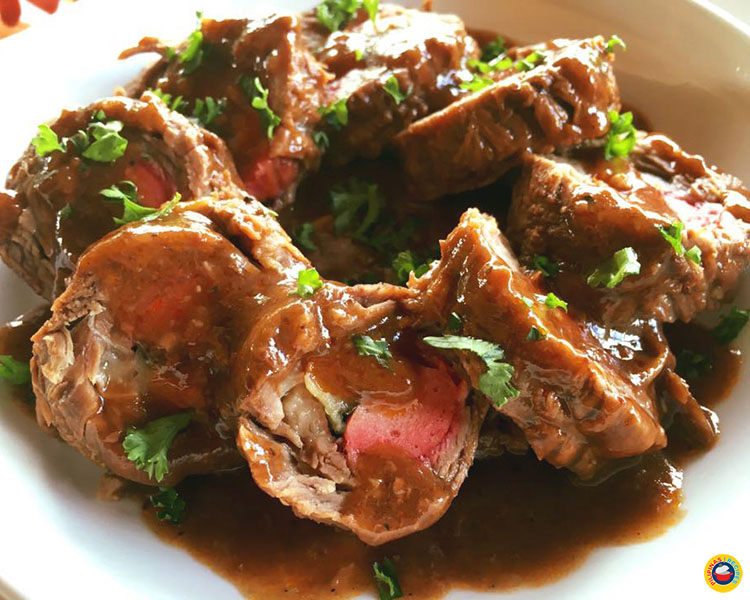 A good Morcon also comes with a special sauce. When making this Beef Morcon Recipe, make a thick yet still runny sauce from the morcon drippings. To thicken the sauce, you need to use some flour and don't forget to season it with salt and pepper and add sugar if you like or caramelized onions and some herbs. You can also add onion and garlic powder to the sauce or leave it as it is. Serve the sauce over the morcon while still hot.
Ideas and Suggestions to improve this recipe are much appreciated. Just comment below. Also, don't forget to like our Facebook Page for more Free Filipino Recipes. Search "Pilipinas Recipes" on Facebook or simply click this LINK. Thank You!