In every occasion, there the mainstays Lechon, Morcon, and Relleno but this everyday staple when done properly can also take center stage in your gatherings. The Chicken Afritada recipe is a Traditional Filipino dish made by sauteing garlic, onions, fresh chickens, carrots, and potatoes together with tomato sauce, green peas, and bell pepper. It can either be sweet, salty or both depending on what suits your taste buds as well as the other people you're cooking it for.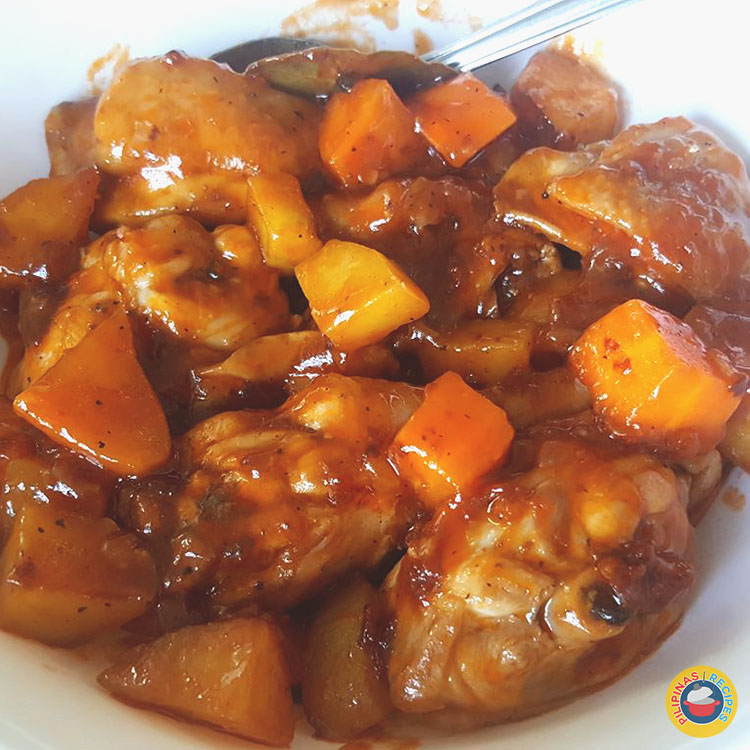 Ways of Cooking Chicken Afritada
Some people even add a bit of Soy Sauce to give Chicken Afritada a signature dark appearance while some make do with just Tomato Sauce. And a lot of Filipino people love this dish because not only does it have meat in it but it also has vegetables and Tomato Sauce which makes it a healthy choice for any meal.

Chicken Afritada Recipe
Author:
Pilipinas Recipes
Ingredients
1½ lbs Chicken (Bite Size)
1 large potato, chunks
1 large carrot, chunks
1 medium red bell pepper, chunks
1 medium onion, chunks
¼ cup green peas
4 cloves garlic, minced
½ can 8 oz tomato sauce
1¼ cup water
1 tbsp fish sauce
Salt
Cooking oil
Instructions
Heat cooking oil in a pan.
Saute potatoes, carrots and bell pepper and set aside
Using the same pan, saute garlic and onion
Add the Chicken
Simmer for 10-15 minutes or until tender. (requires occasional stirring).
Add the fish sauce and cook for 3 minutes.
Add water when it starts to dry up.
Bring to a boil.
Add the tomato sauce and let it simmer.
Add all the vegetables and simmer for another 5 minutes.
Adjust according to taste
Remove from heat and transfer to a serving bowl.
Serve.

Cooking Chicken Afritada Recipe
To make Chicken Afritada, you need to use the freshest ingredients. First, prepare all the ingredients and chop the garlic and onions. Peel the potatoes and carrots, slice then set aside. Slice the bell peppers and thaw the green peas if you are using them frozen. Saute the garlic and onions until they are soft then add the chicken. Season well with salt and cook it well until it becomes light brown. Check the chicken if it's already a bit tender then add the potatoes and carrots and a little bit of water to help cook the vegetables and cover the pot. Let it simmer until both vegetables are tender. Wait a few minutes then check if the potatoes and carrots are already cooked. Be careful not to cook for a long time lest you'll end up with soggy vegetables and flaked chicken.

Serving
Once tender add the tomato sauce and green peas and let it simmer for a couple more minutes then add the bell pepper last to maintain its crunch. There you have it the best Chicken Afritada that you can share with your family during the weekend or for when you invited some friends over for dinner.
PS: Ideas and Suggestions to improve this recipe are much appreciated. Just comment below. Also, don't forget to like our Facebook Page for more Free Filipino Recipes. Search "Pilipinas Recipes" on Facebook or simply click this LINK. Thank You! Please Rate our Recipe below.