The Pork Menudo Recipe originated during the Spanish Colonization but this dish is a true Filipino dish of sauteed pork meat, potatoes, and carrots, raisins, and beef or pork liver. This Recipe is far different from Kaldereta and Afritada. There are many versions of this dish; Some versions use Vinegar or Fresh Tomatoes instead of Canned Tomato Sauce and they also put cheese when it is about to be taken off the stove. Some versions are sweeter and some a little sour and this dish can be both an everyday staple and still be a crowd pleaser because of its versatility. Here in the Philippines, a lot of provinces have their own version of this dish and each of those tastes differently and yet still delectable.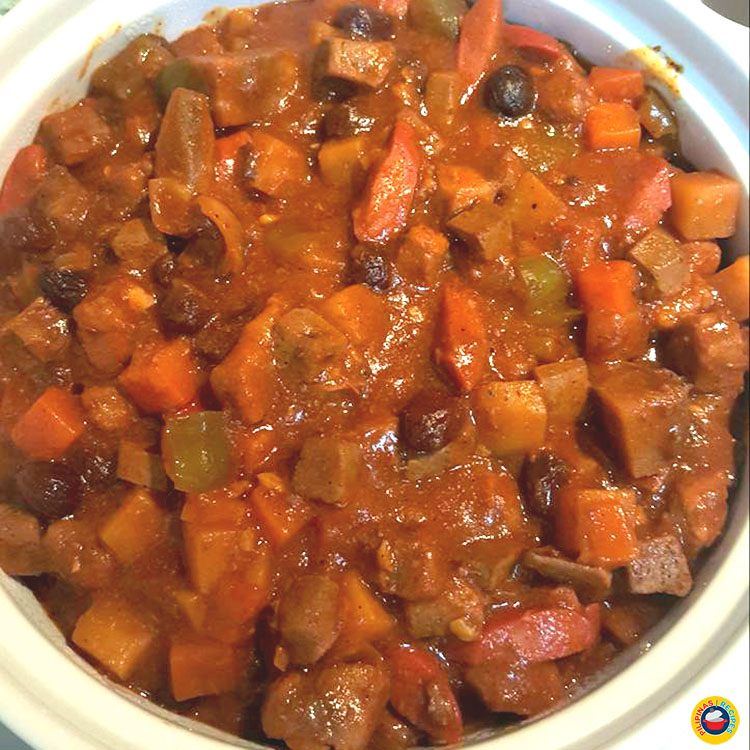 Pork Menudo Recipe (Menudong Baboy)
Author:
Pilipinas Recipes
Ingredients
1 Kilo Pork - cut into ½ inch cubes
1 lemon
1 tablespoon Worcestershire sauce
1 small onion - finely chopped
2 tablespoon finely chopped garlic
3½ cups tomato sauce
2½ cups water
3 tablespoon olive oil
3 bay leaves
2 teaspoon ground black pepper
2 teaspoon ground oregano
2 medium potatoes - cut into ½ inch square
2 small bell pepper - pick your color and cut to ½ inch square
1 cup canned garbanzo beans
2 teaspoon salt or to taste
Instructions
Mix cut pork with lemon and Worcestershire sauce.
Let it marinate for ½ hour.
Place wok or large pot over high heat
Add the olive oil
When the oil is hot, add onion, garlic, and bay leaves.
Stir fry until onion is translucent.
Add pork
Stir fry until pork is opaque.
Add tomato sauce and water
Stir to combine all ingredients.
Let it boil then turn the heat to medium-low.
Cover and then let it cook until meat is tender.
Add oregano
Add potatoes then let it continue to cook until potatoes are tender.
Add garbanzo beans, bell peppers, ground black pepper, and salt.
Let it cook for another 2 minutes.
Serve.
Pork Menudo Recipe Preparation
Pork Menudo is very easy to make. Just prepare all the ingredients by chopping garlic and onions, slicing the meat, dicing the potatoes and carrots and slicing the liver before cooking. Saute garlic and onions first then meat second and just let it cook until it is tender before adding potatoes and carrots; it's up to you if you want to put liver last or not. After cooking, serve it at once but you can also freeze it in case there are leftovers.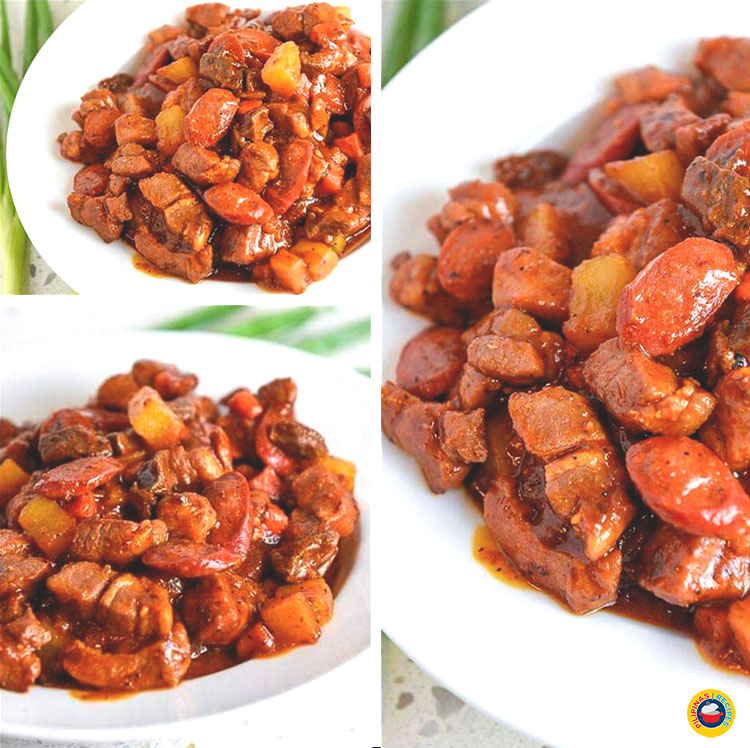 You may think that Pork Menudo Recipe is too common to cook because a lot of home cooks do it already and even restaurants have their own spin on this dish but being a classical dish, it will never go out of style and you can even make your very own version of it which you can boast to your friends. It can be your secret recipe to hand down to your children or grandchildren someday just like what others do. Some even have a massive food empire that started with something small like a secret recipe; either way preparing this dish is really easy and people love it so it's a win-win situation.
Also, Watch this Video from youtube to make it easier for you to cook Pork Menudo.
Ideas and Suggestions to improve this recipe are much appreciated. Just comment below. Also, don't forget to like our Facebook Page for more Free Filipino Recipes. Search "Pilipinas Recipes" on Facebook or simply click this LINK. Thank You!