The Filipino Spaghetti Recipe is the Pinoy take on the Italian specialty, Spaghetti Bolognese which is sourer compared to our sweet style version. Some people find it odd that Pinoys put some sugar in this recipe but we Filipinos love sugar and we love dishes that are sweet. This dish will be a hit for birthday parties and meetings because even if it's a little messy to eat, it tastes really great and it's like an all-in-one meal considering it is made up of carbohydrates from the pasta, protein from the meat, vitamin B12, sodium and calcium from the cheese not to mention lycopene from the tomato sauce.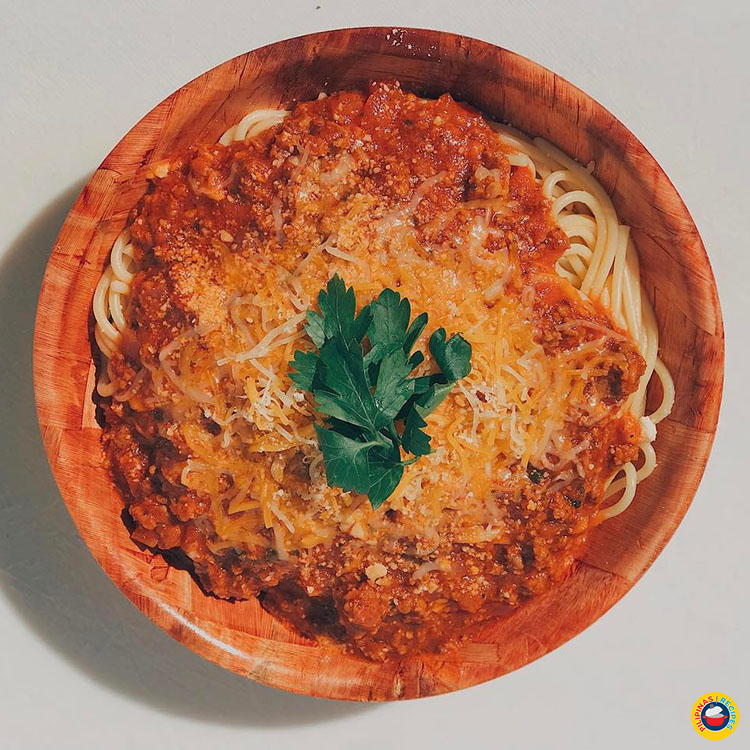 Filipino Spaghetti Recipe
Author:
Pilipinas Recipes
Ingredients
1 lb. spaghetti noodles
1 lb. Tomato Sauce
8 ounces tomato paste
1 medium Onion (minced)
3 cloves minced garlic
1 Tbsp. oil
1 lb. ground pork
½ cup Carrots and Bell Pepper (Minced)
4 pcs. Hotdogs (cuts diagonally)
1 cup water
Salt to taste
1 teaspoon seasoning mix
7 ounces evaporated milk
Grated Cheese
Instructions
Cook the noodles according to package directions.
Set aside.
Place the garlic, onion, and oil in a large saucepan or skillet.
Saute for 3-4 minutes.
Add the ground pork and brown the meat is cooked.
Add the minced vegetables and hot dog pieces and stir to combine.
Add the water and allow the mixture to simmer for 10-15 minutes.
Add the tomato sauce and tomato paste to the meat and continue to simmer the mixture for another 10-15 minutes.
Add the evaporated milk and salt and stir.
Mix the Noodles and the Sauce in a Mixing Bowl
Top with grated cheese and serve
Why is Filipino Spaghetti Recipe Popular?
Filipino Spaghetti Recipe is very popular with kids. They love eating this dish with Fried Chicken and French Fries but it's also for the grown-ups because this can be comfort food for everyone. Here in the Philippines, there are also a lot of restaurants who serve spaghetti and giant fast food companies have their own version of it but making this at home is so much better especially if you have  a strong appetite because you can make a big batch and freeze some for later and binge on most of it right after you cook it. You can even eat it with herbed-garlic bread and drink it either with iced tea or wine.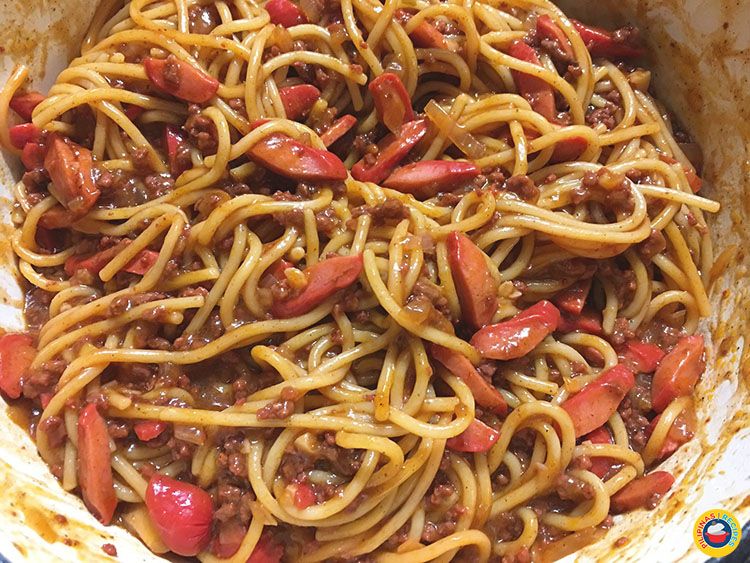 Filipino Spaghetti Preparation
To make a perfect Filipino Spaghetti Recipe dish, you need to cook this with love like how our mothers make it. Buy the finest ingredients and don't cook when you're stressed because you'll end up with a soggy pasta or really salty sauce, instead, cook when you're really up for it and you have time to prepare the ingredients like cut, slice, and chop before cooking.  And lastly, serve this very Filipino version piping hot as an afternoon snack or even dinner.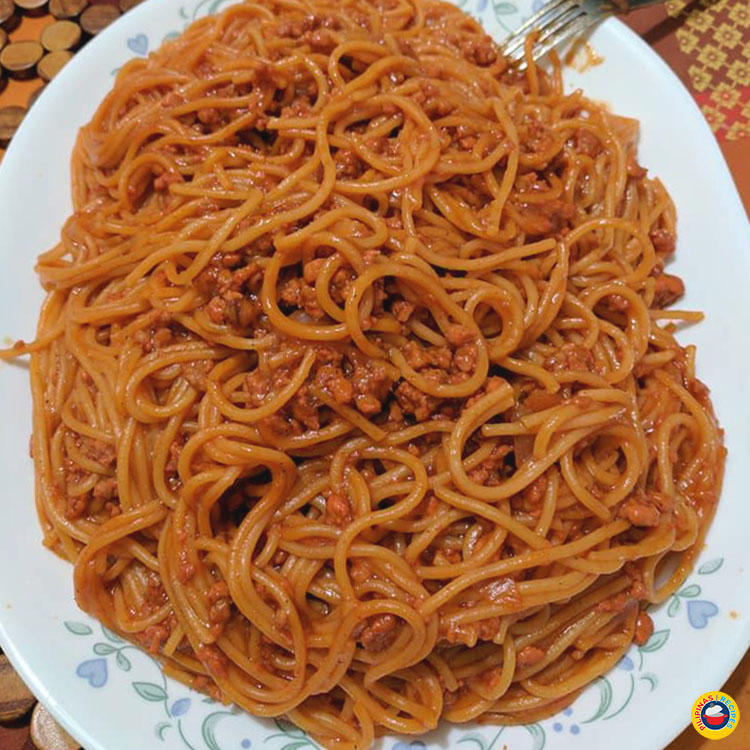 PS: Ideas and Suggestions to improve this recipe are much appreciated. Just comment below. Also, don't forget to like our Facebook Page for more Free Filipino Recipes. Search "Pilipinas Recipes" on Facebook or simply click this LINK. Thank You! Please Rate our Recipe below.