Filipinos love eating vegetables; they put it in salads, in stews and they mix it with meat or put it in a sandwich. There are Filipinos authentic dishes from various regions in the country where they like to cook vegetables longer so it's mushier while some dishes have half-cooked vegetables but both have different taste that is just right for the dish. This Chop Suey Recipe proves that Filipinos do love their vegetable by Mixing many vegetables together like Cabbage, Cauliflower, bell pepper, snow peas etc. They say that Chop Suey (Chopsuey) is Chinese and American in Origin and goes back to the late 19th Century when a Chinese ambassador visited New York, and, wishing to have a harmonious relationship with the Americans, told his cook to invent a dish to impress them and a version of this dish is what the cook made; whether the origin is true or not, this dish is well-liked by many.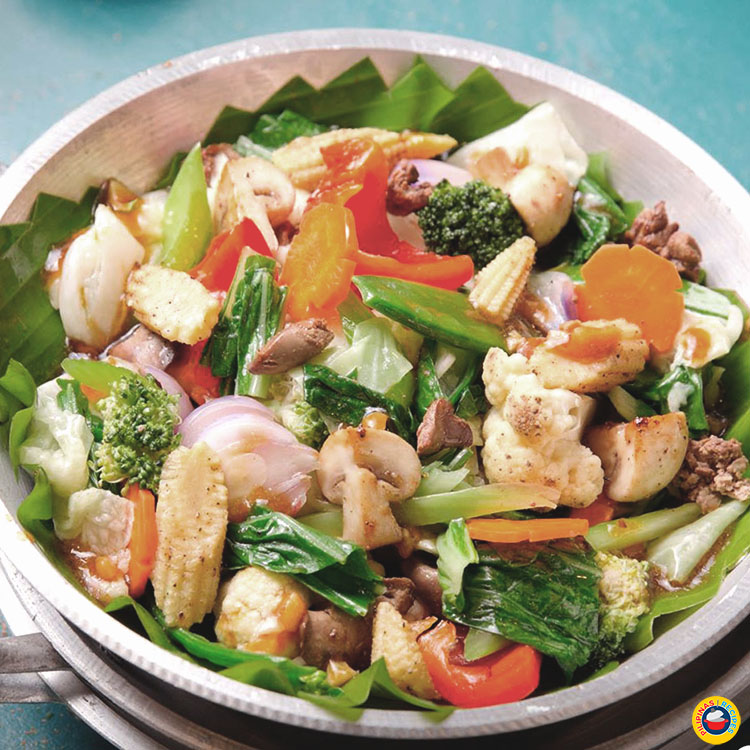 Print
Chop Suey Recipe (Chopsuey)
This Chop Suey Recipe proves that Filipinos do love their vegetable by Mixing many vegetables together like Cabbage, Cauliflower, bell pepper, snow peas etc.
Author:
Prep Time:

20 mins

Cook Time:

15 mins

Total Time:

35 mins

Yield:

6

1

x
Category:

Entree

Cuisine:

Filipino
1

Kilo Chicken Thighs (Sliced)

5

to

8

Quail Eggs (Optional)

1 tbsp

Cornstarch

1 tbsp

soy sauce

1

egg white

4

cloves garlic chopped

1

onion chopped

2 tbsp

olive oil

2 cups

cauliflower cuts in florets

4 Oz

snow peas

1/4

cabbage sliced

1

red bell pepper (sliced into strips)

1

carrots peeled (sliced into rounds)

2 tbsp

fish sauce

1 cup

chicken broth

1 tbsp

cornstarch dissolved in 2 tbsp water
Salt
Pepper
Instructions
In a bowl, combine the chicken strips, 1 teaspoon cornstarch, soy sauce and egg white.
Mix well and marinate for 30 minutes.
Heat oil in a wok or sauté pan over medium high heat.
Add garlic and onion; sauté until onion is soft and wilted.
Add chicken strips and cook until meat is browned and no longer pink.
Add all the vegetable and fish sauce.
Stir to combine and then add the broth.
Bring to a boil, cover and let simmer for 5 minutes or until vegetables are crisp tender.
Stir the Cornstarch Mixture and add put in the Pan.
Let mixture simmer until sauce thickens.
Add Salt and Pepper to taste. Adjust according to taste.
Serve.
Notes
This video shows another recipe for Chop Suey.
Nutrition
Serving Size:

1 cup

Calories:

170

Sugar:

3.8 g

Sodium:

556 mg

Fat:

7.8 g

Saturated Fat:

1.2 g

Unsaturated Fat:

6 g

Trans Fat:

0.2 g

Carbohydrates:

9.1 g

Fiber:

2.5 g

Protein:

16 g

Cholesterol:

36 mg
Keywords: healthy dish, stir fry vegetables, quick and easy, authentic
Chop Suey Recipe Variation
The number of vegetables used depends on who is cooking. Some choose to put a lot while some only put a couple but the dish is still delicious because of there's also shrimp, pork meat, and others even use chicken liver and gizzard which makes the dish very yummy. When making this Chop Suey, home cooks and even professionals use only the freshest ingredients and they season it with soy sauce. Some even add mushroom which really appeals to Oriental palates. Filipinos mostly partner this dish with another dish when serving like Grilled or Baked Fish, Sweet and Sour Pork and Rice such as Paella is always present; it can be Yang Chow Fried rice or steamed rice or both.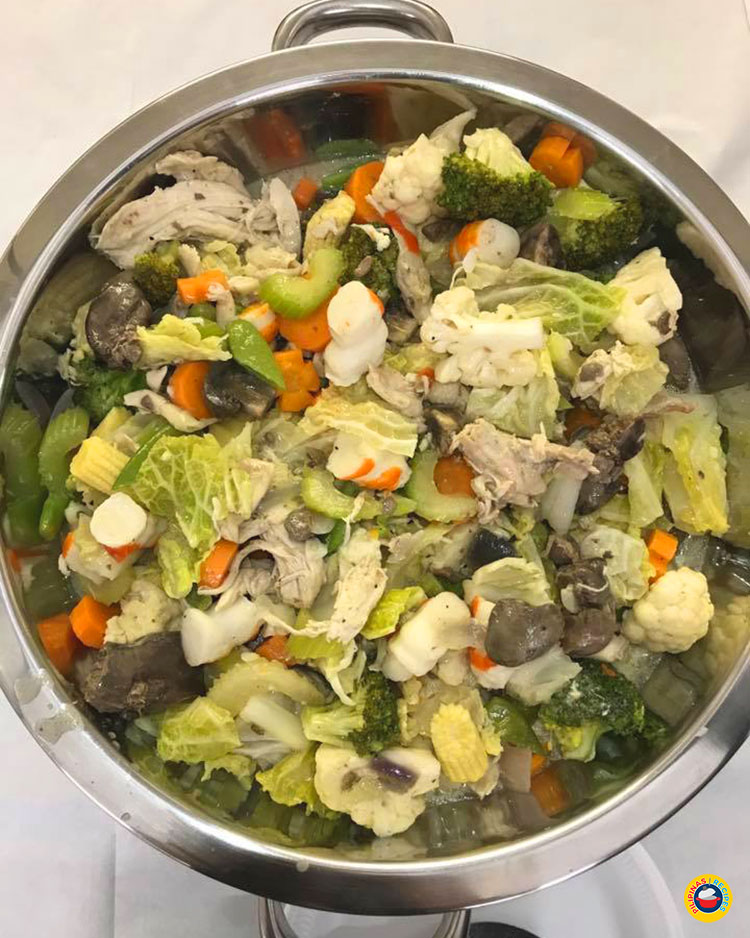 If you're a new cook and you really want to try your hand at cooking, trying this Chop Suey Recipe is a good way to start because it's fairly easy to prepare and make and everyone will absolutely love it. Don't overcook the vegetables as this dish tastes so much better when the vegetables are half-cooked.
PS: Ideas and Suggestions to improve this recipe are much appreciated. Just comment below. Also, don't forget to like our Facebook Page for more Free Filipino Recipes. Search "Pilipinas Recipes" on Facebook or simply click this LINK. Thank You! Please Rate our Recipe below.