The Kaldereta (Caldereta) is another favorite among Filipinos though it did not really originate in the Philippines. This Recipe was brought to this land by the Spaniards during their three hundred years of colonization. You can say that because of their long stay in the Philippines, they have adopted this recipe by heart thus making this delicious dish a part of the Filipino menu. Aside from Chicken Kaldereta and Beef Kaldereta, Pork Kaldereta Recipe is also a preferred version of this dish. Make sure to choose a Tender part of the Pork for it to be really enjoyable to eat.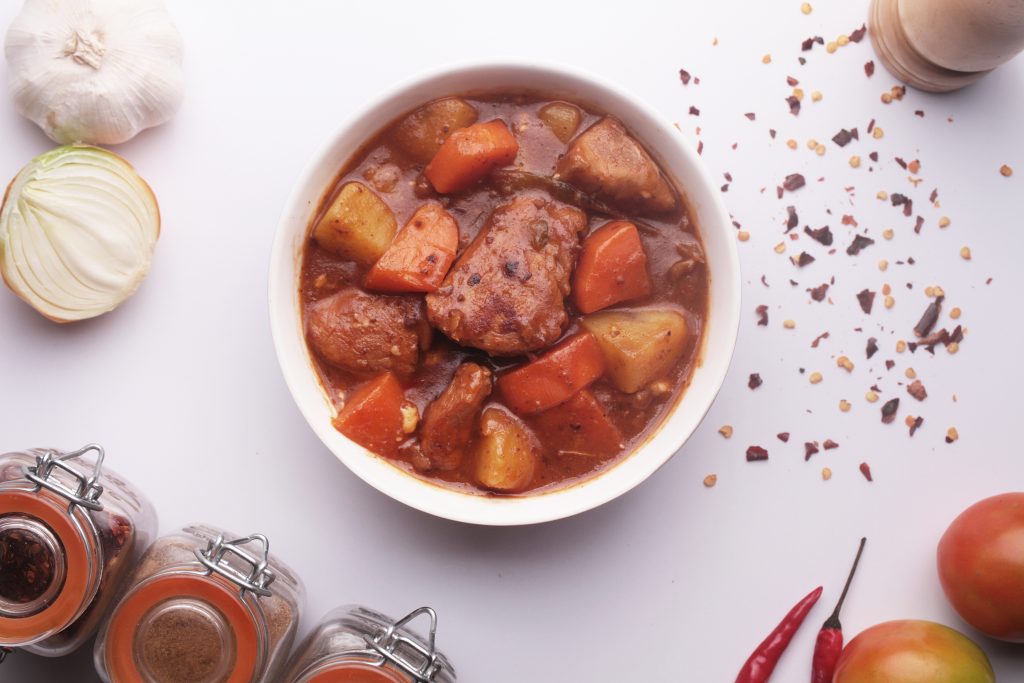 Print
Pork Kaldereta Recipe (Kalderetang Baboy)
Pork Kaldereta is a Filipino meat stew in tomato sauce. It is similar to Afritada and Mechado and. Oftentimes Filipinos are confused which is which because they almost have the same ingredients.
Author:
Prep Time:

15 mins

Cook Time:

60 mins

Total Time:

1 hour 15 mins

Yield:

6

1

x
Category:

Entree

Method:

Steam

Cuisine:

Filipino
1

kilo of pork belly

250 grams

original style tomato sauce

1

medium sized onion, sliced

4

cloves of garlic, minced

2

large potatoes, cut into bite sized cubes

1

large carrot, cut into bite sized cubes

1

red bell pepper

1

green bell pepper

4 cups

of water

230 grams

of liver spread
cooking oil

1 tsp

Spanish paprika (or more as needed)

2 tbsp

of sugar

35 grams

cheese
salt and pepper to taste
Instructions
Heat cooking oil in a casserole. About 2 tbsp. You can use a saute pan or a pot. Just make sure it is deep enough to fit all the ingredients.
Fry the carrots for about 3 minutes. Do not worry if you think it's not cooked well. Because we will add these back to the stew and that will help soften the carrots more.  Remove it from the pot and put it in a colander to strain excess oil.
Next is to fry the potatoes for 3 minutes. It is just the same process as the carrots. Remove it from the pot and let it sit on a colander to strain excess oil.
And then saute the minced garlic for 15 to 20 seconds. Add the onions and saute together for 30 seconds. Stir occasionally to prevent it from burning.
Add the pork. Fry this for 20 minutes or until it turned brown.
When  the pork has turned brown, stir in the tomato sauce until it blends well with the pork and then pour 4 cups of water. Let it boil and simmer for 20 minutes or until the meat is tender enough where you can easily pinch it with a fork.
Add liver spread and stir for a minute.
Put the bell peppers. Simmer this for another 10 minutes to make the pork more tender and flavorful.
Add 2 tbsp of sugar to give it a slight sweet taste.
Add 1 tsp of Spanish paprika to give it a spicy sweet and smoky flavor  You can add 1 tsp more if you like a strong spicy flavor.
Add salt and ground pepper according to how you like it.
Taste the dish and adjust the seasoning according to your liking.
Add the carrots and potatoes. Stir it in for 3 minutes. And then add shredded cheese to give it a creamy flavor. Stir for another minute.
And we're done! Serve pork kaldereta with hot white rice.
Notes
You can use red chili or chili powder instead of paprika to spiced your kaldereta. Just be careful with the amount, you don't want your kaldereta to be too spicy.
If you like the sweetness of Filipino style tomato sauce you can definitely use that.
Nutrition
Serving Size:

100 g

Calories:

242

Sugar:

0 g

Sodium:

100 mg

Fat:

14 g

Saturated Fat:

5 g

Unsaturated Fat:

7.6 g

Trans Fat:

0 g

Carbohydrates:

0 g

Fiber:

0 g

Protein:

27 g

Cholesterol:

80 mg
Keywords: tomato based stew, traditional
Pork Kaldereta Recipe Preparation
Pork Kaldereta is cooked in the same manner as the Chicken Kaldereta version. There's just a bit of difference when it comes to the vegetables. Prepare the Pork and the vegetables, making sure they are washed well and the potatoes and carrots are peeled and cut into small portions, almost with the same size as the pork. Add a few drops of oil into a skillet and saute garlic, chilis, and onion. Add the pork and allow it to cook for a while until it becomes a bit tender then the potatoes can be added. After a while, pour some tomato sauce and allow to boil for a few minutes before adding the liver spread. Just keep in mind not to put too much or it will alter the taste. Before removing from heat, place the carrots and bell pepper. After a few seconds, remove the skillet from heat.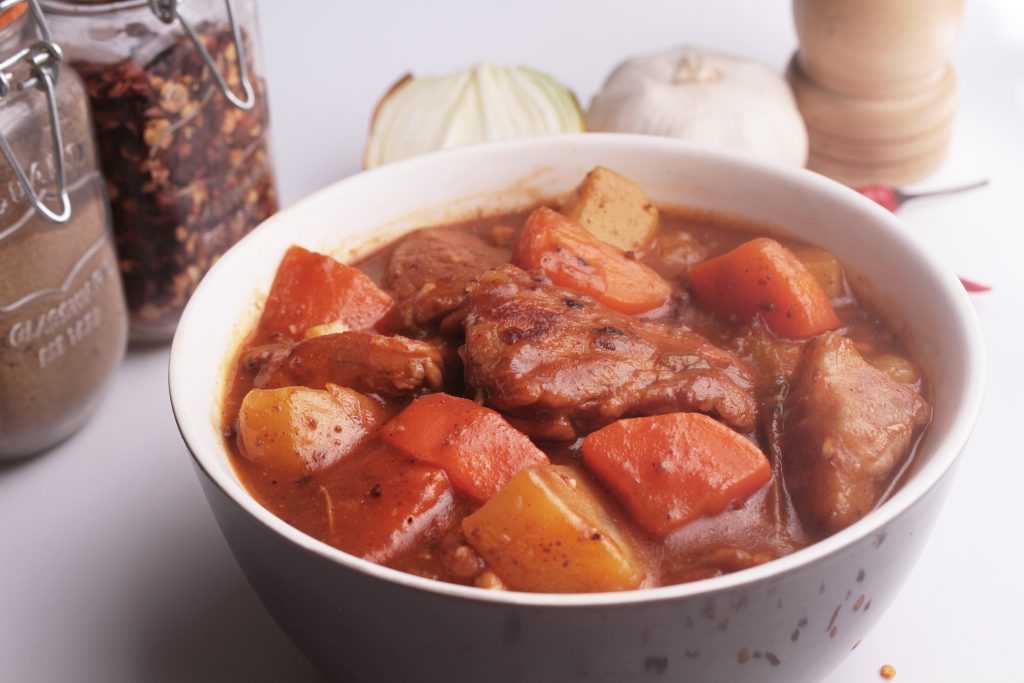 Serving Pork Kaldereta
The favorite part of the cooking comes now. It's time to sit down with the family and grab a few cups of rice to enjoy the savory taste of this extremely wonderful, delicious meal. Having an ice-cold soda on the side will make eating your own version of Pork Kaldereta Recipe is one of the best experiences your taste buds will ever encounter. You will be waiting for the next bout with this dish.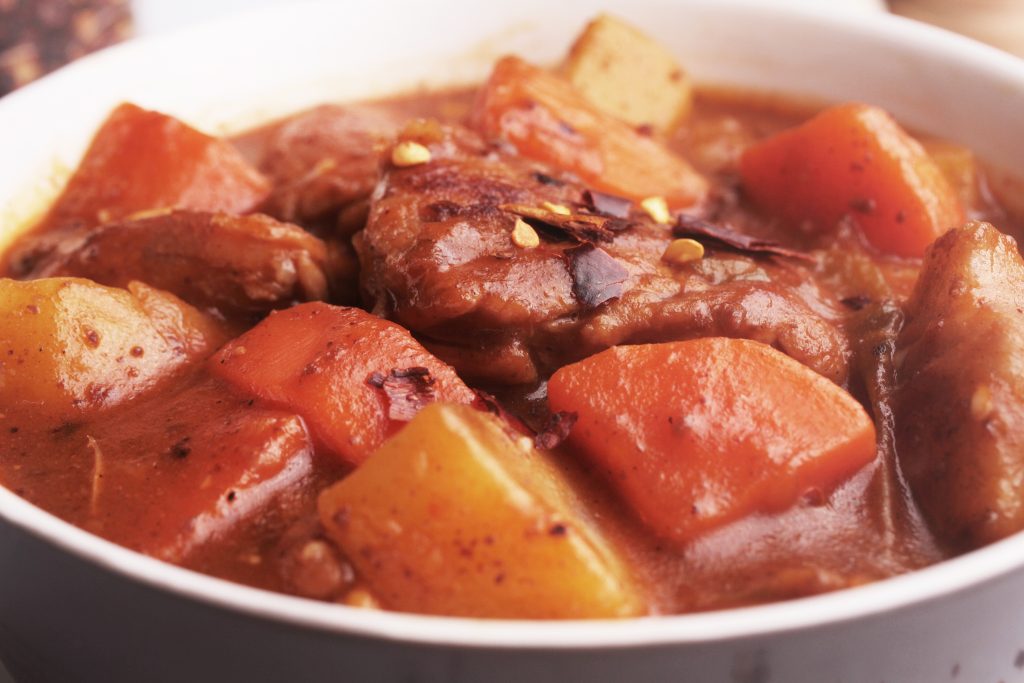 PS: Ideas and Suggestions to improve this recipe are much appreciated. Just comment below. Also, don't forget to like our Facebook Page for more Free Filipino Recipes. Search "Pilipinas Recipes" on Facebook or simply click this LINK. Thank You! Please Rate our Recipe below.