Shrimp Paste or "Bagoong Alamang is a common ingredient and it is widespread in Southeast Asia.  It is made from small shrimp or krill and salt mixture left to marinade and ferment for several days until the salty and earthy flavor develops.  It is extremely pungent, salty paste and sold in jars or in wet market. Bagoong Alamang Recipe is chunky compared to watery types of "Bagoong" made of fish.  It is often an ingredient in a dip for fish and vegetables.  It is common ingredients in Filipino cooking such as in "Pinakbet" and "Binagoongan", and it is a better pair for dishes such as "Kare-Kare".  It is often an ingredient in a dip for fish and vegetables.  It is a mouth-watering condiment usually eaten with unripe mangoes.
Shrimp paste varies between Asian cultures and can vary in smell, texture, color, saltiness, and spiciness on the type.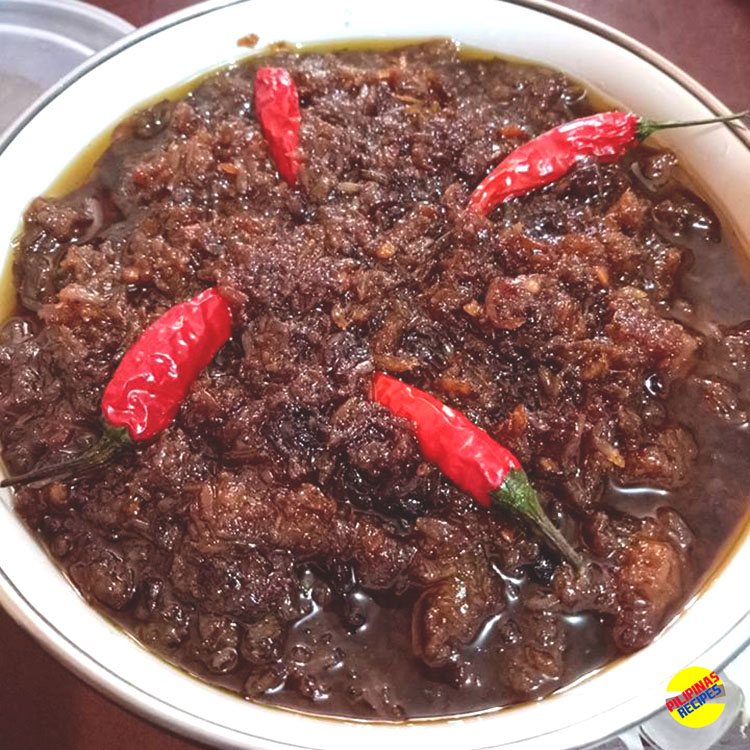 One of the favorites among Filipinos is green or unripe mangoes ("manggang hilaw"), both young and old eaten this kind of fruit.  Just imagine of green mangoes makes the Filipinos crave for it, and of course, it wouldn't complete without the favorite "Sawsawan" or dip, which is alamang, whether sautéed or not.

Bagoong Alamang Recipe
Author:
Pilipinas Recipes
Ingredients
12 ounces shrimp paste
1 medium tomato, diced
4 ounces pork (with fat), sliced
1 small onion, minced
3 cloves garlic, minced
3½ tablespoons sugar
3 teaspoons vinegar
Instructions
Heat a pan and sear the pork until the oil comes out.
Add garlic, onion, and tomato then sautés for 5 minutes.
Put the raw shrimp paste, sugar, and vinegar then stir.
Cover and cook over low heat for about 15 minutes.
Stir once in awhile.
Transfer to a bowl.
Serve.
Bagoong Alamang Recipe Preparation
A common preparation of bagoong alamang recipe is first to wash and clean the alamang.  Drain water, this help to remove extra saltiness.  In sautéing onion and garlic, pork back fat can use or vegetable oil, sauté for few minutes or until it becomes golden brown.  Hot pepper and ginger will add to remove the fishy flavor.  Add water and bring to boil or until the alamang become slightly brown, Sugar is gradually added until slightly sweet and to achieve a nice balance of sweet and salty.  Transfer to a container with a tight-fitting lid, store in the shelf or refrigerate until ready to use.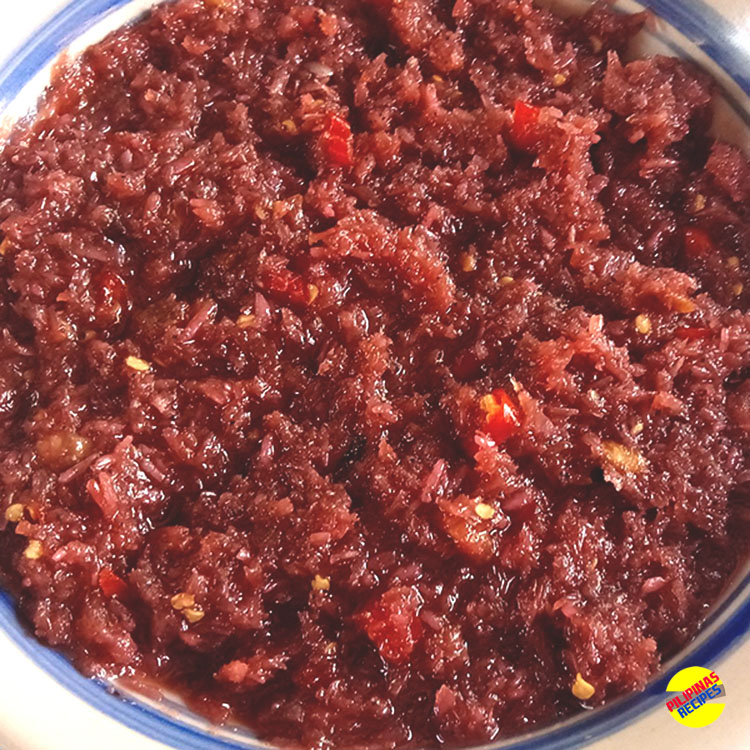 Cooked Bagoong Alamang can last for several days or weeks.
---
Ideas and Suggestions to improve this recipe are much appreciated. Just comment below. Also, don't forget to like our Facebook Page for more Free Filipino Recipes. Search "Pilipinas Recipes" on Facebook or simply click this LINK. Thank You!