This rice dish, Arroz Valenciana, was always cooked in every occasion.  It simply cooked in the Valencia style which is part of Spain, although many regions in Spain have their own special variations. The Arroz Valenciana Recipe is a typical Latin American dish which is also considered as a part of Filipino cuisine.  Aside from the Spanish ingredients, it has rice and coconut milk.  It is usually served for Fiesta or any other special occasions.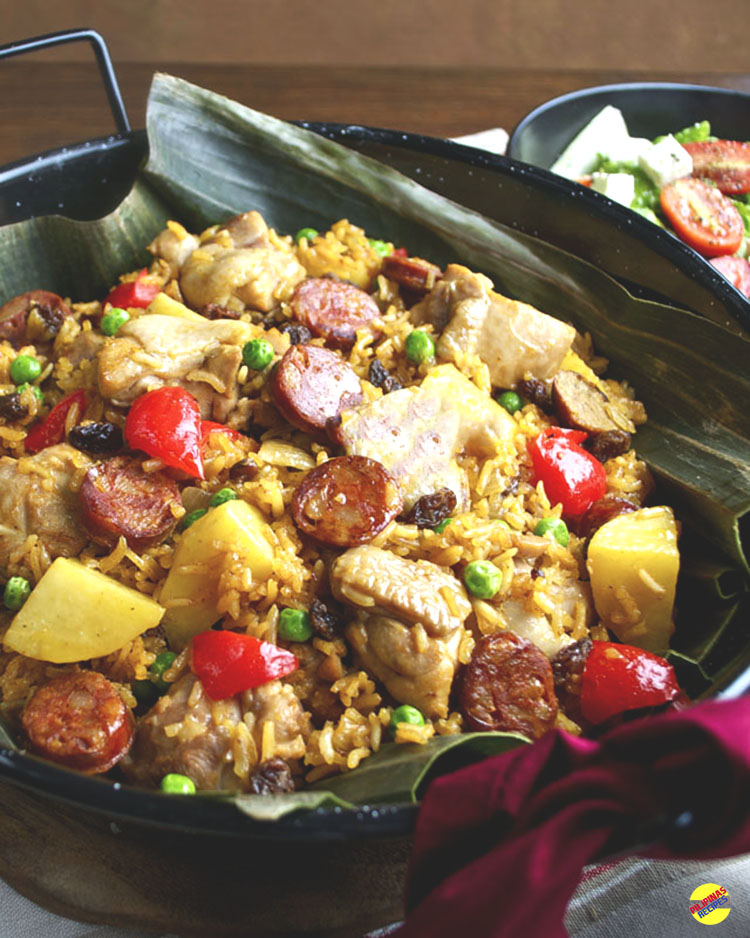 Arroz Valenciana is a dish similar to "Paella", a Spanish dish with seafood, Chorizo, Chicken and the spices called Saffron.  The major differences between the two are the manner of preparation and special ingredients. Paella has more lavish ingredients compared with Arroz Valenciana – which is also known or called Poor Man's Paella because the recipe is more cheaper and the ingredients are readily available.  Typical "Arroz Valenciana is a stove-top cooking while Paella is more of baking.

Arroz Valenciana Recipe
Author:
Pilipinas Recipes
Ingredients
2 tbsps. olive oil
3 cloves of garlic, crushed
1 onion, cut into chunks
3 boneless chicken thighs, cut into quarters
2 pieces of chorizo, sliced
2 tbsps. tomato puree (paste)
1 c. of uncooked Thai jasmine or long grain rice
½ c. of uncooked glutinous rice
1 tbsp. fish sauce
1 tsp. of kasubha (safflower) toasted and crushed
3 cooked sausages, cut diagonally
2 potatoes, cut into big chunks
1 c. chicken stock
1 c. of coconut milk
½ sweet red pepper, cut into chunks
⅓ c. sultanas or raisins
⅓ c. of frozen green peas
Instructions
Soak the Jasmine and glutinous rice in water for an hour and drain well.
Pre-heat the oven to 300° F/ 150° C.
Heat up a sauté pan and add the 2 tbsps. of olive oil.
Sauté the garlic until light brown, then add the onions. Cook until translucent but not soft.
Add the chicken pieces and the sliced chorizo. Stir. When the chicken meat has changed color, add the tomato puree (paste) and the fish sauce.
Stir until the tomato puree fully coats the chicken. Cook for 2 minutes.
Add the rest of the ingredients, except for the sultanas, peppers and green peas, and bring to a boil. Turn the heat to low and simmer, covered, for 5 minutes.
Add the sweet peppers and sultanas and stir.
Transfer to an oven proof dish.
Set this dish inside a bigger pan and add water to reach halfway up its sides.
Cover both pans tightly with foil.
Bake for an hour, stirring at half time.
Serve
Arroz Valenciana Recipe Tips
The Filipino version of this recipe is very delicious and healthy.  It is an ALL-IN-ONE meal because everything is there – meat and rice in one.
Preparation of the Pinoy Arroz Valenciana recipe is simple, quick and easy to make for an everyday meal.  The ingredients involve the use of glutinous rice or "Malagkit" and jasmine rice – which make it less sticky and more pleasant to the palate,  chicken, coconut milk, boiled eggs and Chorizo de Bilbao.  Other ingredients are a red bell pepper, raisins, green peas, tomato, and saffron – is what makes Arroz Valenciana taste good, it also provides an appetizing aroma.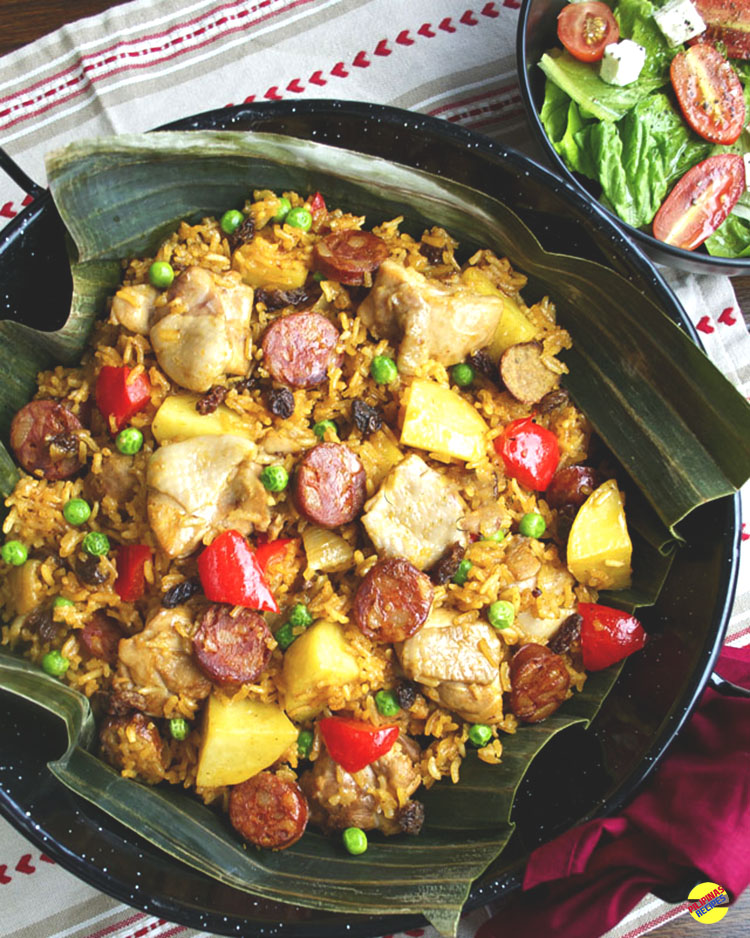 Cook glutinous rice and jasmine rice together on the usual cook for regular rice.  Sauté the garlic, onion, tomato and add the chicken meat, liver, raisins, salt, pepper and saffron.  Adding atsuete water mixture to enhance its flavor and aroma.  When done add rice and mix well or until fully combined.  Add some raisin and green peas.  Serve with a hard-boiled egg on top.
PS: Ideas and Suggestions to improve this recipe are much appreciated. Just comment below. Also, don't forget to like our Facebook Page for more Free Filipino Recipes. Search "Pilipinas Recipes" on Facebook or simply click this LINK. Thank You!