The Filipino Style Paella Recipe is a popular rice dish which can be enjoyed on its own or with other dishes. It comes in different varieties such as Vegetable Paella, Seafood Paella, Paella De Marisco or just a nice Mixed Paella. The rice appears orange in color due to the ingredients added to it as well as from the cooking heat. The texture of the rice used may be the slightly sticky or glutinous kind to incorporate the flavours even more. In the Philippines, Paella may be served during the holidays especially Christmas and New Year's Eve. It may seem like a very intimidating dish to cook at first, but it is very simple to pull off.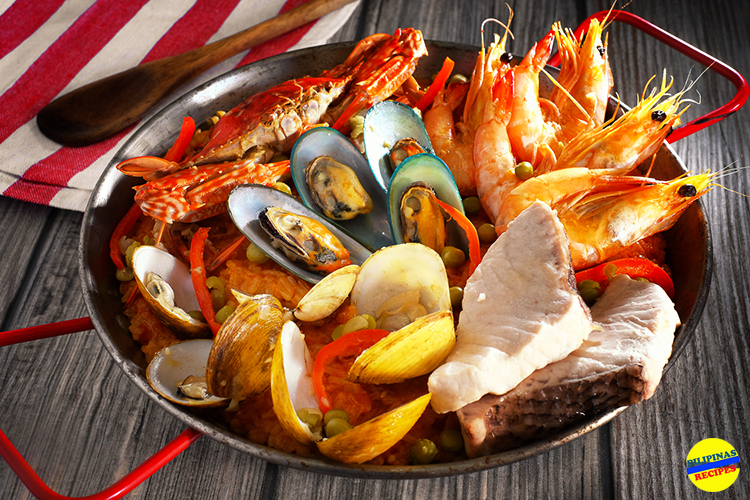 The dish is actually cooked in a pan called Paella. This is a deep flat pan with two handles, similar to a frying pan. The meat for the dish may vary depending on your preferences. You can try seafood paella with mussels, shrimps and squid rings or you can go for a mix of everything like chicken, crab, and shrimp. The possibilities are endless for the dish especially if you are the one making it.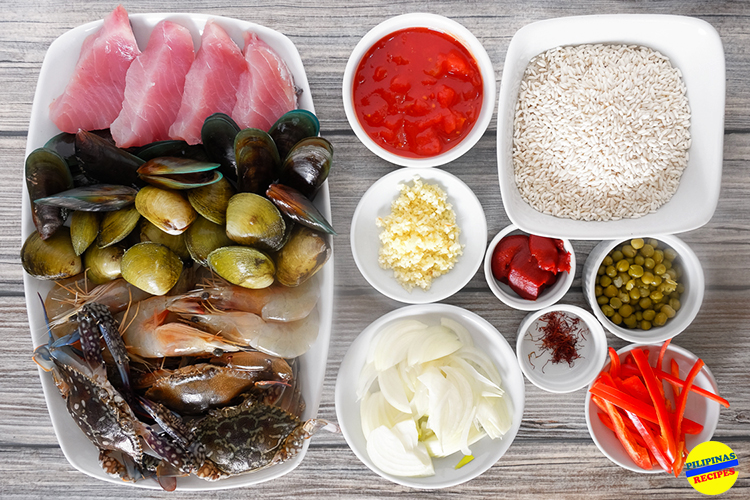 Filipino Paella Recipe
Author:
Pilipinas Recipes
Ingredients
2 Cups rice
1 Cup shrimp
3 pcs Blue crabs, cleaned
½ kilo Manila clams
2 Fish fillet
½ kilo mussels
1 medium Onion, sliced
2 Cloves garlic
½ Red pepper
1 Can green beans
1 tsp saffron flower
1 tsp annatto powder
1 tbsp tomato paste
½ Cup canned tomato
½ Cup stocks from shrimp heads
2 Cups of water
Canola Cooking oil
Salt and pepper to taste
Instructions
Heat the oil in a large frying pan over moderate heat, saute the garlic, and onion.
Stir in the annatto and mix well, then drop-in canned tomato and cook for a few minutes.
Add tomato paste and shrimp stock and bring to a boil.
Stir in clams, crabs, mussels, shrimp and fish, season with salt and pepper.
Cover and let cook for 5 to 7 more minutes or until seafoods are done
When seafood is just cooked through, remove seafoods and leave the sauce on the pan.
Add water, rice and saffron to the sauce. Stir, cover and cook until rice is tender, add more stock if needed.
Stir in canned green peas and red or green pepper and cook for another 3 to 5 minutes.
Put the seafood back to the pan or served it on top of the rice.
Spoon the paella into a serving dish or platter and garnish with the olives and hard-boiled egg, if desired.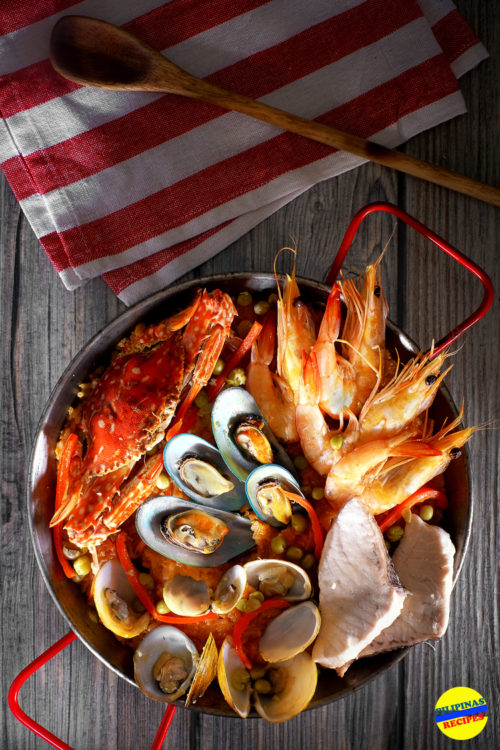 Paella Recipe Preparation & Tips
The first thing to do when cooking Paella is to prepare the seafood or meat. These need to be partially cooked so then when you add them to the rice, which cooks more quickly, they won't be undercooked. Next is to prepare a paste made from garlic, paprika, and herbs like parsley. This contributes to the great flavour, aroma, and color of the rice.
When making the Paella Recipe, the way you cook your rice is important. You can use saffron rice, which may cost more, but can be very rewarding in the end. Instead of using water like for normal rice, the liquid to use is fish stock or clam juice to get the flavours going. The rice needs to be partially cooked for the next step. The partially cooked seafood or meat will then be arranged on top and then cooked until the rice is well done. The cooked rice needs to be firm and chewy like you can taste every single grain.  After you have perfected the rice, all of the ingredients will be in perfect harmony.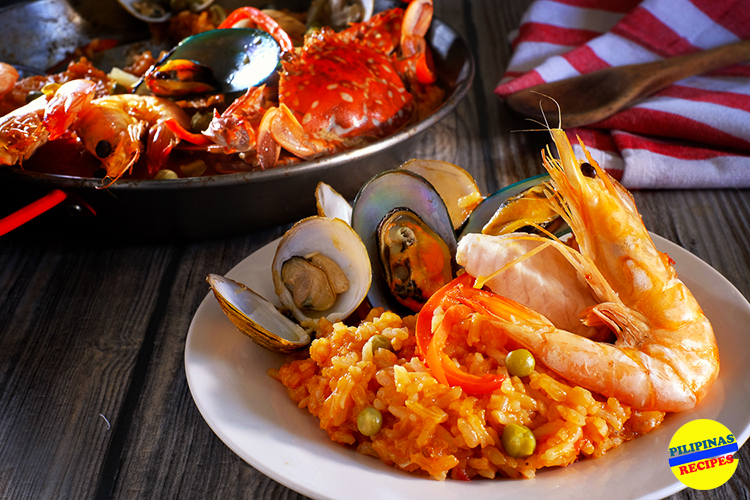 Ideas and Suggestions to improve this recipe are much appreciated. Just comment below. Also, don't forget to like our Facebook Page for more Free Filipino Recipes. Search "Pilipinas Recipes" on Facebook or simply click this LINK. Thank You!