Adobo in Spanish word "adobar" means to marinade, sauce or seasoning before cooking.  It is a Filipino national dish of Pork or Chicken and Beef stewed in vinegar.  The delicious flavor and preserving qualities of "Adobo" makes the dish more popular not only in the Philippines but also around the world. The word Adobo is also used in Mexican and Caribbean cuisine.  The Mexican version uses a thick paste made from dried chilies, herbs and vinegar and added to the meat.  While the Caribbean Adobo uses all-purpose adobo blend made with garlic, oregano and other savory spices for marinating chicken, meat, and fish.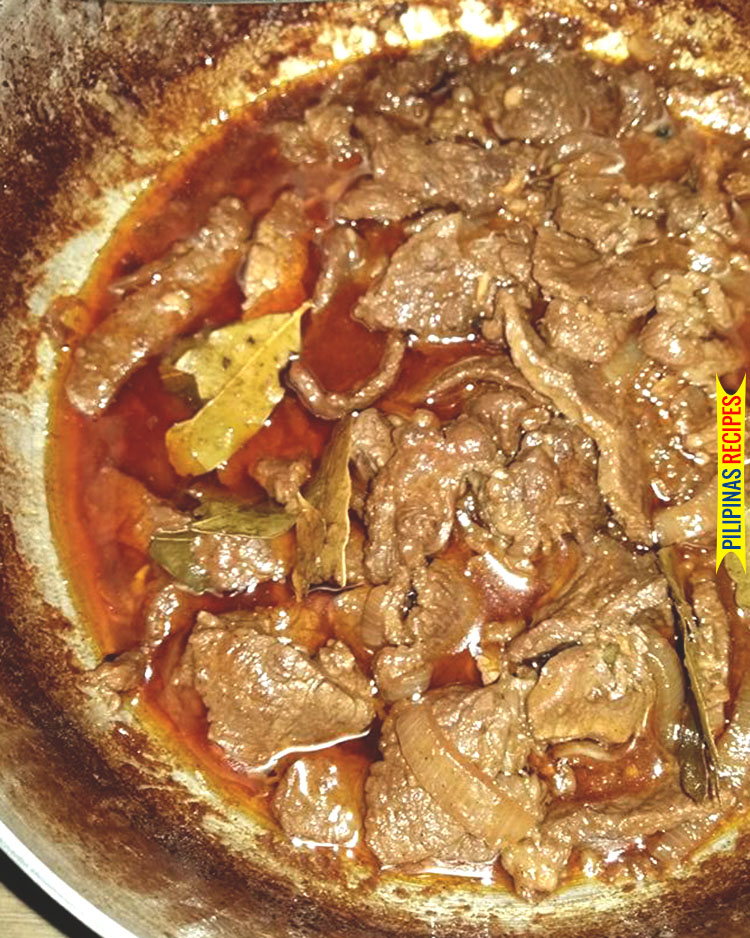 Beef Adobo Recipe (Adobong Baka)
Author:
Pilipinas Recipes
Ingredients
500 grams beef, cut into thin slices
½ cup soy sauce
⅓ cup vinegar
3 cloves garlic, chopped
1 teaspoon peppercorns
3 pieces bay leaves(Laurel)
2 tablespoons brown sugar
½ cup water
salt to taste
Instructions
In a pot, combine beef, garlic, bay leaves, peppercorns brown sugar, and soy sauce.
Marinate for an hour or overnight in the fridge.
Pour water then simmer on a low heat for 40 minutes or until beef is tender.
Pour vinegar and simmer for another 5 minutes then season with salt and sugar according to taste.
Cook until the sauce is almost absorbed and start to render oil.
Transfer to a serving plate then serves with rice.
The most basic ingredient of "Adobo" is vinegar which is usually rice vinegar or coconut vinegar.  Adding vinegar tenderizing tough meat and tend to brighten the flavor of an almost dish.  The acid content and tangy flavor make excellent ingredients for marinating the meat, fish, poultry and even vegetables.  While choosing the meat, the less expensive cuts of the meat are perfect for casserole as the slow-cooking process to tenderize the meat.
Beef Adobo Recipe & Preparation (Summary)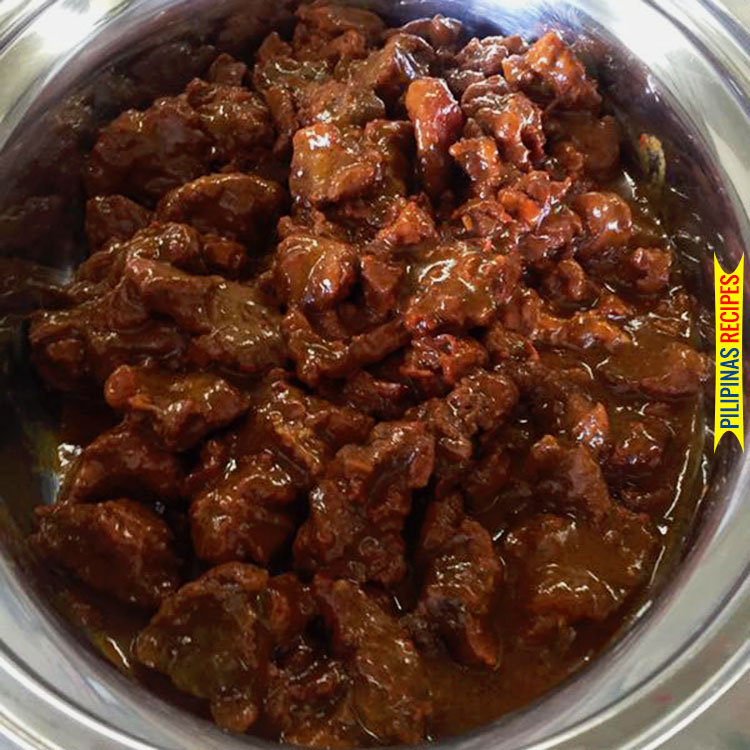 One variety of cooking Adobo is the Adobong Baka also known as Beef Adobo.  Our Philippine's beef is hard to cook, so we tend to boil it much longer than other meat.  This is the simple ways of cooking this Beef Adobo Recipe.  Slice the beef in cube first then combine all ingredients, such as water, vinegar, soy sauce, garlic, peppercorn, bay leaves and brown sugar.  Marinate the beef for about an hour or overnight inside the fridge to enhance the flavor.  Bring to boil and simmer over medium heat for about 30-45 minutes until beef is tender.  You can add water if necessary and scoop out the scum that rises.  Add in chilies, season with salt and pepper to taste and continue to simmer until the sauce is almost dry and thick.
It is usually over a bowl of white rice to absorb the deliciously tangy sauce.
PS: Ideas and Suggestions to improve this recipe are much appreciated. Just comment below. Also, don't forget to like our Facebook Page for more Free Filipino Recipes. Search "Pilipinas Recipes" on Facebook or simply click this LINK. Thank You!