Filipino Adobo can be considered the headliner of the cuisine as it is the most popular dish out there.  Because of its simplicity allows that possibility, even with many variations like this Creamy Chicken Adobo. 'Adobo" is essentially just stewing meat in vinegar and soy sauce.  Aside from excellent shelf life, it is suitable to take on the long trips.
A decent Adobo is delicious, a good one has character.  Every Filipino has their own unique way of cooking the said dish like Pork Adobo.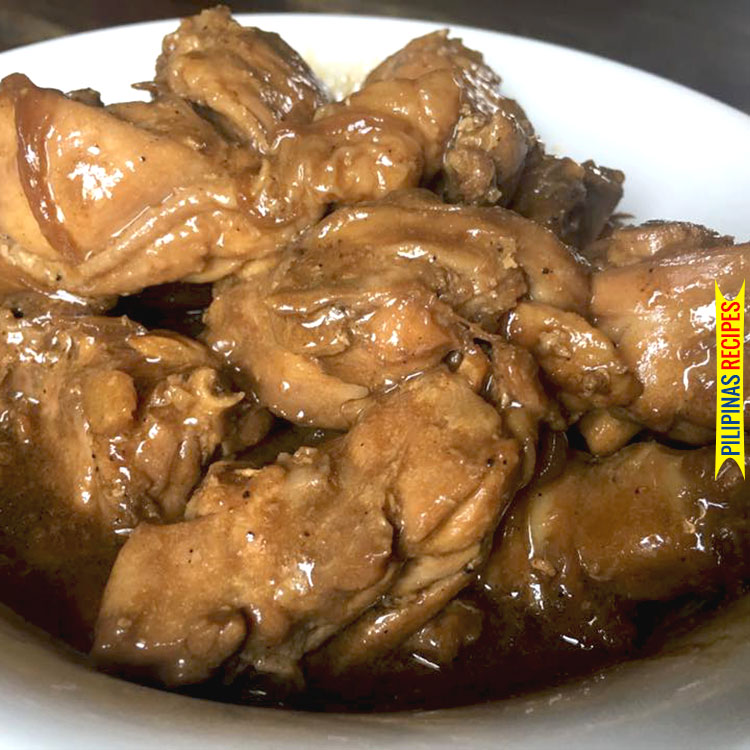 There is great variety in the way adobo is prepared in different region across the country.  In Southern Luzon, locals use coconut milk.  The taste and flavors that come out are light, sweet and earthy.

Creamy Chicken Adobo (Adobo sa Gata)
Author:
Pilipinas Recipes
Ingredients
1 kilo Chicken (legs/thighs)
½ cup Vinegar
1 cup Soy Sauce
1 tsp coarsely ground black pepper
3 tbsp vegetable oil
1 tbsp minced garlic
1 cup coconut cream
1 red bell pepper, cut into strips
2-3 finger chilies
Instructions
Combine Vinegar, Soy Sauce, and ground pepper.
Pour over chicken, mixing well to let the flavor seep in.
Heat oil in a large saucepan and saute garlic until lightly golden.
Remove garlic.
Drain chicken and set aside marinade.
Quick-fry chicken pieces until skin are golden.
Add reserved marinade and garlic. Let simmer over low heat until tender.
Add coconut cream, bell pepper, and finger chilies.
Cook until sauce thickens and oil starts to separate.
Serve
Notes
You can also add more chilis if you want your Chicken Adobo spicier.
Creamy Chicken Adobo Preparation
Creamy Chicken Adobo or known as Chicken Adobo sa Gata, a delightful creamy twist to a popular dish to make it more delicious.  Coconut milk blends magically with vinegar, alleviating the acid base of adobo and adding a creamy richness.  With coconut milk added to the mix, you don't have to worry about how much soy sauce or vinegar you're putting in.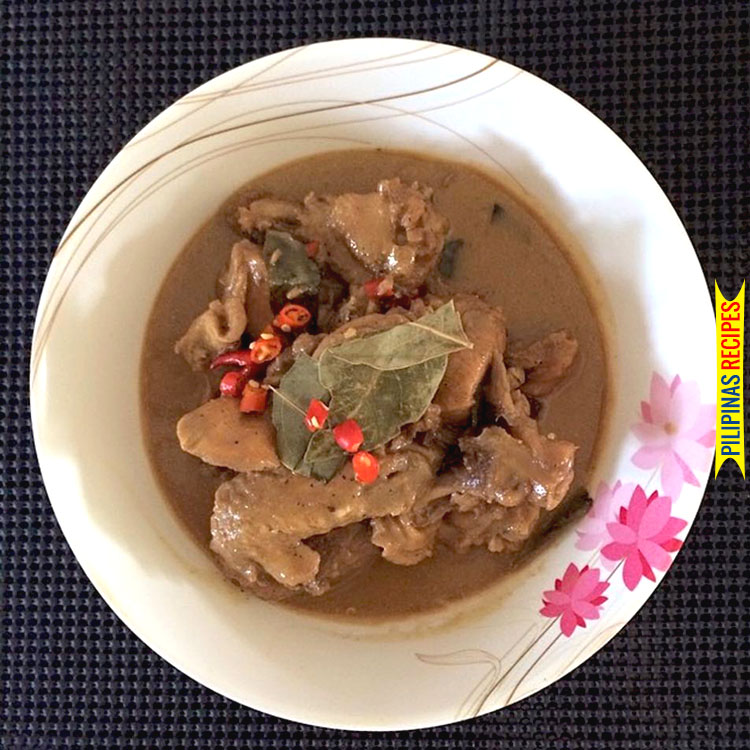 This dish is incredibly easy to make. It only requires a handful of ingredients and it can be made in a skillet.  If desired, skin chicken, rinse and pat dry.  Marinate chicken with soy sauce and toss until it's coated, cover with plastic wrap, refrigerate and let's marinate for one hour or overnight.  Brown chicken in hot oil, turning to brown evenly.  Adding the ingredients such as vinegar, soy sauce, garlic, peppercorns and bay leaf, bring to boil, reduce heat and simmer or until chicken is tender.  Transfer chicken to a serving plate, keep warm.  In the skillet, stir together the cornstarch and water until thickened and bubbly, add the coconut milk and stir.  Heat through but do not boil.  Serve chicken and sauce with rice.
This Creamy Chicken Adobo is truly Filipino cooking at its finest.
---
Ideas and Suggestions to improve this recipe are much appreciated. Just comment below. Also, don't forget to like our Facebook Page for more Free Filipino Recipes. Search "Pilipinas Recipes" on Facebook or simply click this LINK. Thank You!