Pork Adobo is one of the favorite dishes of the Filipinos.  It has sometimes been considered as the unofficial national dish in the Philippines especially the Pork Adobo Recipe. One dish that you can see in every dining table of every Filipino family.  The term Adobo came from Spanish word "adobar", it means "marinade", "sauce" or "seasoning".  There are many ways to cook adobo.  To name a few: "adobo sa gata", "Adobong Matamis", "Adobong Tuyo", "Adobong Masabaw", "Adobong Puti" and "Adobo sa Calamansi".  Most of the foreigners who visit the Philippines prefer to eat "adobo" because of its taste.  In fact, most of the visitors in the country look for a great cuisine and enjoying their vacation. They have come to the Philippines to try and taste this particular dish.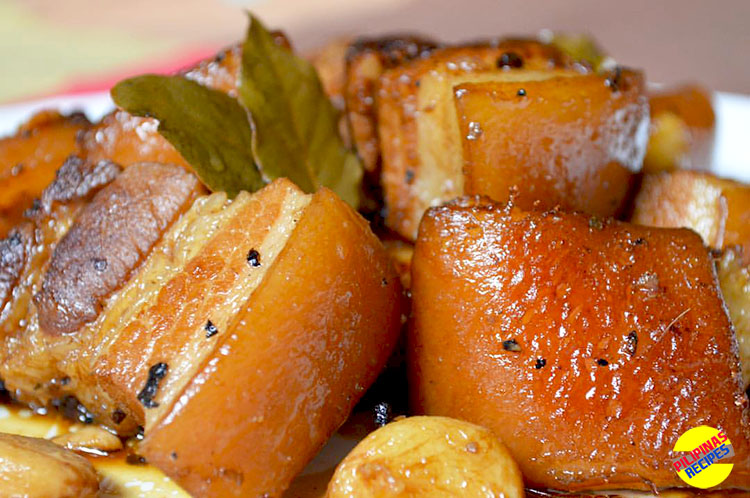 Pork Adobo Recipe (Adobong Baboy)
Author:
Pilipinas Recipes
Ingredients
400g Pork Belly / Loin - cut into 1-inch pieces
6 cloves garlic, finely chopped
2 small onions, finely chopped
2 medium potatoes, cut into cubes and boiled (optional)
½ tsp dried oregano
½ tsp dried/fresh thyme
½ tsp parsley
1 tsp black pepper (or to taste)
salt (to taste)
3 bay leaves
6 cardamoms
½ cup dark soy sauce
½ cup light soy sauce
2 tbsp brown sugar
½ tbsp black peppercorn
½ cup water
2 tbsp cooking oil
Instructions
Taking oil in a saucepan over medium heat.
Add in the chopped onions and garlic, saute it and let it sweat for 1 minute.
Add Pork and cook for 3 minutes, (stir for a while to cook)
Add in the water and increase the heat to high.
Let the water boil and for the pork to cook in it.
Decrease the heat to medium once the water has evaporated and only a little is still left in the saucepan.
Add in all the spices, soy sauce and boiled potatoes to the pan - and let it simmer for 5 minutes or until the consistency has thickened to that of a gravy.
Serve.
Notes
You can substitute chicken for pork if you'd like and cook it according to the instructions in the recipe. It'll still taste amazing!
If you're using pork belly or chicken, the specified time in the recipe for boiling the meat in the water is correct - but in case you're using a tougher meat such as lean pork, double the amount of water (i.e. use 1 cup instead of ½ cup) and boil till most of the water has evaporated.
Pork Adobo Recipe Preparation
One simple way to cook this Pork Adobo Recipe and requires only a few ingredients such as pork meat, vinegar, soy sauce, garlic, peppercorn, and bay leaf.  Sautéing garlic and pork cubes until meat is brown, adding all ingredients while turning down the heat, simmer or wait until the pork is done and a sauce has almost dried up.  Adding pineapple chunks and its juice is a twist for more flavoring and mouthwatering delights.  Adobo can be dry or less sauce.  And serve with white rice.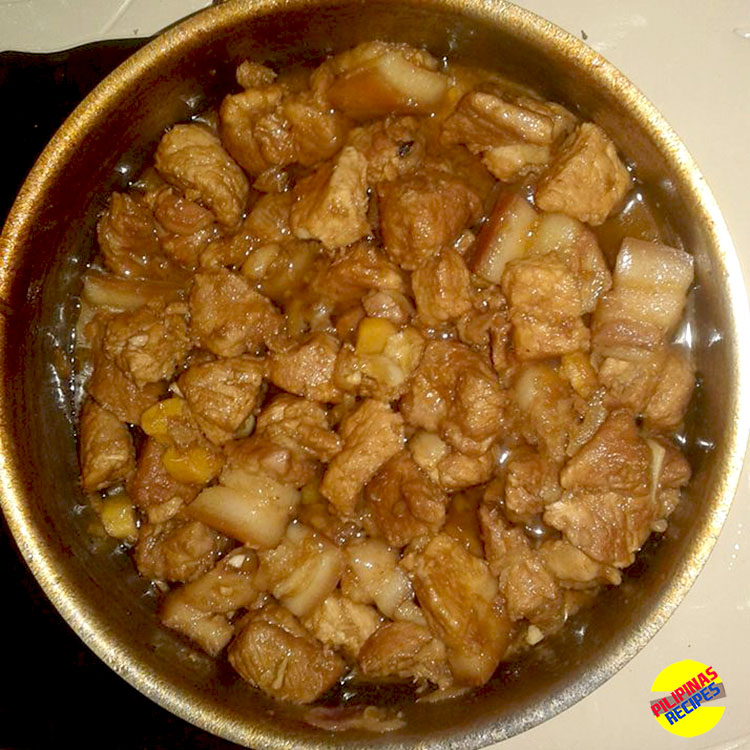 The great things in cooking Adobo is that it has a longer shelf life especially if keep it in the fridge.  One important ingredient is vinegar.  Vinegar is now mainly used as cooking ingredients, it has the perfect balance of acidic flavors without being too harsh or chemically. It preserves the food much longer time.  Adobo was traditionally cooked in small clay pots ("palayok"), but in modern times, metal pots or woks ("kawali") are used instead.
Imagine the delicious aromas or this Pork Adobo Recipe penetrating the door of every home.  A perfect food for the family and friends.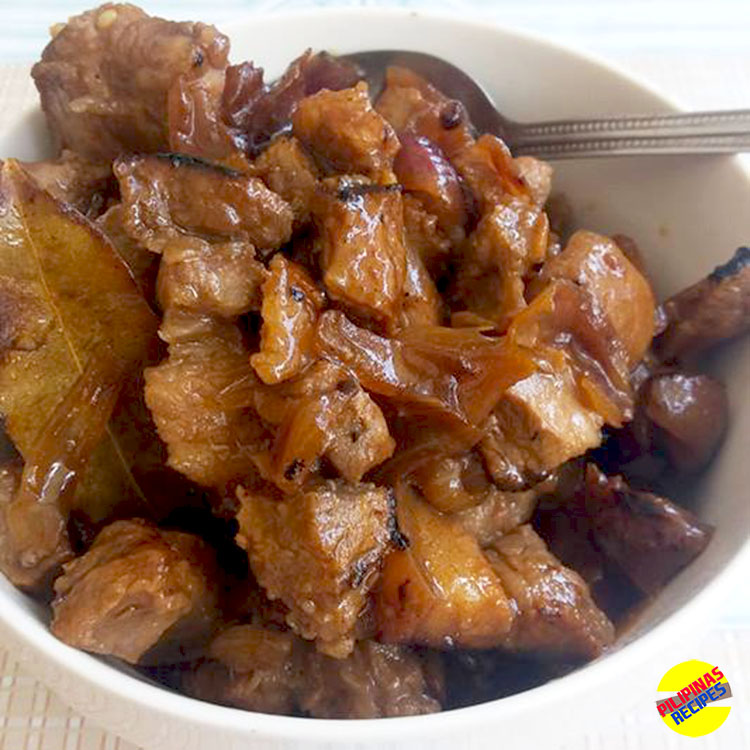 ---
Ideas and Suggestions to improve this recipe are much appreciated. Just comment below. Also, don't forget to like our Facebook Page for more Free Filipino Recipes. Search "Pilipinas Recipes" on Facebook or simply click this LINK. Thank You!