Did you ever try to taste "Atsara"?  It is no secret that we Filipinos love Atsara.  In fact, in every meal of every Filipinos, Atsara can be found as a side dish. The Filipino version of Atsara Recipe equivalent to the pickle relish, though we enjoyed it in a different way.  We usually paired with fried foods and rice.  It was like the ketchup to our burger or fries, and it went with just anything.  We love the taste of sweet and sour flavor, some like hot and spiciness of Atsara.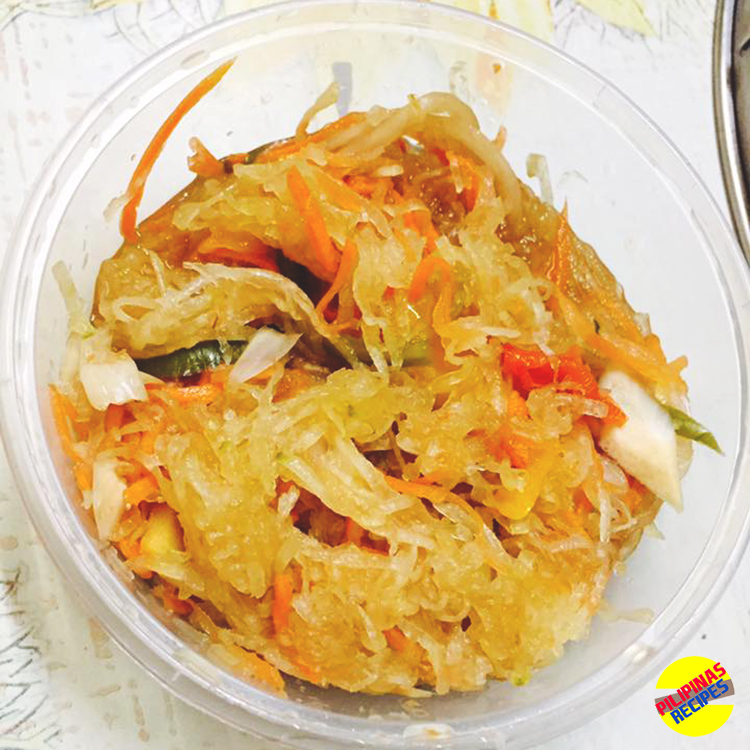 Contrary to popular belief, atsara is not the same as Sauerkraut – a German side dish which they use cabbage that has been fermented and is pickled with just vinegar and no sugar or Achaar – an Indian mixed pickle that contains lotus root, lemon, carrots, green mango, green chilies and other ingredients.

Atsara Recipe (Pickled Green Papaya)
Author:
Pilipinas Recipes
Ingredients
1-1/2 cups grated raw papaya
¼ cup grated carrot
¼ cup sweet red pepper, thinly sliced
½ cup vinegar
½ cup sugar
½ tsp. Salt
⅛ tsp. Black ground pepper
1 tsp. Finely chopped fresh ginger
Instructions
Mix grated papaya, carrot and sweet red pepper in a deep glass bowl. Set aside.
Boil the vinegar, sugar, ginger, salt and pepper uncovered in a cooking pan for 2 – 4 minutes.
Pour the vegetable mixture cover for 5 – 8 minutes, then remove from the pan to a glass bowl, let it cool and then refrigerate.
Atsara Recipe Tips
Whilst our Atsara Recipe is a pickle made from grated unripe papaya.  Papaya, of course, a well-known tropical fruit in the Philippines and readily available most of the year.  Consuming papaya has healthy benefits, it includes a reduced risk of Heart Disease, Diabetes, aiding in digestion, lowering blood pressure and healing the wound.  Papaya also use as skin-exfoliating and beautifying.  Beauty soap with papaya extract are commonly used now especially among women.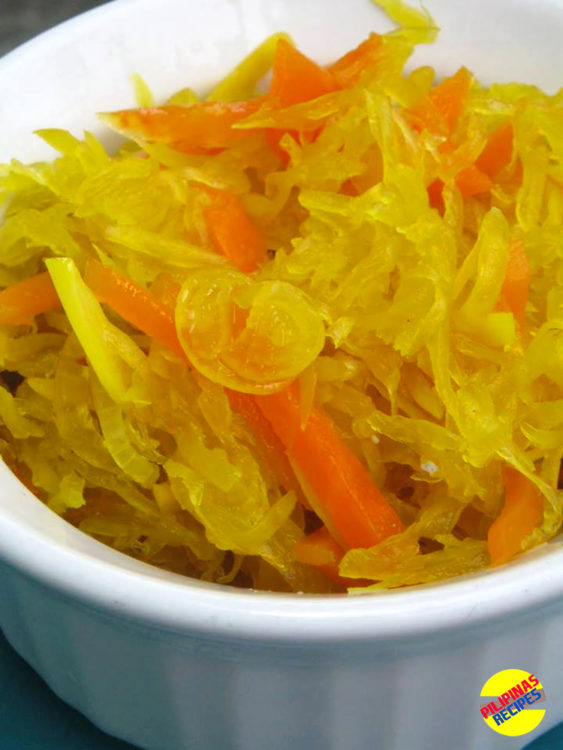 The preparation of making Atsara is easy.  Start with unripe or green papaya.  Grate the papaya, sprinkled with salt to sweat out its liquid, then squeeze out the juice.  The carrots, ginger, bell pepper, onion, and garlic are chopped into whatever shapes you want.  Raisins and pineapple chunks may be added, and chilies, black pepper to complete the mixture, then boiled vinegar and sugar are poured on to it.  The mixture is placed in airtight jars where it will keep without refrigeration.
Atsara is best served after 2 days so the flavors are better infused.
For other versions of Atsarang Papaya, you can also watch this video for more.
---
Ideas and Suggestions to improve this recipe are much appreciated. Just comment below. Also, don't forget to like our Facebook Page for more Free Filipino Recipes. Search "Pilipinas Recipes" on Facebook or simply click this LINK. Thank You!