When there are occasions and celebrations, you can be sure that Lechon Manok is always present. This Pinoy specialty always takes the gathering by storm because it is one of the easiest dishes to prepare and it is very tasty and everybody loves it. To make Lechon Manok Recipe for a bunch of people, you need to look for a jumbo chicken that is fresh or even organic and use Lemongrass (Tanglad), salt and pepper, or soy sauce. Some use soy sauce for color and add sugar but some choose salt and pepper and are satisfied with a golden brown hue rather than a darker color given by the soy sauce.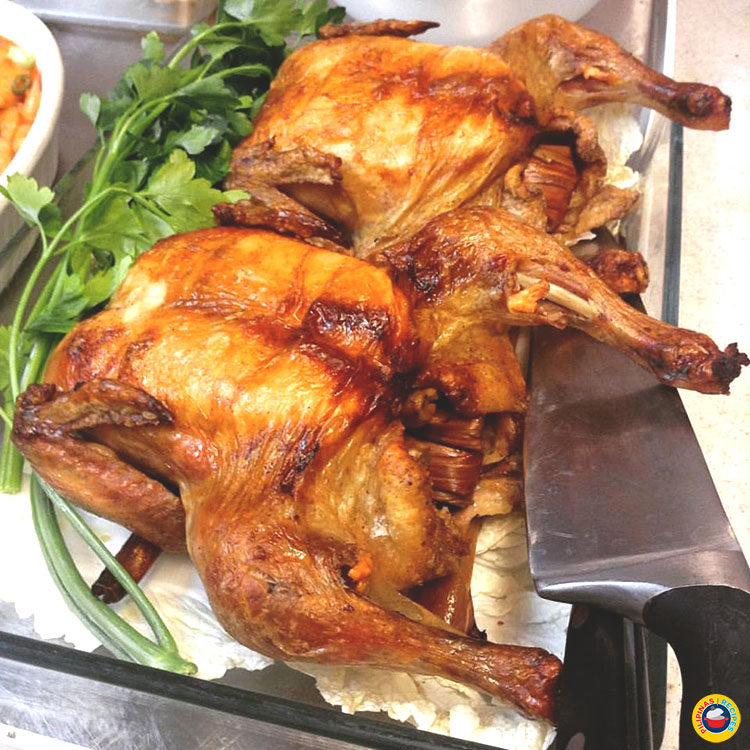 Lechon Manok Recipe Preparation
This Lechon Manok Recipe is easy to make; just put the chicken in the pan, put the lemongrass inside the chicken and sprinkle with salt and pepper or drizzle soy sauce for color. Put it in the oven and leave it while you're doing something else because you don't really need to stay on guard as long as you know when to turn off the oven or you can use a timer instead. Additionally, you can also use a turbo broiler for the chicken.

Lechon Manok Recipe
Author:
Pilipinas Recipes
Ingredients
1 Whole Chicken (dressed/cleaned)
1 8 oz Sprite
3 tbsp of white or brown sugar
3-5 cloves of garlic, minced
1 medium-sized Onion, sliced
3 Tbsp. of Lemon or Calamansi juice
1 thumb size Ginger
1 or 2 stalks of Lemon Grass (Tanglad)
Ground Black Pepper
3 bay leaves
1 stick of Butter
Salt to taste
3 Tbsp. Soy Sauce
Instructions
Marinate the whole chicken in Sprite, soy sauce, calamansi juice, garlic, ginger, onions, pepper and sugar for an hour or more or Overnight
Preheat the oven to 325°C.
Stuffed the Chicken cavity with the following Tanglad tied together, garlic, bay leaves and Peppers.
Put the marinade Mix inside the Chicken.
Rub the chicken's skin with butter, salt, pepper, and garlic.
Roast the chicken for 1 hour and 20 minutes or until the chicken is golden brown.
While roasting brush the chicken's skin, with butter.
Best Served with Sawsawan (Sauce / Mang Tomas)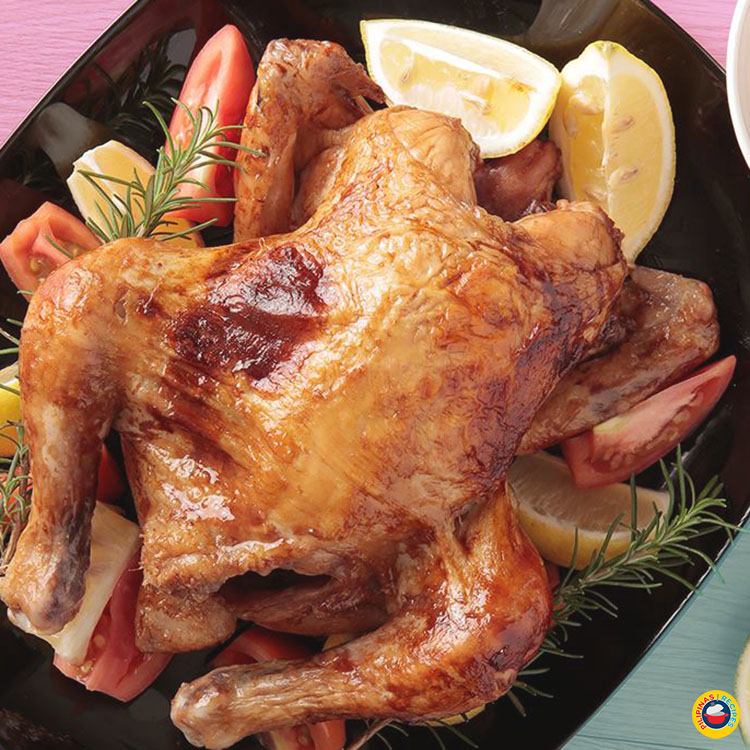 If you want a hassle-free way of cooking chicken, try this Lechon Manok Recipe which you can even bring to picnics together with other dry dishes as well like coleslaw and fermented vegetables. This is also best eaten with iced cold beer and piping hot rice but others like to put this as a filling in sandwiches which is okay too. But don't limit yourself with that spread, try eating it with mushroom soup and mashed herbed garlic mashed potato if you want an international flair but if you're choosing to go Pinoy all the way, eat it with
Atsara (pickled grated papaya)
and Salted eggs Ensalada.
---
Ideas and Suggestions to improve this recipe are much appreciated. Just comment below. Also, don't forget to like our Facebook Page for more Free Filipino Recipes. Search "Pilipinas Recipes" on Facebook or simply click this LINK. Thank You!