Sopas is a Filipino word that literally means soup. It usually includes macaroni. It is similar with the traditional dish in Italy that is sometimes served with beans. In this Filipino variation, it is a soup made with pasta (usually elbow macaroni), flaked chicken, vegetables, and milk. Filipinos love this tasty creamy chicken macaroni soup because aside from being easy and inexpensive to make, it is healthy and comforting.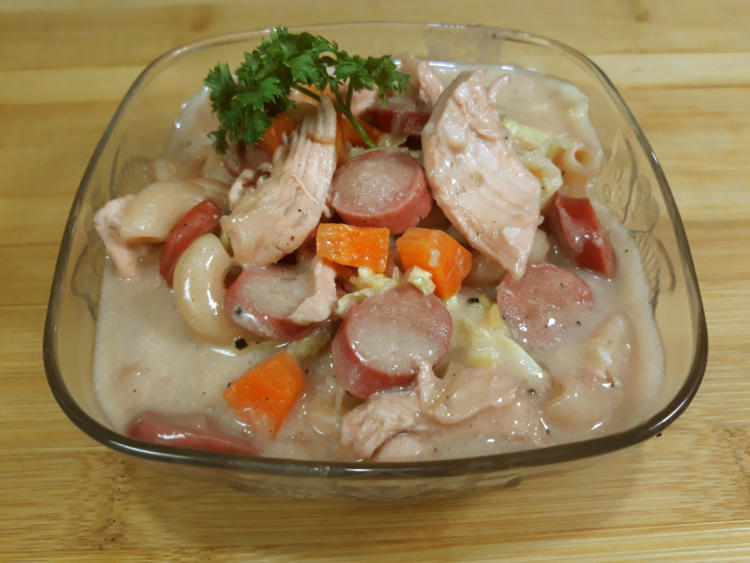 Sopas is usually served during cold weather or rainy day season. Because of its vegetable packed goodness, it is also served as snacks in households, schools and hospitals. Children just love this creamy chicken macaroni soup for its texture and creamy taste. For other meals also loved by children, you can try our chicken sotanghon soup recipe.

Sopas Recipe (Creamy Chicken Macaroni Soup)
Author:
Pilipinas Recipes
Ingredients
2 tbsp cooking oil
1 tsp Ground black pepper
1 tbsp Sugar
1 tsp Salt
1 tbsp minced garlic
1 tbsp white onion, sliced
1 carrot, sliced
medium cabbage, sliced
3 pcs hot dog, sliced
½ kilo boneless chicken breast
200 gm. elbow macaroni
1 cup evaporated milk
6 to 8 cups water
Instructions
Boil 4 cups of water in a pot. Add the chicken breasts.
Cover and cook in medium heat for 15 to 18 minutes. Add more water if needed.
Separate the chicken from the water. Let the chicken cool down. Shred the chicken. Set both water and shredded chicken aside.
Heat oil in a soup pot. Sauté the garlic until golden brown.
Add onion, shredded chicken, hotdog and carrots. Sauté for 1 minute.
Pour the water used to boil the chicken. Add milk, sugar, salt, pepper. Stir, cover and let boil.
Put the elbow macaroni in the pot and let it simmer for 10 minutes or until the noodles are completely cooked and soup starts to thickens.
Add the cabbage. Stir, cover and cook for 2 minutes. Add more water if needed.
Serve hot.
Notes
You can topped it with parsley and add hard boiled egg before serving. Don't let it sit too long to avoid the pasta from absorbing the soup. This will result to bloated and soggy macaroni.
Here is a quick view on how to cook Sopas (Creamy Chicken Macaroni Soup):