Cooking Sinigang like Beef Sinigang Recipe is popular in our country, the Philippines. It is very easy to prepare. Aside from the famous Adobo, Sinigang is also a traditional recipe for every Juans.
Healthy Cooking for kids and family is always our aim.  Cooking at home can build healthy habits.  Preparing and eating meals at home is a way to teach our children to eat healthy food and inspired to live a healthy, fit life.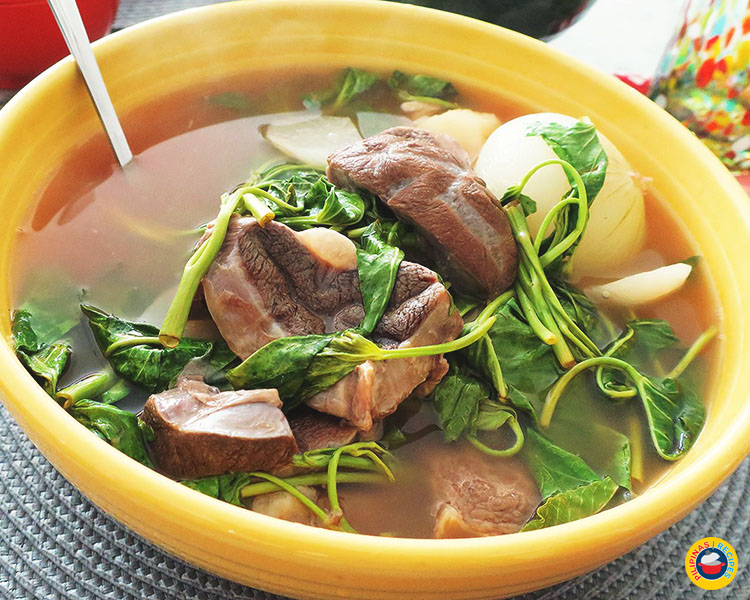 Beef Sinigang Recipe (Sinigang na Baka)
Author:
Pilipinas Recipes
Ingredients
1 kg beef brisket/ribs cut into cube
1 large Red Onion, chopped
1 pack Tamarind Sinigang Mix
2 medium Tomatoes, chopped
4 pieces small Taro
4 pcs. Okra medium sized, cut into two
1 packet Spinach leaves
Fish Sauce
Pepper
Instructions
Put the Beef and Onion in a pot.
Pour water in a pot until the meat is barely covered bring to a boil then simmer for 45 minutes.
Add the taro and chopped tomatoes, bring to a boil then simmer additional for 40 minutes.
Add the Sinigang Mix and Okra then cook for 5 minutes.
Add the spinach, season with pepper and fish sauce.
Add Salt according to Taste.
Serve Hot.
On the weekdays, I have only 30-45 minutes to get a dinner serve on the table.  For short period of time, I need to prepare and cook a simple but delicious and healthy food.  The simple meal doesn't mean boring.  Be creative, cook it with a twist if you want and go by your own taste, bring soul to the recipe.  It could still be looking good and taste delicious.  I want an honest and flavorful food, not some show-off meal that takes days to prepare but no taste at all.
Beef Sinigang Recipe Tips & Information
A one-pot meal like Beef Sinigang (Sinigang na Baka) with the ingredients of healthy choices – a vegetable that provides many nutrients including potassium, dietary fiber, vitamin A and C.  While meat like beef supply nutrients that include protein, vitamin B and E, iron, zinc, and magnesium.  This stew is authentic food for Filipinos because of the way it has made.  Through time there are many flavors and ingredients are added to enhance the taste but the sour taste has not changed.  The Beef Sinigang Recipe is a common dish to serve around the table.  It serves hot with rice, the main ingredients are beef, vegetables, tamarind juice and taro.  Adding green long chili pepper to enhance the taste while adding a little spice to the dish.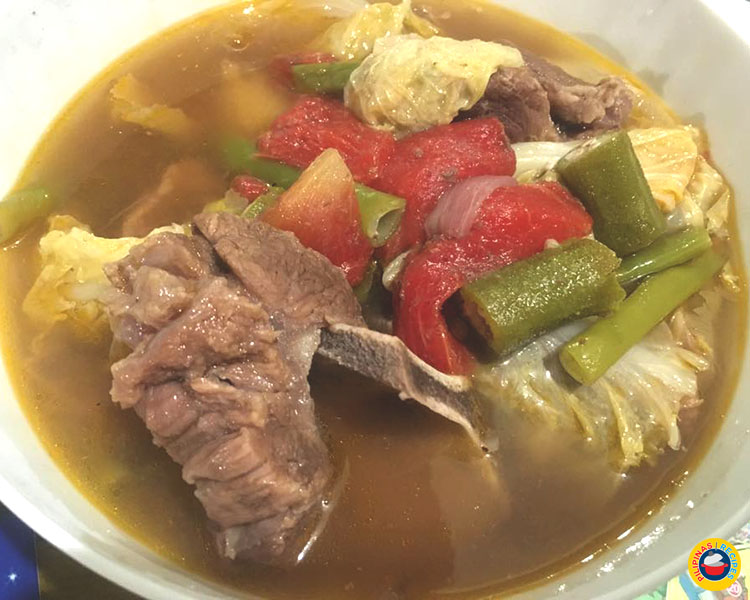 Home cook is always the best.  You cook it with love and you know exactly what's going in.
You can also watch this video below.

PS: Ideas and Suggestions to improve this recipe are much appreciated. Just comment below. Also, don't forget to like our Facebook Page for more Free Filipino Recipes. Search "Pilipinas Recipes" on Facebook or simply click this LINK. Thank You!