Sinigang is considered as the national dish of the Philippines.  There are many ways of preparing this kind of dish and one of the most well-known recipes is Sinigang na Hipon.  The Sinigang na Hipon Recipe is a sour dish and shrimp is the main ingredient.  A shrimp based meal is a significant source of cholesterol, provide low in calories.  It is rich in protein and provides an array of nutrients.  It is also a significant source of cholesterol depending on the method of preparation.  Shrimp is not only very nutritious, it is also a popular ingredient in Salads, Chowders, Appetizers and as a main dish.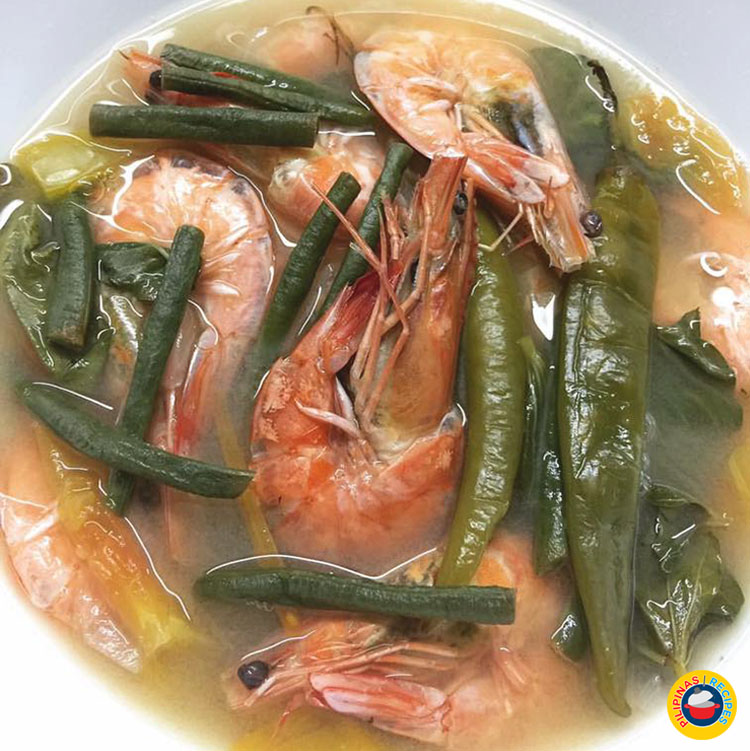 Sinigang na Hipon Recipe Summary
I love cooking.  I like to challenge myself to try and make a new dish, but I also like the comfort of making an old recipe.  My ultimate favorite is to cook a Filipino dishes that all involves seafood especially shrimp and prawns.  Everyone loves their shrimp, unless of course if you have an allergic to seafood.  One dishes that involves shrimp is Sinigang na Hipon (Shrimp in Sour Soup).  It is easy to prepare by cooking the vegetables in a boiling water and adding the shrimp when the vegetables are a half cook.  A steaming bowl of sinigang help to warm the body on cold rainy days and it is an effective remedy for a sore throat.  When using tamarind fresh, boil and cook it until soft and the outer skin begins to burst.  With the use of the fork, mash it and use a strainer to squish all the juices then pour the tamarind juice into the soup broth, to make it more authentic and the taste is more tangy and zesty flavor.

Sinigang na Hipon Recipe
Author:
Pilipinas Recipes
Ingredients
6 cups Water
1 lb Shrimps (with skin and head), seasoned with a little salt
3 Plum Tomatoes, quartered
2 Onions, chopped
1 White Radish, sliced
2 mild Green Chile Peppers
6 Okra
1-1/2 cups freshly squeezed Tamarind juice or to taste*
2 Tablespoons Fish sauce or use Salt instead, to taste
1 (10 oz) pack fresh Spinach or 1-2 bunches of Kangkong
Instructions
In a large pan, bring the water to a simmer (almost boiling).
Add the tomatoes, onions and sliced radishes and cook until the latter are tender-crisp (half-cooked).
Add the green chili peppers, okra, and tamarind juice and continue to cook for another 3 minutes.
Add the shrimp and season with salt or fish sauce, to taste.
Cook for another 4-5 minutes or until shrimps are cooked and veggies are all tender.
Check the seasoning at this point - add more souring agent, fish sauce or even water, if necessary - whatever your taste buds tell you!
Turn off the heat.
Stir in the Kangkong or spinach and then cover and let it wilt and cook for a couple of minutes. The steam from the hot soup should cook it quick.
Ladle into bowls and enjoy immediately!
Serve with Rice.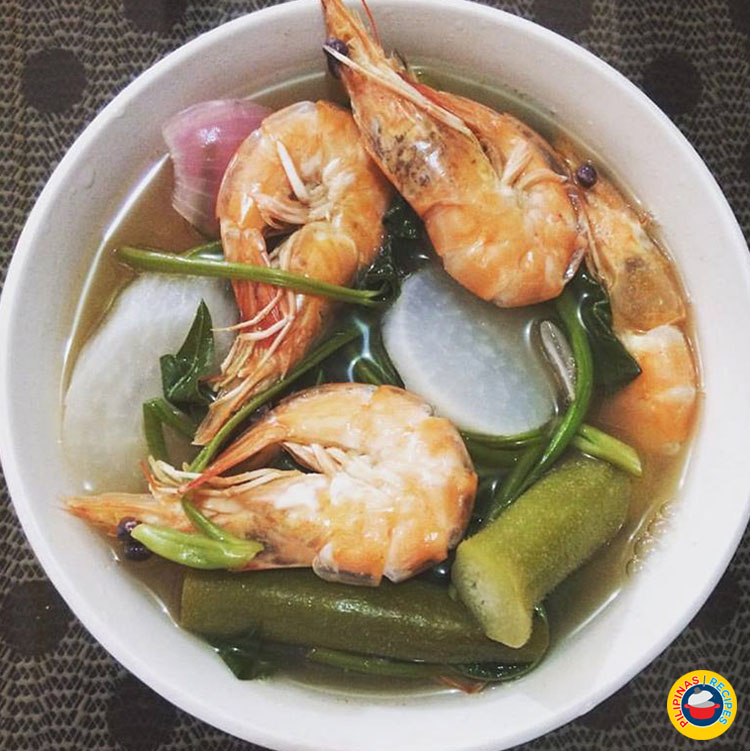 When cleaning the shrimp make sure the shell and the head are still intact.  It is when the most of the flavor comes and it makes the soup flavorful.
Served Sinigang na Hipon hot immediately with plenty of rice.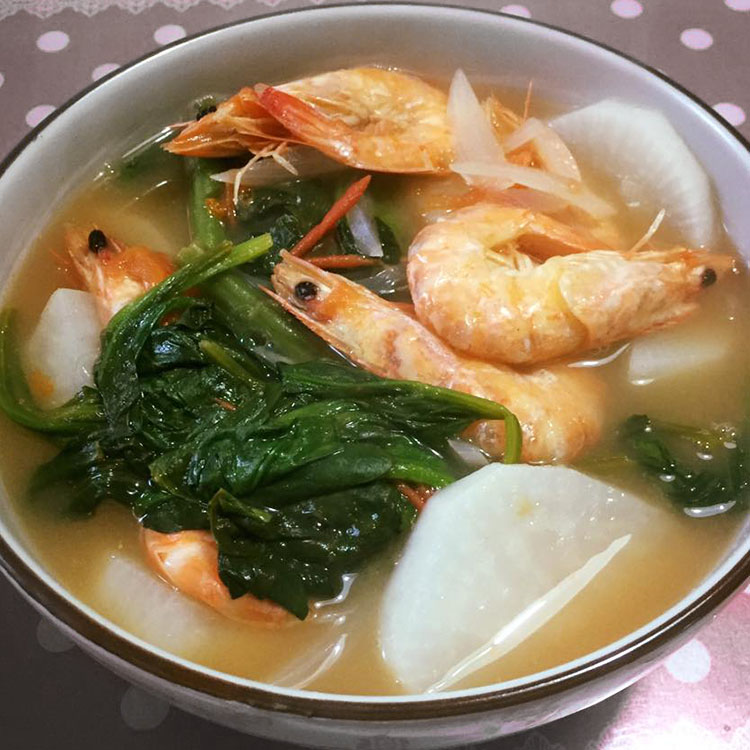 PS: Ideas and Suggestions to improve this recipe are much appreciated. Just comment below. Also, don't forget to like our Facebook Page for more Free Filipino Recipes. Search "Pilipinas Recipes" on Facebook or simply click this LINK. Thank You!