Sinigang is a soup or stew, usually cook with meat or seafood by boiling it with a sour base such as Tamarind, Guava, Calamansi, Kamias, Santol or Unripe Mango.  It is a common dish of the Filipino culture.  A comfort food, the soup help to keep you warm on a cold night. Cooking Sinigang na Salmon is easy, so let me tell you a story first on how I learn this Recipe.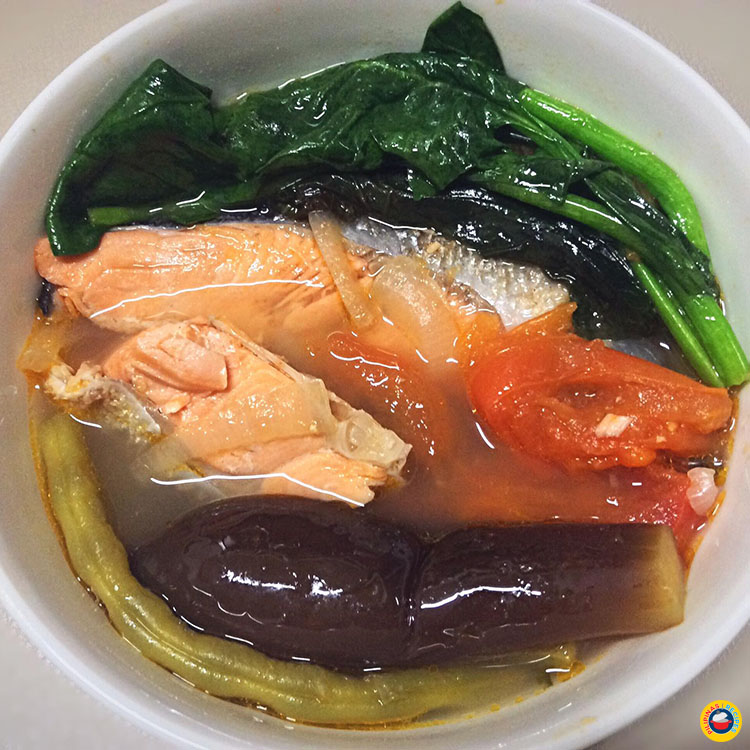 I only learned to eat and cook this Sinigang na Salmon when I was visiting a good friend of mine.  She is a dear friend from way back, a friend who share the love of cooking.  She lives in a place where the food is within the reach.  Vegetables from the garden, chicken roaming around the backyard, pigs and piglets in their pigpen, a small fish pond ready to catch tilapia, cook and eat.  For the person who loves to cook, this place is like a haven.

Sinigang na Salmon Recipe
Author:
Pilipinas Recipes
Ingredients
1 Kilo Salmon (Belly or Head)
1 Tbsp. oil
1 small onion, peeled and sliced
1 to 2 cloves garlic, peeled and minced
2 medium tomatoes, chopped
1 Tbsp. fish sauce
4 cups water
2 cups kamias
1 banana chili
1 6-inch labanos (daikon radish), peeled and cut into chunks
½ bunch long beans (sitaw), ends trimmed and cut into 3-inch lengths
1 bunch bok choy
salt to taste
Instructions
In a pan, heat oil over medium heat.
Add onions and garlic and saute until soft.
Add tomatoes and saute until soft.
Add fish sauce and continue to cook for about 2 to 3 minutes.
Add water and bring to a boil.
Add kamias and banana chili.
Add radish and cook for about 2 to 3 minutes.
Add long beans and cook for another 1 to 2 minutes.
When vegetables are tender yet crisp, add salmon and continue to cook for about 5 to 7 minutes or until fish changes color and flakes easily.
Add bok choy and cook for another 1 to 2 minutes. Season with salt to taste. Serve hot.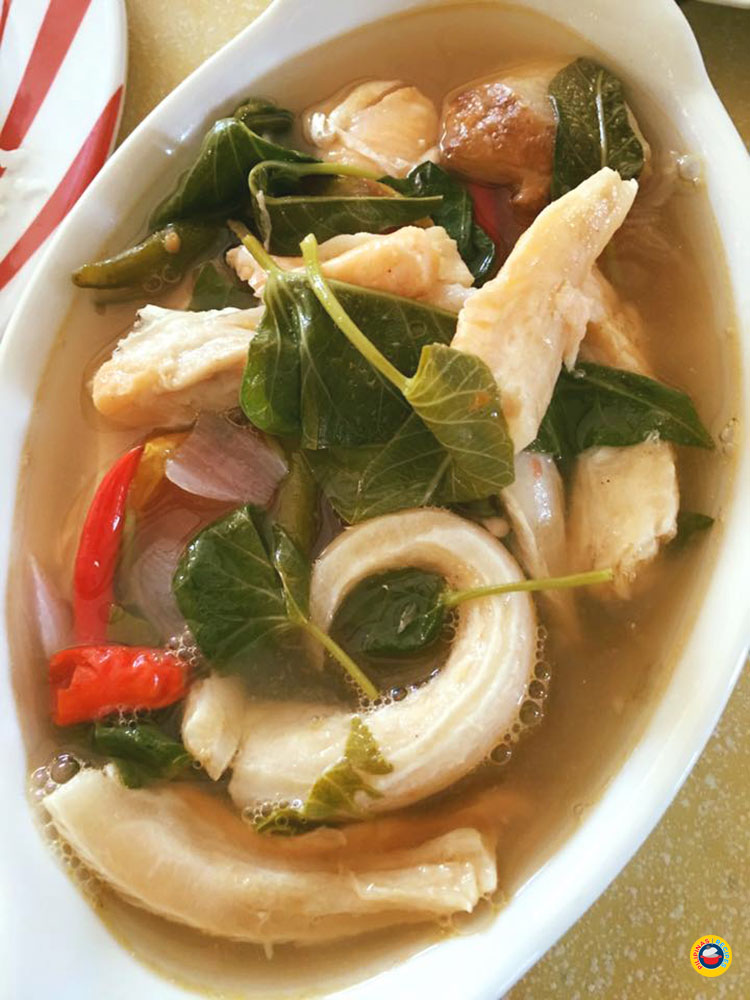 I remembered she cook this Sinigang na Salmon Recipe, with a sour broth of tamarind, onions, tomatoes, and added a bunch of mustasa (mustard green leafy vegetables).  She uses rice washing as a soup base.  Then the Miso paste is added to enhance the sourness of the soup and makes it so delicious.  Miso is a Japanese culinary staple made by fermenting rice and soy.  Using kamias (Bilimbi fruit) as the souring agent eliminates the fishy taste and odor of the salmon head.  Salmon head or salmon belly can also use for this type of recipe/dish.  She told me that cooking Sinigang na Salmon is only occasionally and it depends on the availability of this kind of fish.  This kind of fish, the Salmon, is not indigenous in the Philippines.  The Sinigang na Salmon is one of the many version of the Sinigang,  like Beef Sinigang, Sinigang na Bangus, Sinigang na Hipon and one of the favorite dish of Filipinos.
Salmon is a popular fish food.  It is classified as an oily fish and a good source of vitamins, minerals, and proteins.  It is also prepared in several ways including smoking, baking, frying and making soup.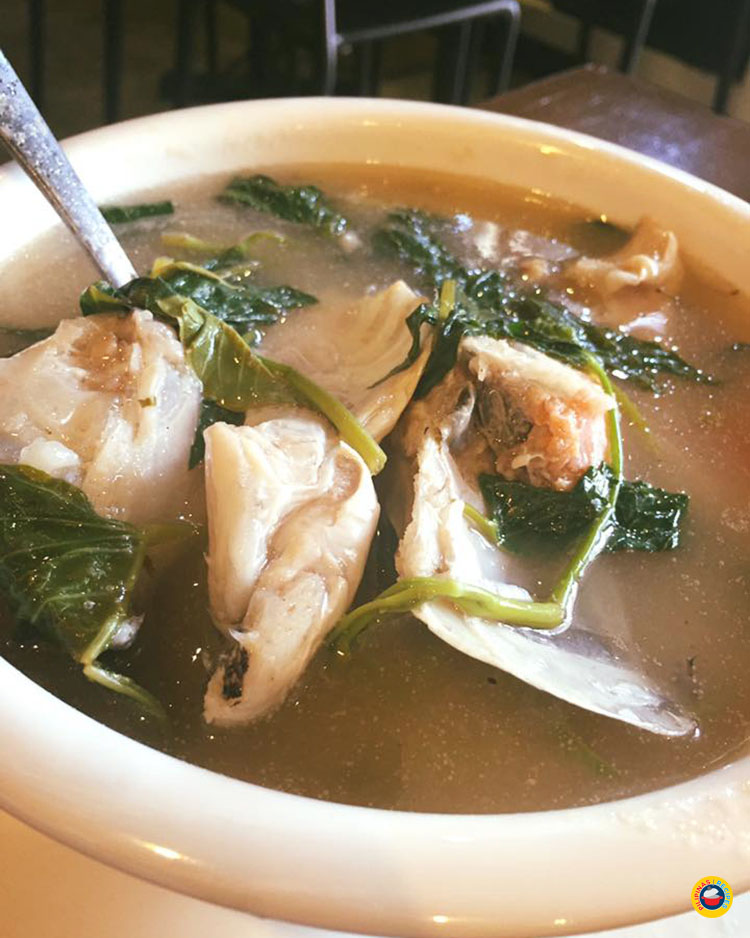 PS: Ideas and Suggestions to improve this recipe are much appreciated. Just comment below. Also, don't forget to like our Facebook Page for more Free Filipino Recipes. Search "Pilipinas Recipes" on Facebook or simply click this LINK. Thank You!