During cold weather specially rainy days, every Filipino household imagine themselves sipping something warm to start their day. Early cold mornings can make getting out of bed hard, so thanks to this hearty and delicious chicken sotanghon soup recipe that is a friend of every Filipino.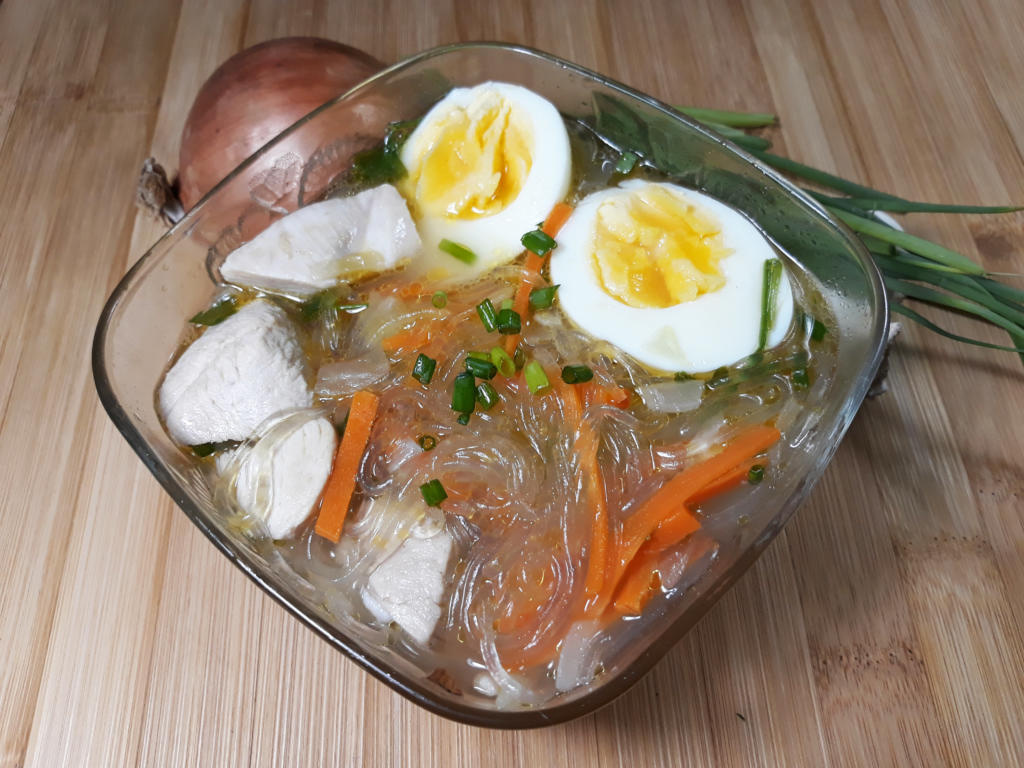 Sotanghon is a Filipino-style noodle soup typically made with bone-in chicken wings simmered in aromatics.
One of Filipinos' all-time favorite soup, the thing that makes this soup special is the noodles. It is unique compared to other cellophane noodles because it is slippery making it easy to eat and go with its soup. It is a complete meal all in itself. It is flavorful, hearty and good for boosting your immune system.

Chicken Sotanghon Soup Recipe
Author:
Pilipinas Recipes
Ingredients
2 tbsp cooking oil
1 tsp ground black pepper
2 tbsp fish sauce
1 tbsp minced garlic
white onion - minced
carrot - sliced
parsley
scallions - chopped
1-2 coils of glass noodles
1lb. chicken wings - cut
Instructions
Soak Glass Noodle in warm water for 10 minutes, drain and set aside.
Boil 5 cups of water in a pot. Put chicken wings, parsley and cook for 15 minutes.
Separate chicken from the stock/broth and set broth aside.
Heat a pot over medium heat. Add oil and sauté garlic until golden brown. Add onions and sauté for 1 minute.
Add chicken wings/meat and sauté for 2-3 minutes.
Add carrots, stir and pour the chicken stock. Add fish sauce and black pepper to taste,bring to a boil.
Add soaked noodles and cook for another 3 minutes or until noodles are tender.
Ladle soup into bowls and top with boiled eggs (optional) and scallions. Serve hot.
Here is a quick view on how to cook Chicken Sotanghon Soup:
Chicken Sotanghon Soup Recipe
You can also try our Pancit Lomi Recipe for your next rainy day adventure.