Lomi is a Chinese-inspired egg noodle soup which is served in thick starchy soup and garnished with a variety of toppings depending on one's preference or local tradition. Lomi has got to be one of the most popular dishes served at a typical Filipino restaurant. This Lomi recipe is considered a "mirienda" classic or a rainy-day comfort food. It's also a staple menu in some "panciteria"- these are noodle joints that often serve different types of noodles for take-out. Like all other noodle dishes, it has to be served and eaten simmering hot and enjoyed before the soup ever gets a chance to cool down.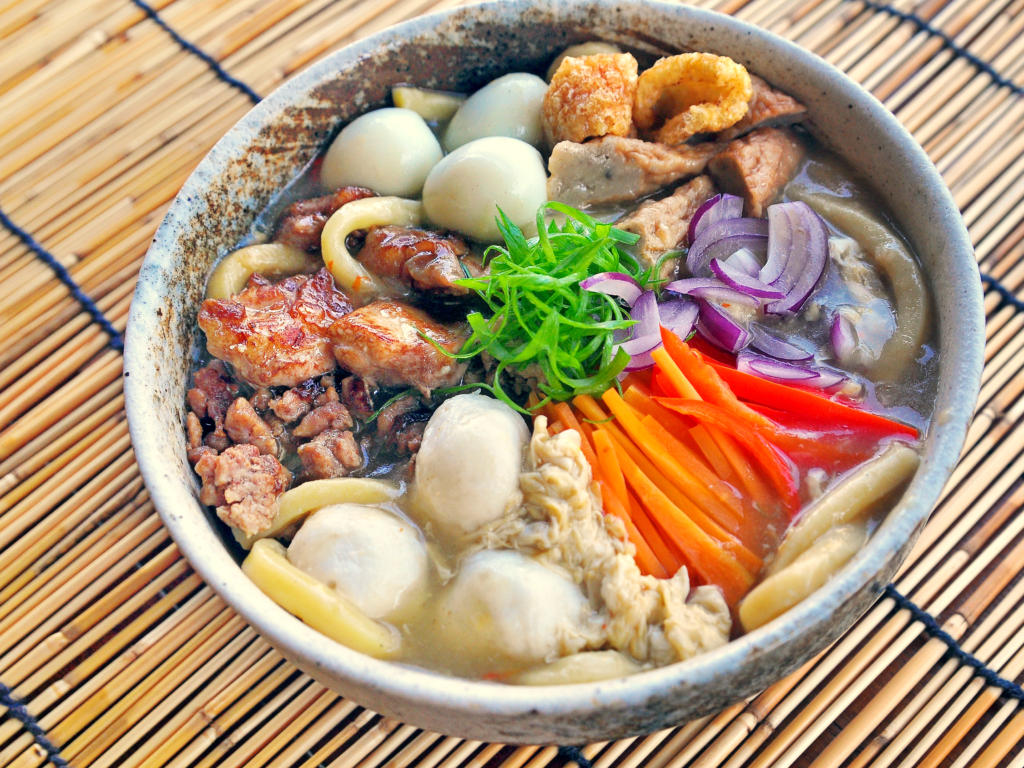 What are the ingredients of Lomi?
Originally a Chinese immigrant from mainland China named "To Kim Eng" introduced this dish to Lipa City, Batangas in the late 60's. It's said that this was a staple breakfast in their town. He first served it to his playmates in mahjong and it quickly began to spread and now various interpretation of the recipe can be found. Kikiam, pork liver and meat-balls are the original toppings of To Kim Eng's recipe. Today, this recipe is made with various creative toppings like, pork rinds, quail eggs, shrimps, squid balls and many more.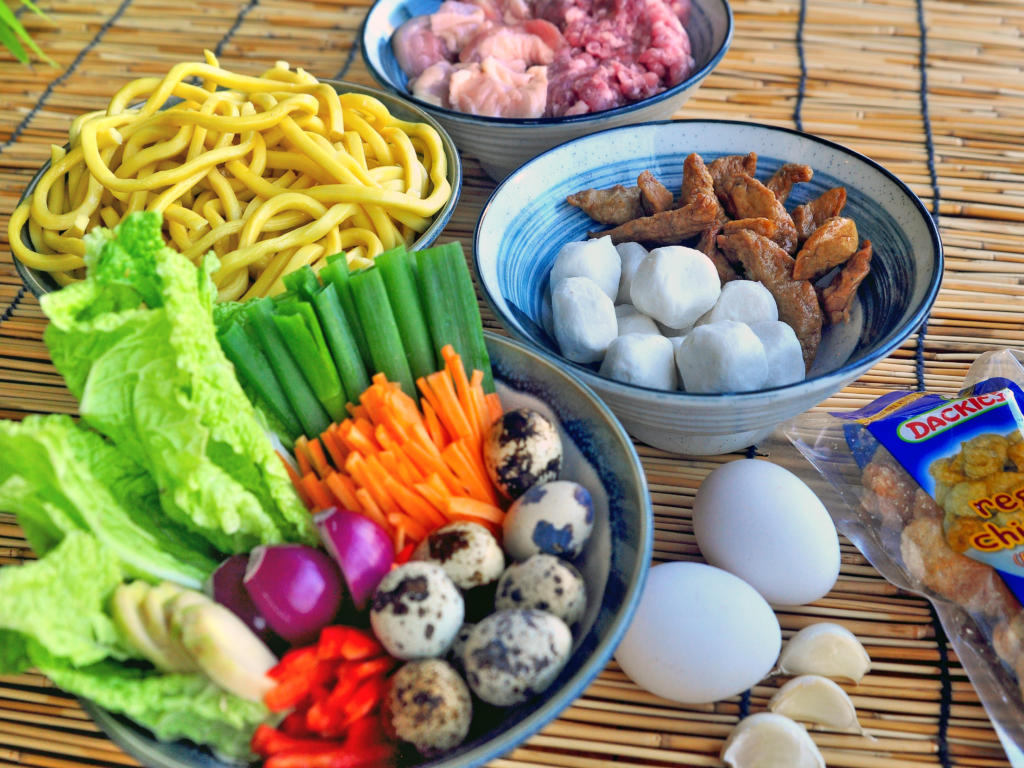 Lomi Recipe (Pancit Lomi)
Adding your favorite toppings will boost your appetite when eating Lomi.
Author:
Pilipinas Recipes
Ingredients
4 tbsp Olive oil for sautéing
3 cloves of Garlic, chopped
2 bulbs of Shallots, chopped
1 small Ginger, chopped
1 Red Bell Pepper, Julienned
1 medium Carrot, Julienned
1 Spring Onion, sliced
½ Chinese Cabbage, shredded
1 Chicken Bouillon Cube
50 grams Kikiam, sliced
100 grams Squid Balls
200 grams Ground Pork
8 cups Water
400 grams Pancit Lomi Noodles, rinsed with water
200 grams Chicken Thigh, deboned sliced into small strips
1 dozen Quail Eggs, boiled
40 grams Chicharon or Pork Rinds
2 Large Eggs, beaten
5 tbsp Soy Sauce
6 tbsp Cornstarch, dissolved in a ¼ cup of water
Salt and Pepper to taste
Instructions
Rinse the Pancit Lomi Noodles in water to remove the saltiness and set aside.
Heat Olive oil in a medium-sized pot. Sauté the garlic, shallots and ginger until fragrant.
Add ground pork, chicken, squid balls, kikiam and continue stir-frying over medium heat for 5 minutes.
Season with soy sauce, salt and pepper, add water and Chicken Bouillon Cube then simmer for 5 minutes.
Add the Lomi noodles and let it simmer for another 15 minutes.
Add carrots, bell pepper, spring onion and cabbage. Pour in the Cornstach mix and stir well. Add the beaten eggs stirring continuously.
Adjust the taste with salt and pepper. Transfer to a serving bowl and garnish with Chicharon and Quail Eggs.
Quick Tips in making the Lomi Recipe (Pancit Lomi)
To make Lomi you have to get the proper noodles in order to achieve the perfect taste that distinguishes it from other egg noodle soups.
The toppings can be tailored to your liking so you can choose what to put when it's done. In this recipe we'll be adding lots of garnishes to make the soup a perfect feast in a bowl.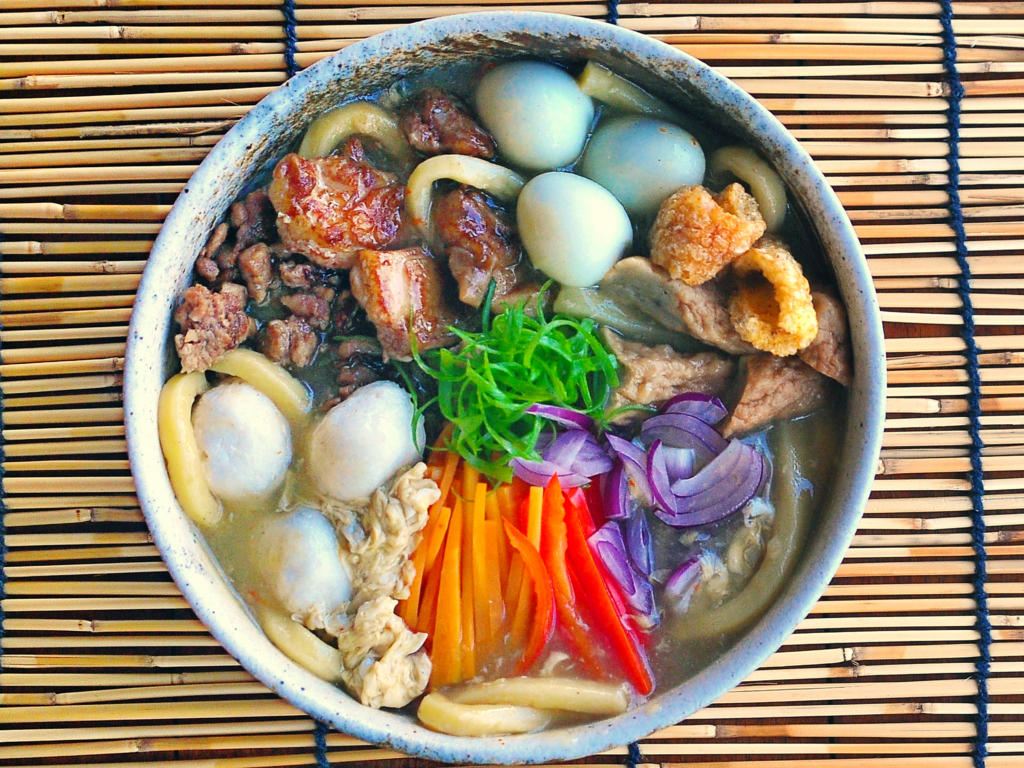 If you wanna try another Lomi variation you can check out this video.