Togue or mung bean sprouts is the most widely recognized type of bean sprouts which are often found in Asian dishes. Their crunchy texture and sweet taste allow them to be cooked in many different ways, including, adding them to noodle soups or making lumpiang togue which is also a popular snack and street food in the Philippines. You can also stir-fry them on their own, or as in this recipe, along with a meat of some kind such as pork, mixed vegetables, and tofu!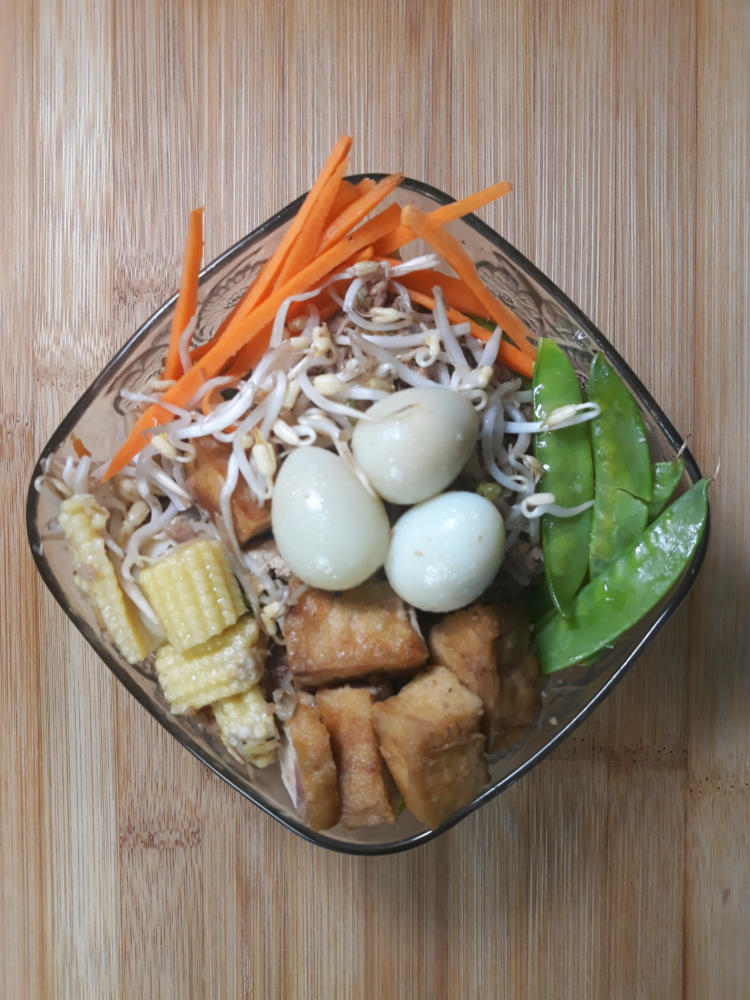 Eating bean sprouts is a healthy, natural way to add vitamins and minerals to your diet. They are low in calories, high in protein, and contain almost no fat and they are cheap and easy to find! Almost every wet market have them.
In this Ginisang Togue Easy Recipe ( Mung Bean Sprout Stir Fry) I added some quail eggs because it pairs well with bean sprouts, but if you're vegetarian or in a no meat diet, you can simply remove the pork and eggs. It's equally satisfying as a main dish or a side.

Ginisang Togue Easy Recipe ( Mung Bean Sprout Stir Fry)
Author:
Pilipinas Recipes
Ingredients
½ cup cooking oil
2 tsp ground black pepper
2 tbsp brown sugar
2 tsp salt
30 g oyster sauce
2 tbsp garlic - minced
1 red onion - sliced
1 medium sized carrot - sliced
4 pieces young corn - sliced
2 cups snow peas
2 cubes tofu
½ lb togue or mung bean sprouts
½ kilo ground pork
10 pieces quail eggs (optional)
Instructions
Boil quail eggs for 4 minutes. Rinse, peel off shells and set aside.
Heat pot and add oil. Fry tofu until it is golden brown. Remove from heat, drain excess oil in paper towel. Cut into cubes. Set aside.
Reduce oil from the skillet leaving about 1 tbsp. Saute garlic and onion. Stir in the pork. Fry until medium brown.
Add pepper, brown sugar, salt, oyster sauce and stir. Add the tofu, togue, carrots, snow peas, young corn and stir.
Simmer while stirring occasionally until the vegetables are cooked.
Top with hard-boiled quail eggs. This is optional.
Serve with rice or as a vegetable side dish.
If you are refraining from eating rice, you can use this ginisang togue recipe as a whole meal since it is already packed with tofu and vegetables or pair it with Philippine Egg Roll also know as lumpia.
Here is a quick view of our Ginisang Togue Easy Recipe ( Mung Bean Sprouts Stir Fry):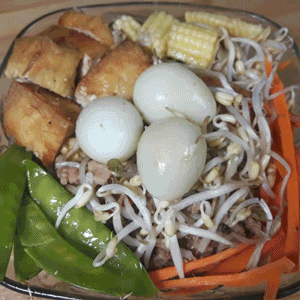 For easy viewing of the recipe, you check our youtube video: