Thanks to our Chinese friends who introduced us to this dish, we have our very own Lumpia (Philippine Egg Roll Recipe). Lumpia is a versatile dish since you can eat it as a snack or during lunch and dinner. Some versions use Garlic-Vinegar dip while others use only ketchup or Sweet Chili sauce. Some use only vegetables while some only meat. It's also fun eating it since it's deep-fried so this makes it a kid-friendly dish.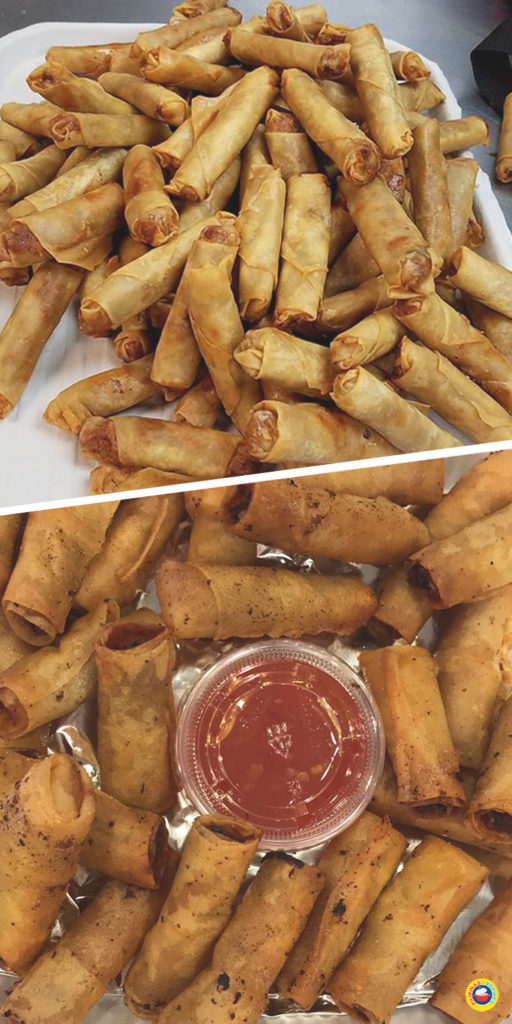 Philippine Egg Roll Recipe Preparation
The Pinoy Version of Egg Roll typically consists of different kinds of vegetables, minced meat, and seasoning. Some put tofu and sweet potato in their Philippine Egg Roll Recipe but if there's one thing that makes it special, it's the wrapper. It's a thin crepe-like pastry common in the Philippines and called "Lumpia Wrapper" (Egg Roll wrapper). You can find it in any local market and grocery stores; even specialty Chinese stores have them. It comes in different sizes so it's up to you if you want to make a big egg roll or just a small one. Just a piece of advice, don't let your wrapper be exposed to air because it will stiffen and you'll have a hard time using it for your egg rolls.

Philippine Egg Roll Recipe (Lumpia)
Author:
Pilipinas Recipes
Ingredients
1 lbs. ground Chicken or Pork
½ cup minced onion (green or yellow)
8 ounces water chestnuts, finely chopped
1 large Carrot (minced)
2 tbsp. Soy Sauce
5 cloves Garlic,(minced)
1 tablespoon salt
½ tsp. ground black pepper
25 to 50 pcs. Lumpia or Spring Roll Wrapper
Oil for Frying
Instructions
In a bowl, combine and mix the ground Chicken or Pork, green onions, water chestnuts, carrots, garlic, soy sauce, salt, and pepper until well distributed.
Separate wrappers into individual sheets and lay the wrapper like a diamond.
Put up about 2 tablespoons of Meat mixture in the middle of the wrapper.
Fold the bottom pointed end of wrapper over filling.
Fold side ends of the sheet inward and roll tightly into a log about ¾-inch thick and 5-inch length.
Wet the pointed edge of the wrapper with a dab of water to completely seal. Repeat with the remaining mixture.
In a pan over medium heat, heat about 1 inch of oil.
Fry lumpia in batches, turning on sides as needed, until golden brown and crisp and meat is cooked through.
Remove from oil and drain on a wire rack set over a baking sheet.
Best Served with Ketchup or Sweet and Sour Sauce or just a plain Vinegar.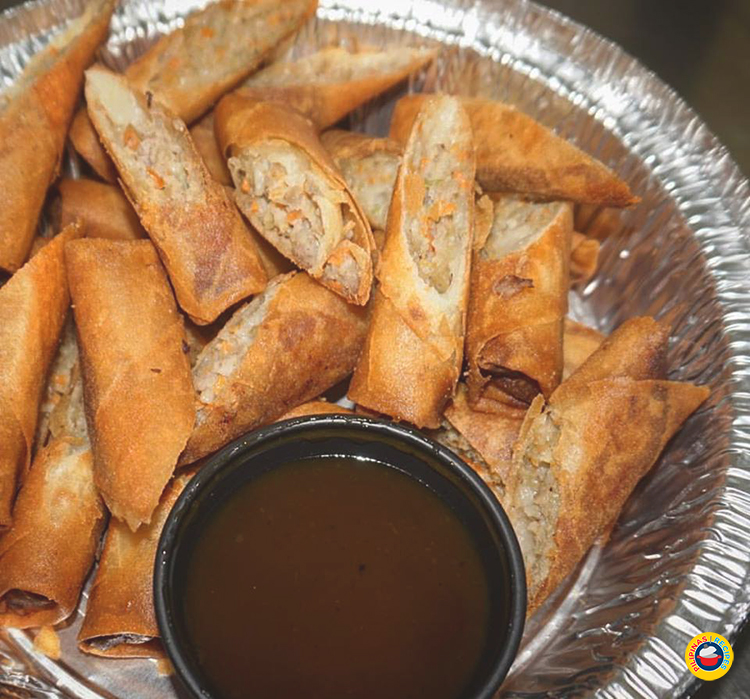 You can prepare this dish in advance and keep it in the freezer but your Lumpia must be eaten right away after deep frying it so that it's still crisp and the flavors are at its strongest. Most Pinoys would eat it with rice and partner it with Pancit like Pancit Palabok or some sort of Noodles. It's a fairly light dish since it has vegetables in it so weight watchers can stop worrying about their diet. You can even make it a healthier version, using healthy oil. Just a heads up; Lumpia is addictive so you better make extra batches to fry for later. 🙂
Suggestions and Ideas regarding the recipe? Comment below. Please Like our Facebook Page for more Filipino Recipes. Thank You!!