There was a time in our childhood when we were all picky eaters. We didn't like the taste of a certain vegetable or a certain fruit, but love to eat them now. As Filipinos, we have a lot of street foods to offer including innards of Pork, Beef and Chicken. Kids grew to love these street foods and became comfortable eating innards of various animals. The Isawan became popular during the typical Filipino high school years as it became a hangout spot after classes (See Chicken Barbecue Recipe Here). These events and developed the Filipino love for innards.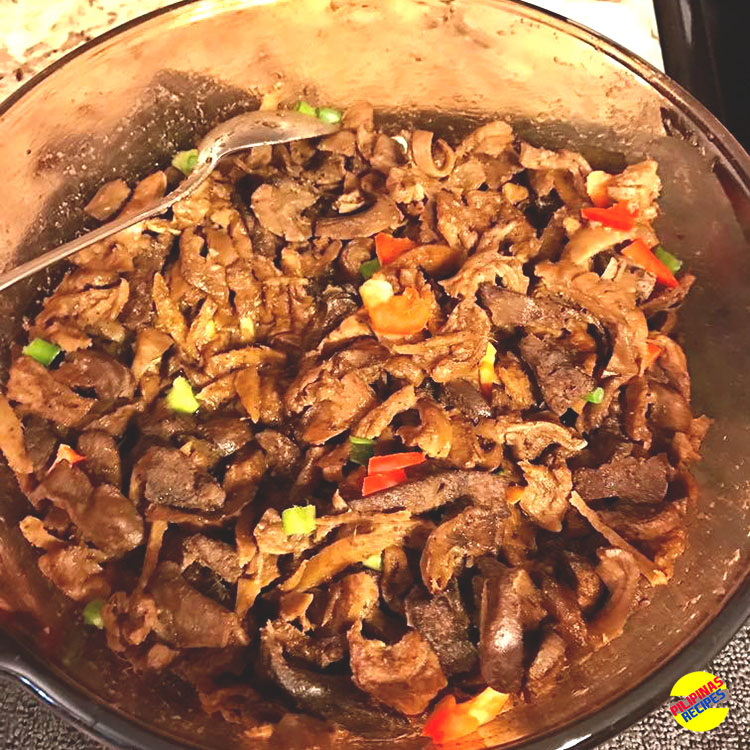 Since Filipinos are used to eating innards of animals, it is not surprising to have them in different dishes. Paklay is one example. This Paklay Recipe is orange in color and looks like Kare-Kare without the vegetables and thick pork fat. The mixture of pig and cow innards looks satisfying enough to make you think of what part to eat first. The dish can actually be eaten without rice or just a Pulutan in drinking sessions. It tastes good on its own and is not too overpowering.
Print
Paklay Recipe
his Paklay Recipe is orange in color and looks like Kare-Kare without the vegetables and thick pork fat. The mixture of pig and cow innards looks satisfying enough to make you think of what part to eat first.
Author:
Prep Time:

30 mins

Cook Time:

90 mins

Total Time:

2 hours

Yield:

7

-8

1

x
Category:

Entree

Cuisine:

Filipino
1 cup

julienned Bamboo shoots

1

lb. pig liver, sliced into thin strips

1

(20 oz.) can Pineapple chunks, drained

5

pieces dried bay leaves

½

lb. pig kidney, cleaned

½

lb. pig heart

1

lb. ox tripe

½

lb. pig stomach

1

large red onion, minced

1

head garlic, minced

2½ teaspoons

Annatto powder

2

thumbs ginger, minced

1

large red bell pepper, julienned

1

piece beef cube (or

2 teaspoons

beef powder)

2 cups

water (for cooking)

5 cups

water (for boiling)
Salt and pepper to taste

3 tablespoons

olive oil
Instructions
Boil 6 cups of water in a pot.
Once water is boiling, add 1 tbsp. salt, pig stomach, and ox tripe.
Boil over a medium heat for 1 hr.
Add the kidney and heart.
Continue to boil for another 1 hr or until all the innards are tender.
Discard the water and let the innards cool down.
Chop the innards and set aside.
Meanwhile, heat the cooking oil in a large clean cooking pot.
Sauté the onion, garlic, and ginger.
Once the onion gets soft, add the chopped innards, bay leaves, and liver.
Cook for 3 minutes.
Add the pineapple chunks, bell pepper, and beef cube.
Pour in 2 cups of water and add the annatto powder. Stir and let boil.
Add the bamboo shoots. Cover and simmer for 25 minutes.
Add more water if needed.
Add salt and pepper to taste.
Transfer to a serving bowl.
Serve while hot.
Notes
This video shows another recipe for paklay.
Nutrition
Serving Size:

4 oz

Calories:

305

Sugar:

7.5 g

Sodium:

150 mg

Fat:

23.5 g

Saturated Fat:

6.7 g

Unsaturated Fat:

15 g

Trans Fat:

0 g

Carbohydrates:

13.4 g

Fiber:

2.1 g

Protein:

10.6 g

Cholesterol:

115 mg
Keywords: exotic, Cebuano, pork stew, authentic
Paklay Recipe Tips
You don't really need to do anything complicated to get the dish right. It is very simple and forthright. Just make sure to clean the innards thoroughly as it could carry some unwanted taste. Having the innards partially cooked or partially fried can actually give away a delectable texture. The crispy parts are a must-try for first timers, but if you prefer your food chewy then it is alright to stay with the simply boiled innards. Ginger, garlic, and shallots can give a burst of aroma to the dish and can remove some unwanted gamey taste. Slightly sautéing them in a tablespoon of oil can bring the dish a long way. The rest of the process involves simply adding in the ingredients and watching them carefully to avoid overcooking and having tough meat and innards.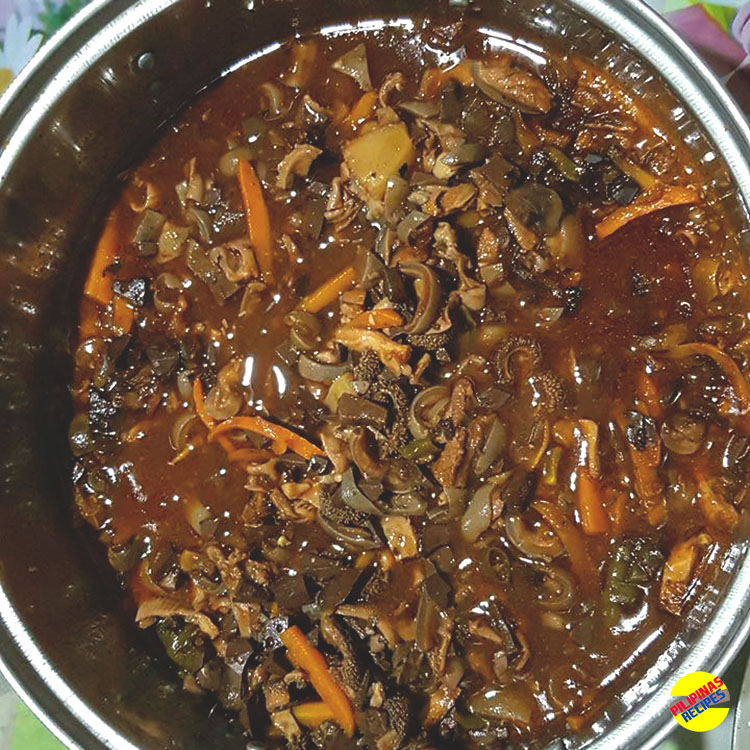 This Paklay Recipe carries a lot of good flavor and texture. It can serve as a good comfort food for any occasion. It also saves the waste of having to throw away innards when preparing the animals.
---
Ideas and Suggestions to improve this recipe are much appreciated. Just comment below. Also, don't forget to like our Facebook Page for more Free Filipino Recipes. Search "Pilipinas Recipes" on Facebook or simply click this LINK. Thank You!