To many Filipinos, Arroz Caldo also known as "Lugaw", is a rice porridge recipe.  It is also well known as a comfort food in the Philippines.  It is a comforting Rice Porridge, often eaten in the morning or when you are sick and not feeling well.  Besides being an everyday meal, "Arroz Caldo" is considered to be food therapy for the unwell.  Ingredients can be determined by their supposed therapeutic value as well as flavor.  It is also considered the ideal choice of food for babies or elderly, as it is easily eaten and digested.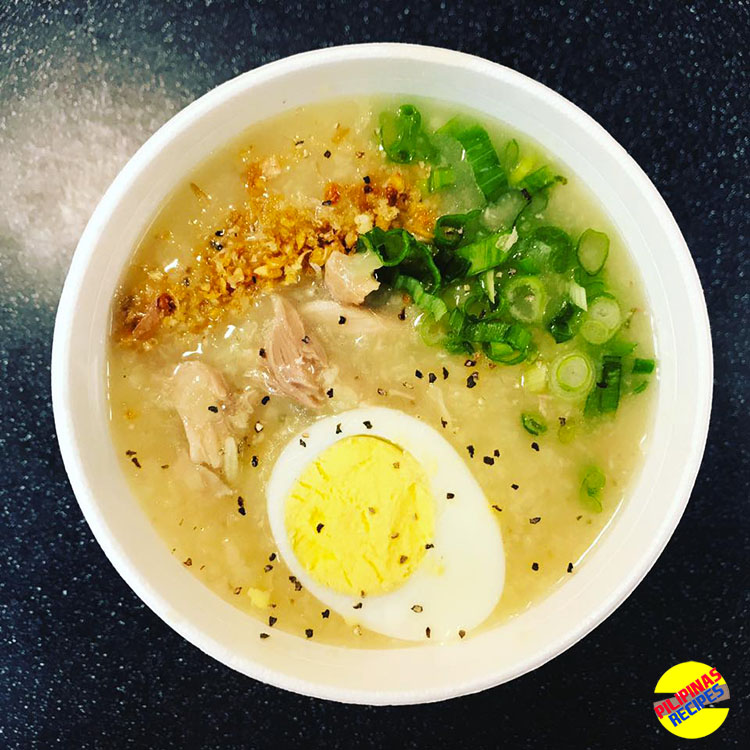 It is easy to cook, delicious and healthy.  A perfect dish for the colder time of the year.  Arroz Caldo is a hearty Filipino congee made with chicken and rice and seasoned with onion, garlic, ginger and fish sauce and topped with crunchy fried garlic.

Arroz Caldo Recipe
Author:
Pilipinas Recipes
Ingredients
2 tablespoons vegetable oil
3 garlic cloves, diced
1 1-inch piece of fresh ginger, peeled and diced (plus 4-6 round slices)
1 small onion or shallot, diced
a pinch of saffron
1 pound of boneless skinless chicken thighs, cut into 1-inch pieces
1 cup jasmine rice
5-6 cups low-sodium chicken stock or water
2 tablespoons fish sauce or salt, or to taste
2 sprigs spring onions, thinly sliced for garnish
2 small limes or calamansi
Instructions
In a pot, sauté garlic in oil over medium heat and cook until golden brown and crisp, for about 2-3 minutes. Transfer garlic on a paper towel to drain; set aside.
Add ginger, onion, and saffron to the pot and cook until translucent, about 3 minutes. Stir in the pieces of chicken and brown for 5-6 minutes.
Add rice, chicken stock, and fish sauce or salt.
Cover and bring to a slight boil, then simmer over low heat. Simmer until the chicken and rice are cooked through, stirring frequently, about 25-35 minutes. Add more stock or water depending on how thick you want it.
Serve the porridge into bowls and top with the crispy fried garlic, spring onion, lime (or calamansi) juice and fish sauce on the side.
Arroz Caldo Preparation Tips
To prepare "Arroz Caldo", first soak rice in water for few minutes, strain and rinse rice until water runs clear and starch is completely out.  Set aside the washed rice.  Wash chicken and pat dry, cut into pieces.  Sauté garlic until light brown, removed in the pot and dry on a paper towel.  Add ginger and sauté to come out the aroma of the ginger, set aside.  Brown chicken lightly in infused oil on both side.  Sauté shallots and add rice to the remaining oil.  Stir until rice is coated and lightly translucent.  Add chicken stock to the rice, add ginger and chicken back to the pot.  Bring to boil until rice is cooked through and sticky.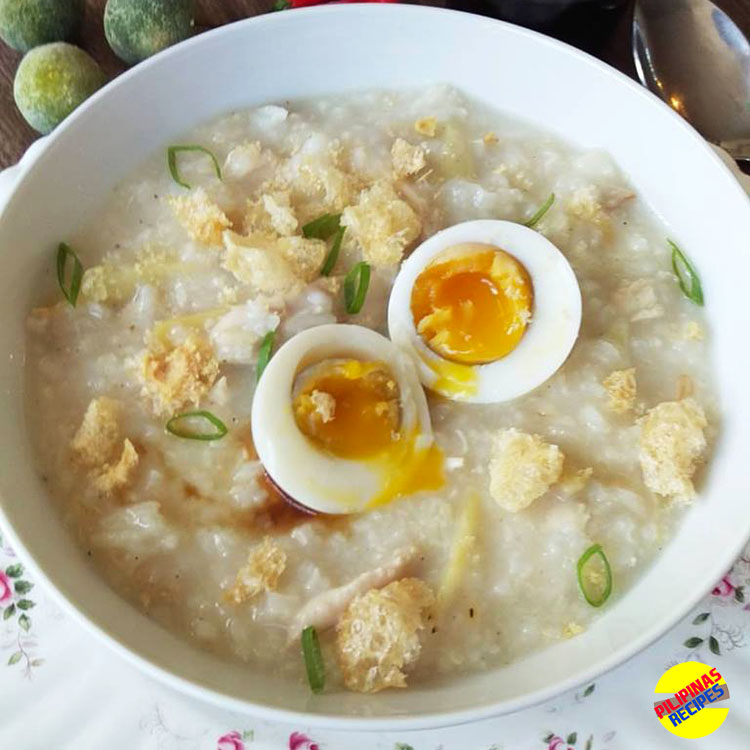 Served with a simple garnish of chopped spring onions and crispy fried onions and quartered egg.  Other seasonings such as white pepper and soy sauce, or sometimes season with fish sauce ("patis").
Arroz Caldo is often eaten with steam rice cake ("Puto"), "Lugaw" can also serve with "tokwa't baboy" (diced Tofu and Pork).
---
Ideas and Suggestions to improve this recipe are much appreciated. Just comment below. Also, don't forget to like our Facebook Page for more Free Filipino Recipes. Search "Pilipinas Recipes" on Facebook or simply click this LINK. Thank You!