The Pork Bopis Recipe is a tasty, hot and spicy dish with Spanish origin.  It is also called "Kadingga" in Bicol region.  A Filipino dish made from minced pig's lungs and heart.  It is a spicy, tangy flavor and often served as a main dish and served as a "Pulutan" or an appetizer, a perfect match with a cold beer or any alcoholic drinks.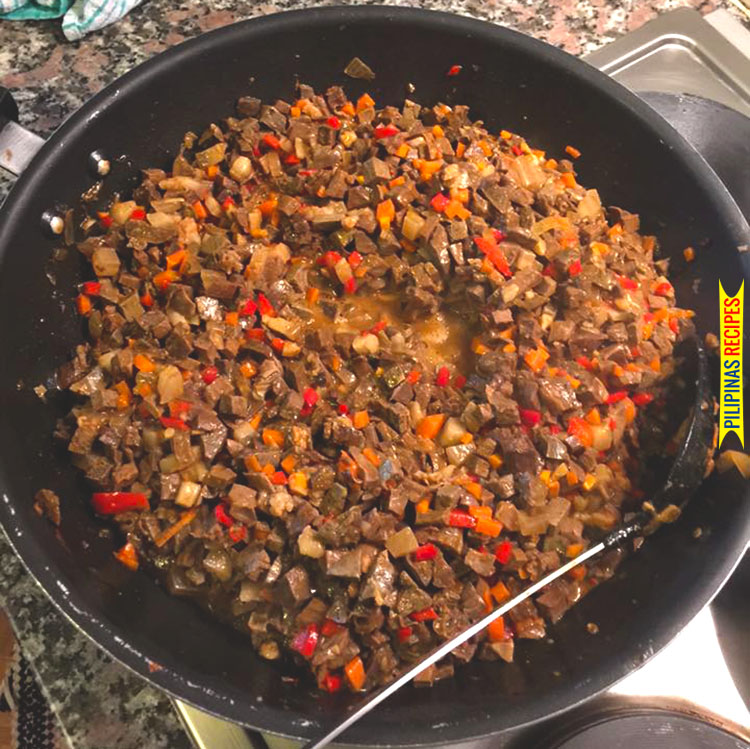 Pork Bopis Recipe
Author:
Pilipinas Recipes
Ingredients
½ pork bopis set, (lungs, spleen, and heart)
1 medium size Labanos, diced finely
1 medium size Carrot, diced finely
1 red bell pepper, diced finely
1 big can button Mushroom, diced finely
2 tablespoon black pepper, coarsely ground
½ head garlic, crushed, minced
1 medium size onion, chopped
¼ cup atsuete / annatto in oil
2-3 pieces siling labuyo, chopped
¾ cup vinegar
cooking oil
salt
Instructions
Wash bopis set thoroughly and drain.
Put the whole bopis set in a big casserole and add enough water to cover, bring to a boil and simmer for 20-25 minutes.
Remove from casserole and drain, let it cool down.
Finely dice bopis set and keep aside. sauté garlic and onion in a big wok.
Add in diced bopis and stir cook for 3-5 minutes or until it starts to sizzle.
Add in vinegar and cook for 2-3 minutes now add in annatto oil, Patis, and black pepper, stir cook for another 2-3 minutes.
Add in 3 cups of water and simmer for 3-5 minutes now add in carrots, labanos, mushroom and siling labuyo, simmer for another 3-5 minutes or until most of the liquid has evaporated.
Correct saltiness if required.
Add in bell pepper and cook for a minute or two.
Serve.
Get to know more about Bopis Recipe
Like most traditional recipes, there is no definite recipe for Pork Bopis.  The recipe may differ from region to region and family to family with regards to ingredients, flavoring, and spices.  In Laguna, there is another version of cooking Bopis.  We called it Pinaniki – Ginataang Bopis ng Laguna.  The only difference is, we don't use annatto for food coloring, and it was cooked with coconut milk.  Depending on one's own preference, possible list ingredients that can be added for variation includes carrots, ginger, coconut milk and bay leaves.  Seasoning like salt, pepper, fish sauce, soy sauce, "Siling Labuyo" (bird's eye pepper), "Siling Haba" (finger chilies) can also use.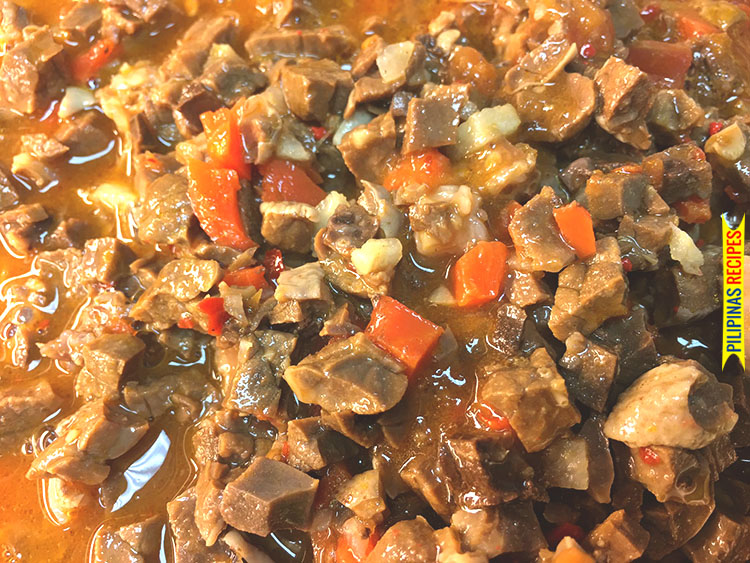 Pork Bopis Recipe Preparation (Summary)
For those who want to taste this exotic dish and who crave for it, here is my home-made recipe.  Rinse the pig's lungs and heart and boil on low to medium heat for about 30 to 40 minutes or until tender.  Make sure the inside of the heart is done.  To make sure it is done, poke the lungs and heart with a fork or a knife – if the blood is not come out inside the meat, then the meat is tender and done.  Drain and allow to cool before chopping into bite-size pieces or minced well.  Pork liver can be added for additional flavor, diced it into small pieces.  Heat oil in the pan, sauté garlic and onions until became brown and translucent.  Add the minced pork lungs and heart, sprinkle with salt and pepper to taste. Add the vinegar and let simmer without stirring for few minutes or until the vinegar is cooked.  Add bird's eye chilies and simmer until sauce is reduced and almost dry.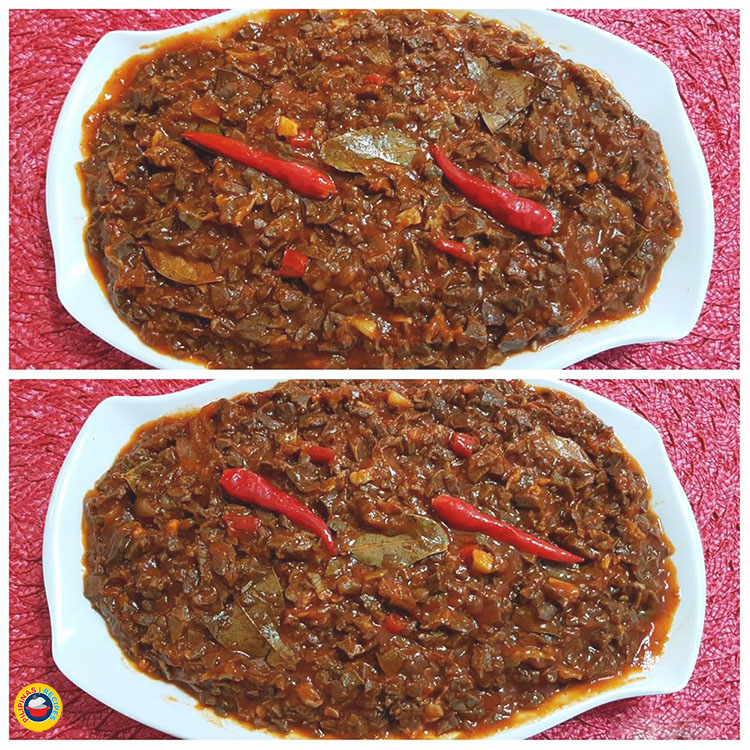 Serve this Pork Bopis Recipe with steaming hot rice and an ice cold soft drinks. Also, Please Like our Official Facebook Page (Pilipinas Recipes) for more Free Recipes. Thank You