Buko Salad is a very popular dessert in every parties or occasion such as town fiesta, birthday parties, Christmas and New Year.  A lovely tropical salad.   Mostly, The Buko Salad Recipe is prepared with young shredded coconut, canned fruits, cream and sweetened milk.Coconut is one of the main product of the Philippines and is used in many foods as an ingredients.  It is valuable from roots to leaves.  It is a superfood with its long list of nutritional values, health benefits, and medicinal uses.  Widely used fresh or dried in a different dishes.  And an essential ingredients for curries and savory dishes.  Coconut are delicious and the flesh or the meat is rich in vitamins and high in carbohydrates.  Coconut water or its juice is a good source of sugar, fiber, antioxidants and minerals.  It is use as a sports drink providing energy, hydration and endurance for the sport minder.  While the Coconut Milk is lactose free and as good milk substitute for those with lactose intolerance.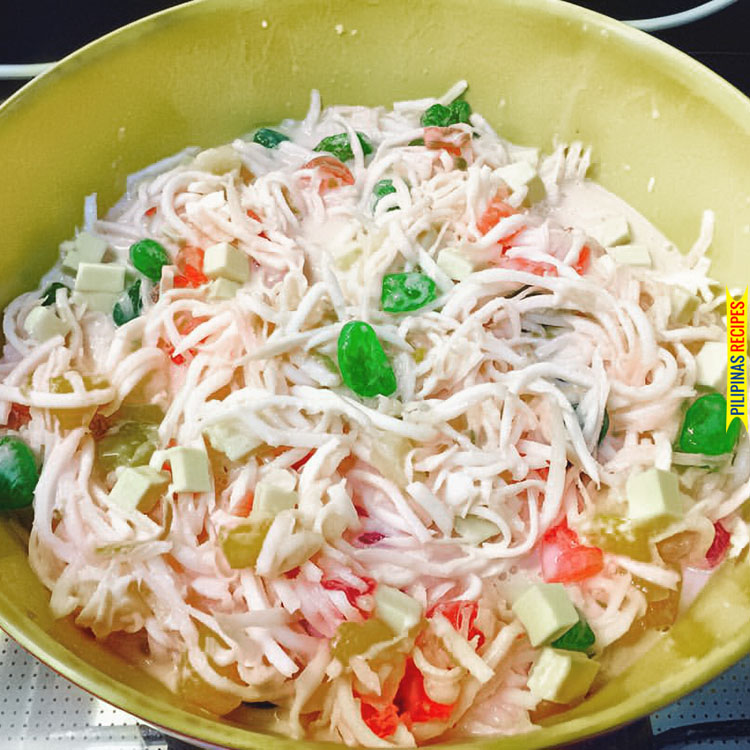 Buko Salad is a very simple, easy to prepare and no cooking involved.  And every Filipino has its own version of preparing the Buko salad recipe.

Filipino Buko Salad Recipe
Author:
Pilipinas Recipes
Ingredients
4 cups young coconut (buko), grated
6 oz sugar palm fruit (kaong), drained
12 oz coconut gel (nata de coco), drained
2 14 oz can fruit cocktail, drained
8 oz pineapple chunks, drained
1 14 oz can condensed milk
7 oz table cream
Instructions
In a bowl, combine the young coconut, kaong nata de coco, pineapple chunks and fruit cocktail. Stir gently.
Add the sweetened condensed milk and light cream. Mix until all ingredients are well incorporated.
Refrigerate for at least 4 hours or place in freezer for 1 hour.
Transfer to a serving bowl.
Serve
Buko Salad Recipe (Summary)
First is, to make sure all ingredients are properly drained.  In a large bowl, combine together shredded sweet young coconut meat, fruit cocktail, nata de coco, kaong, pineapple chunks, condensed milk, and cream.  Gently stir to mix all ingredients.  You can add apples and corn to provide additional texture.  You can also add cheese to create a balance of the overall sweetness of the salad.  Some want their salad firm while others are not.  Freezing your Buko salad for a longer time would affect the texture of the ingredients and it would become watery.  If you want you can just chill it in your lower section of the fridge for few hours.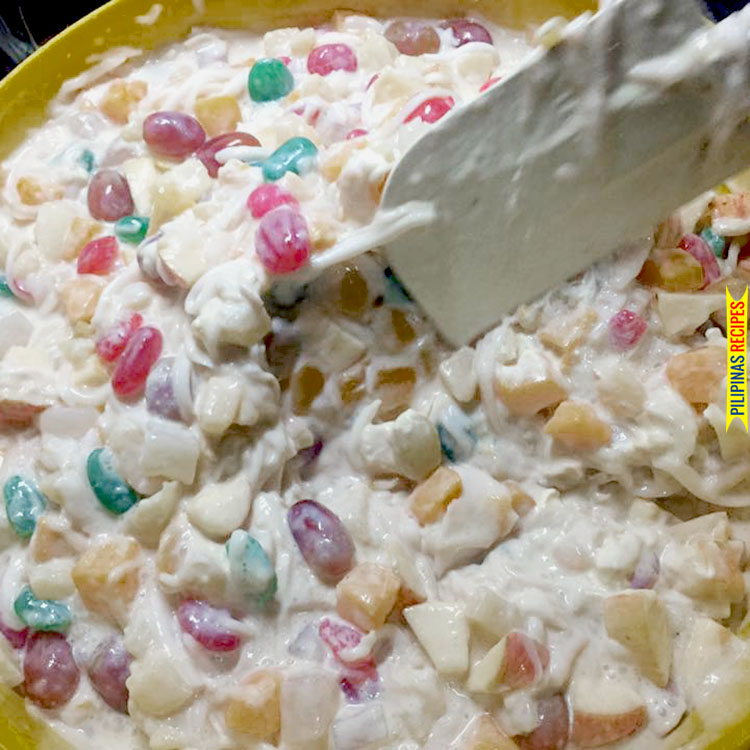 Top your Buko Salad with your favorite flavor of ice cream upon serving.
Also, Please Like our Official Facebook Page (Pilipinas Recipes) for more Free Recipes. Thank You