Adobo is definitely a Spanish cuisine that was developed by Filipinos into a delicious, traditional dish and yet so easy to prepare.  It is one of the common dishes in the Philippines and every Filipino loves "Adobo".There are many different dishes that use the "Adobo" method of cooking but all of them serve the same basic ingredients.  You can use different meats, seafood, even vegetables like "Kangkong" (water spinach).  You can also use Chicken liver and gizzards for the recipe.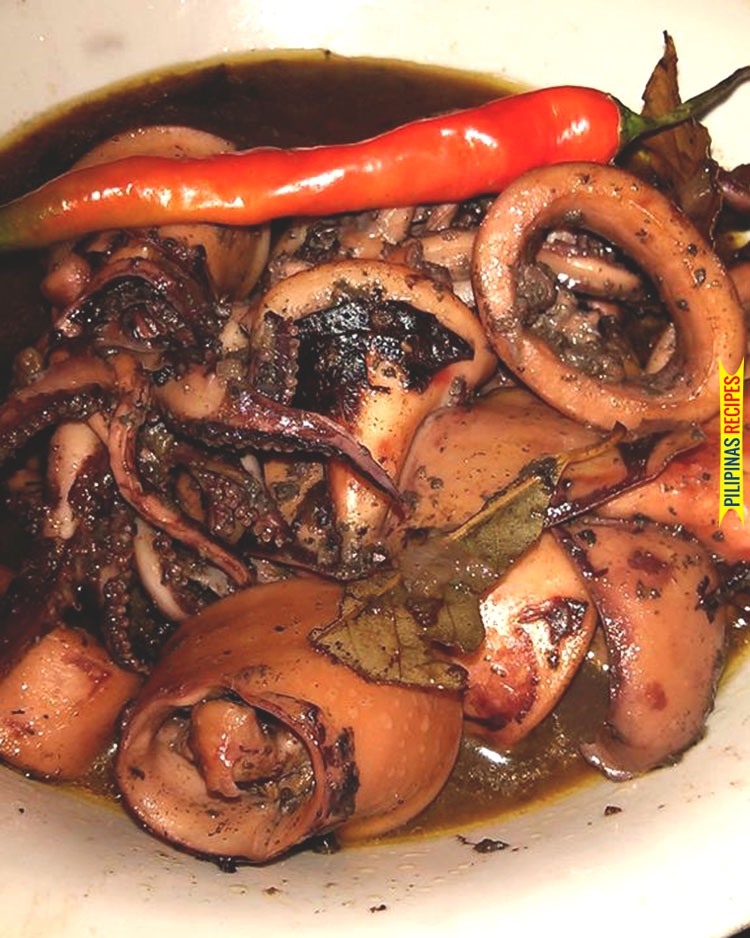 Adobong Pusit Recipe (Squid Adobo)
Author:
Pilipinas Recipes
Ingredients
1½ lbs squid (pusit)
½ cup vinegar
1 onion; chopped
1 tomato; chopped
4-5 cloves garlic; crushed
¼ cup soy sauce
Pepper
Salt (optional ingredient)
Instructions
Wash and Clean the squid by removing all the entrails.
Saute garlic, onion, and tomato.
Add the squid, pepper, vinegar, and soy sauce.
Simmer until the dish is cooked.
Salt to taste.
Serve with Rice
Nutrition Information
Calories:
130
Fiber:
4%
Protein:
39%
More About Adobong Pusit
One unique among all varieties is Adobong Pusit Recipe also known as "Squid Adobo" for having a black sauce than a brown sauce.  It usually contains more sauce than usual and it is black in color due to the ink.  The taste is quite different as well as the ink gives it's salty.  Some prepared to add more garlic, it gives it a really nice flavor.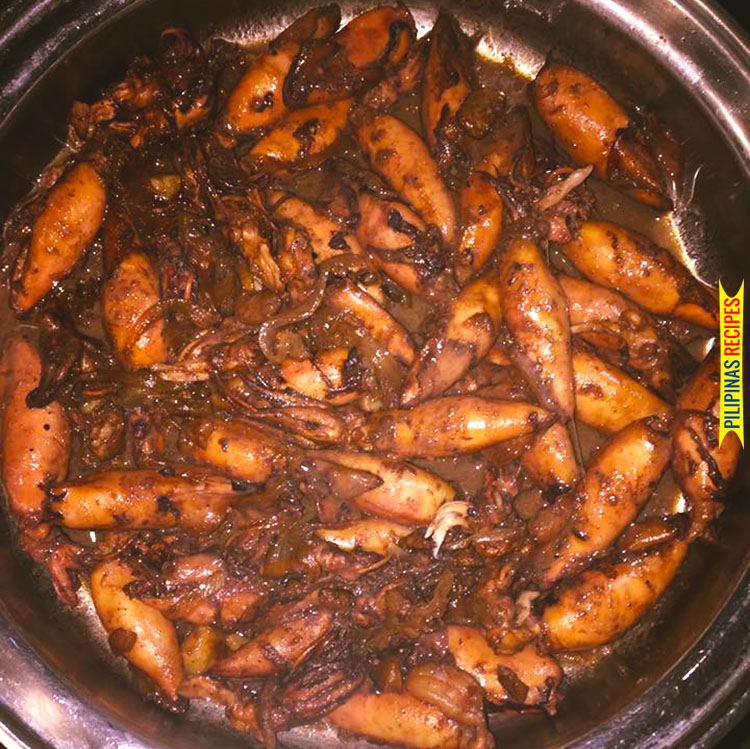 Adobong Pusit Recipe Tips (Cleaning and Cooking)
Here is the simple and easy to prepared Adobong Pusit.  The main ingredients in preparing are vinegar, bay leaves, onions, garlic, tomatoes, soy sauce, salt and black pepper.  First, clean the squid, remove the membranes and any hard part of the Squid.  Take out the plastic backbone from the tube.  Removed the inner part of the Squid.  Do not peel the skin of the squid and be careful not to leak the ink.  Small to medium sized squid are ideal to use in cooking "Adobo" because they give out more flavor compared to the large one and contains a large amount of black ink.  Cut the squid into rings and separate the tentacles.  Set aside.    Put oil in the pan, sauté onions, garlic, and tomatoes until softened.  Add the squid and cook for 3-5 minutes.  Add soy sauce, vinegar, bay leaves, salt and black pepper.  Bring to boil over medium heat and then reduced to a simmer and cover, wait until the sauce is thick.  Don't over cook the squid, it may change the texture of the squid and it becomes rubbery.
Just before serving add minced red chilies and parsley.  Drizzle lots of sauce over hot white rice.
Watch this Video below on how to cook Adobong Pusit.
_
PS: Ideas and Suggestions to improve this recipe are much appreciated. Just comment below. Also, don't forget to like our Facebook Page for more Free Filipino Recipes. Search "Pilipinas Recipes" on Facebook or simply click this LINK. Thank You!