Puchero is a Spanish term for "Stewpot" and Filipinos, having been colonized by Spain for many years have learned the technique of cooking this wonderful and authentic dish. Today, the term Puchero has been turned into Pochero in the country. The Pocherong Baka or Beef Pochero Recipe is much like the Spanish version. Using Beef in Pochero is another way to cook this hearty stew.  It's best to ask the butcher what kind of meat to use for this dish if you're not sure what to buy. Some use ribs while other use pure meat or with some fat. You need to know if the kind of meat you bought needs to be cooked longer or can be cooked for a short time so you'll always have a tender meat.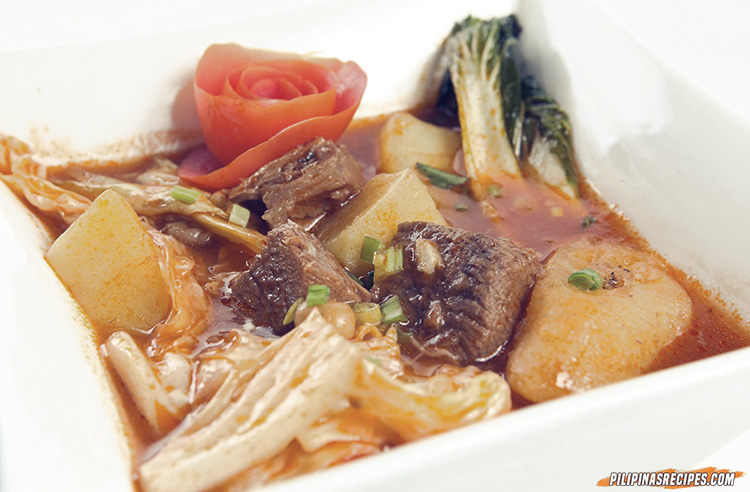 Cooking Beef Pochero Recipe
When making this Beef Pochero Recipe, make sure you choose the best ingredients. For the cabbage, use only the ones that have vibrant colors and it's also nice if you could buy smaller kinds of bok choy as it's not as bitter as the big ones. You can use canned chickpeas or fresh ones which you can buy at the market. Choose plantains that are semi-ripe so they have some sweetness already. Most people will just buy canned tomatoes although you can also make your own if you want.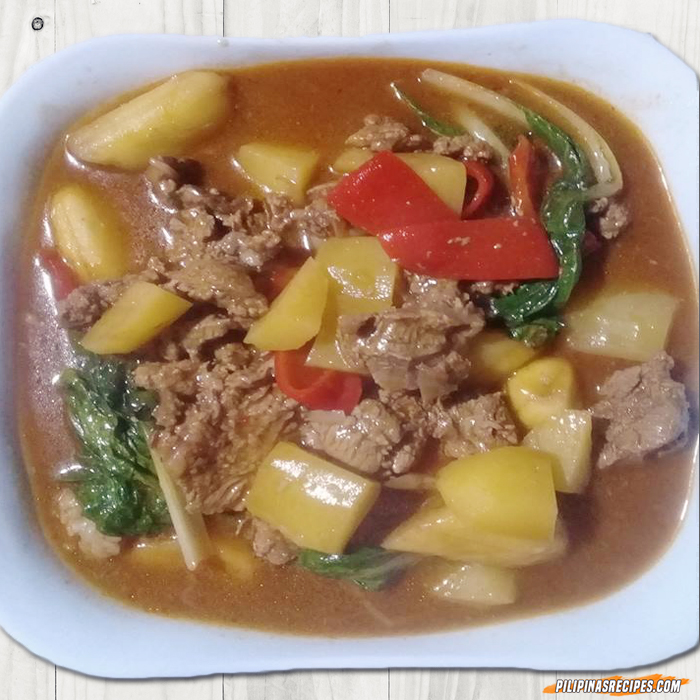 This Beef Pochero Recipe can be a special treat for everybody. It's a comfort meal that you can prepare on a rainy day or when someone is feeling a little under the weather. As always, the best way to eat it is to partner it with steamed rice or Sinangag. There is no need for side dishes because it's already a complete meal with all the vegetables, meat and sauce in it; the Rice, the Pochero, and some soft music are all you need to take the blues away.

Beef Pochero Recipe (Pocherong Baka)
Author:
Pilipinas Recipes
Ingredients
2 lbs beef short ribs
piece cabbage, quartered
1 bunch Bok Choy (10 pcs)
1 medium-sized potato, cubed
2 large (saba) banana, sliced
3 pieces chorizo, sliced thinly
1 large tomato, diced
1 medium-sized onion, diced
2 tbsp whole peppercorn
2 tbsp fish sauce
1 tsp garlic
1 small can tomato sauce
1 cup garbanzos
Instructions
Heat oil in the pot and fry the banana until color turns golden brown. Once done, set the bananas aside
Put in the chorizo in the same pot and fry for about 3 to 5 minutes then set aside
Saute the garlic, onion, and tomato
Add the beef and cook for 5 minutes
Add the fish sauce, tomato sauce, and whole peppercorn and mix well
Add the water and simmer until meat is tender (about 35 minutes in pressure cooker)
Put-in the fried chorizo, fried banana, potato, and garbanzos and simmer for 7 minutes
Add the cabbage, long green beans and simmer for 5 minutes
Add the Bok Choy and turn off the heat. Cover the pot for 5 minutes to cook the Bok Choy
Serve.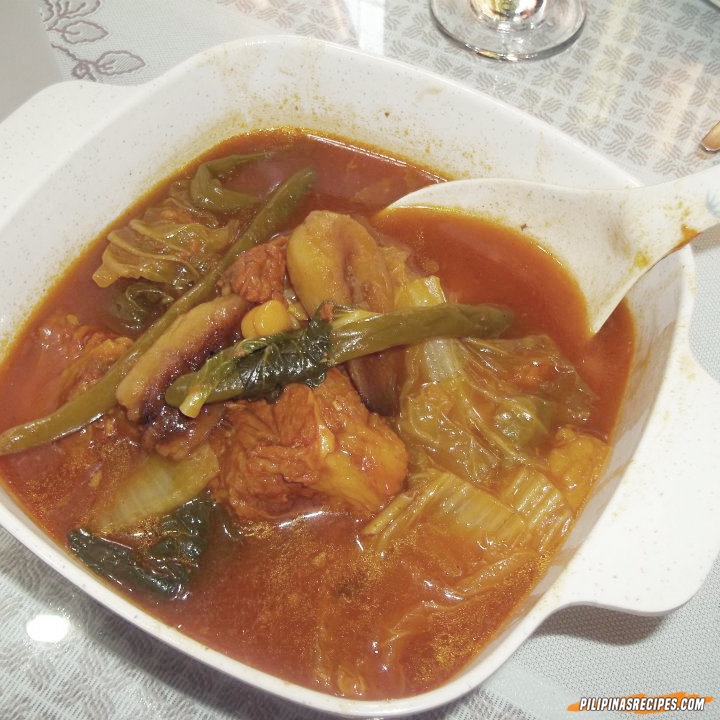 Questions / Ideas regarding the Recipe? Comment below. Don't Forget to Like our Facebook Page for more Free Recipes. Search this on Facebook "Pilipinas Recipes"