If you've been to Pangasinan then you're already familiar with Dinengdeng (an Ilokano dish). Most households in this Philippine province cook their own versions of this simple dish that is loved by many including curious tourists. No vacation to that province will ever be complete without tasting and buying Bagoong Isda (fish paste/sauce used in making Dinengdeng) and sampling the different versions of Dinengdeng. To make this special Dinengdeng Recipe, you need several ingredients including fresh vegetables. The most authentic experience is to have an Ilokano native cook this dish for you and using vegetable from their backyards which is common for natives to have but if you live elsewhere and still want to cook this dish then you simply need fresh vegetables and of course your bagoong isda where you can buy from grocery stores and/or markets.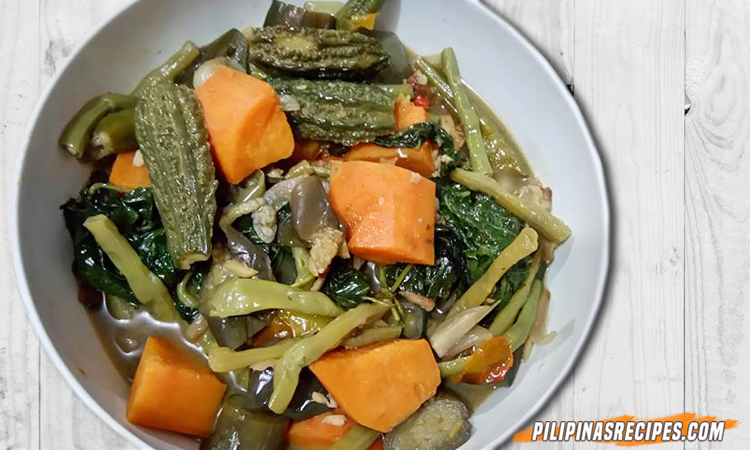 Dinengdeng Recipe Preparation
To make this Dinengdeng Recipe, you must prepare any or a mix of the following vegetables; Saluyot, Squash, Bitter melon, Sweet Potato, Eggplant, Okra, String beans, Squash flowers, Sayote leaves, String bean leaves and Bamboo shoots. You can use either grilled fish or meat to add to the dish but some prepare it using just the vegetables and the bagoong isda. You can cook this by boiling some water together with the ingredients such as ginger, onions, tomatoes and the bagoong isda. When the ginger, onions, and tomatoes are tender, you can add the vegetables then let it boil again until tender and then top with your choice of grilled fish or meat.

Dinengdeng Recipe
Author:
Pilipinas Recipes
Ingredients
1 Milkfish (Bangus) Fried and cut into 4 pcs.
1 cup String Beans
5 pcs. Okra
1 medium Eggplant cut into cubes
2 Cups Squash, cut into Cubes
2 Medium Ampalaya, cut into rectangular lengths.
1 Onion, sliced
2 pcs. Tomatoes: sliced
Saluyot
1 root Ginger; crushed
Bagoong Isda
4 Cups of Water
Instructions
In a large pan or casserole, Bring water to boil.
Add onion, ginger, and tomatoes.
Let it stand for 3 minutes.
Season with Bagoong and continue boiling for another 5 minutes
Remove the Scum that rises on top of the liquid and then put the Bangus (Milkfish)
Simmer for 5 more minutes and add the vegetables.
Cook until the vegetables are done and cooked.
Adjust ingredients and seasoning according to taste.
Serve with Hot Rice.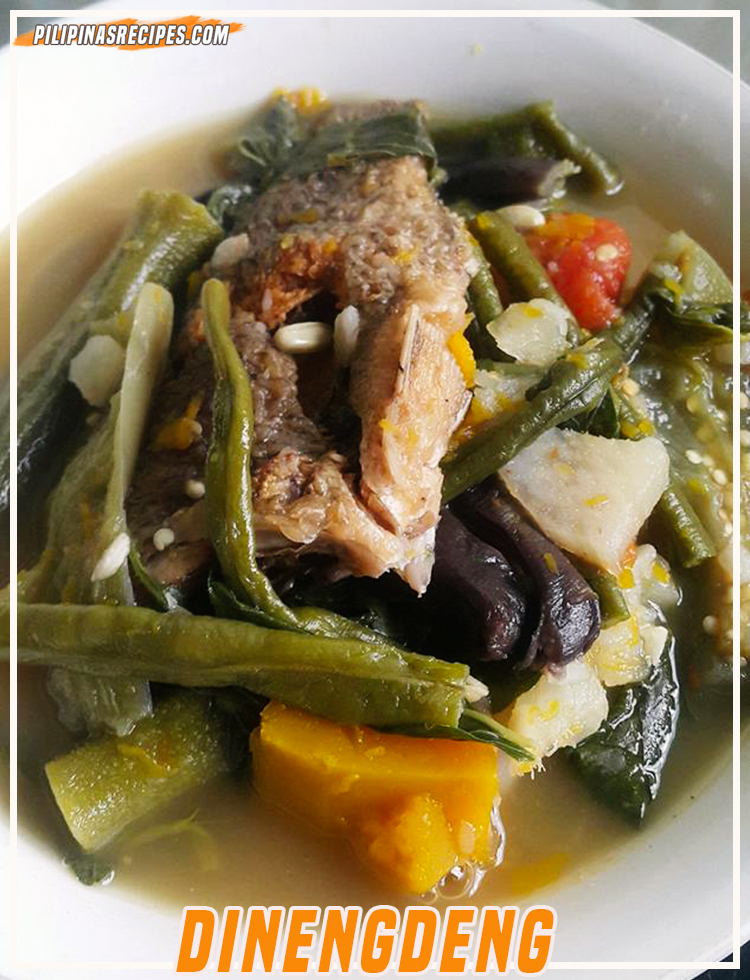 This Dinengdeng Recipe is more like an everyday fare instead of a party favorite. This is a comfort food especially for Ilokanos when they are living away from home since it lets them remember what home is like. For home cooks who have an Ilokano visitor or a wife with an Ilokano husband, this dish is the best dish to serve to show them how much you care and for anybody who just want to cook it just 'coz, this is a simple, kind of salty and unique dish that you will like but if you're really keen on making this dish as part of your feast on a party you're hosting then just put the dish on fancy plate and try not to put too much of the broth so the presentation won't look too runny after all it's really the taste that matters. Make sure that you have lots of rice because this dish is addictive. Mangaon Ta!! 🙂
Questions regarding the Recipe? Comment below or Visit our Facebook Page for more.