When it comes to Filipino food there are so many ways of preparing foods and there are so many different variations on any particular dish like Pork Afritada, and it's impossible to match that sentimental feeling that can get from home cooking.  Real Filipino don't need a knife, just fork, a spoon and some unique food.
Pork Afritada Recipe is one's family favorite.  It is inspired by Spanish dish which can be cooked slowly.  The origin of this delicious Filipino dish dates back during the colonial era of Spain in the Philippines (1521-1898).  "Afritada" was derived from Spanish word "fritada" meaning "fried".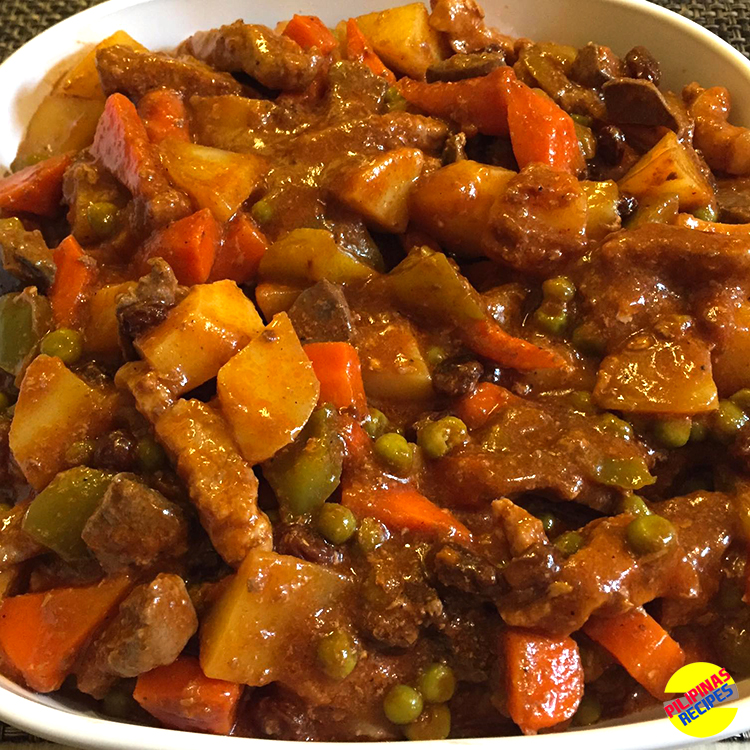 Pork Afritada Recipe
Author:
Pilipinas Recipes
Ingredients
500 grams pork belly
2 tablespoons cooking oil
150 grams garlicky sausages sliced into rings
⅓ cup finely chopped onion
1 teaspoon minced garlic
1 bay leaf
1 sprig oregano stripped
2 cups chopped tomatoes
patis (fish sauce) to taste
pepper
1 tablespoon soy sauce
2 potatoes peeled and cut into wedges
1 carrot peeled and cut into wedges
2 bell peppers diced
⅓ cup sweet peas
Instructions
Cut the pork belly into two-inch pieces.
Heat the cooking oil in a pan.
Over high heat, brown the pork pieces in the hot oil.
Lower the heat to medium.
Add the sliced sausages, chopped onion, minced garlic, bay leaf, and oregano.
Season with fish sauce and pepper.
Cook, stirring often until the onion bits soften.
Pour in the chopped tomatoes and soy sauce. Stir.
Bring to the boil, lower the heat and simmer for 45 minutes or until the pork is tender.
If the sauce dries out before the pork is done, add bone broth, half a cup at a time.
Add the potato and carrot wedges along with the bell peppers. Stir.
Cover the pan and simmer for another 15 minutes.
Taste the sauce (the vegetables will soak up the saltiness) and adjust the seasonings.
Stir in the bell peppers and green peas. Simmer for another five minutes.
Serve.
"Afritada"
can be cooked with chicken, pork or beef stew in tomato sauce adding some vegetables like potatoes, carrots, and bell pepper.
This recipe is so simple and a very popular in the Philippines.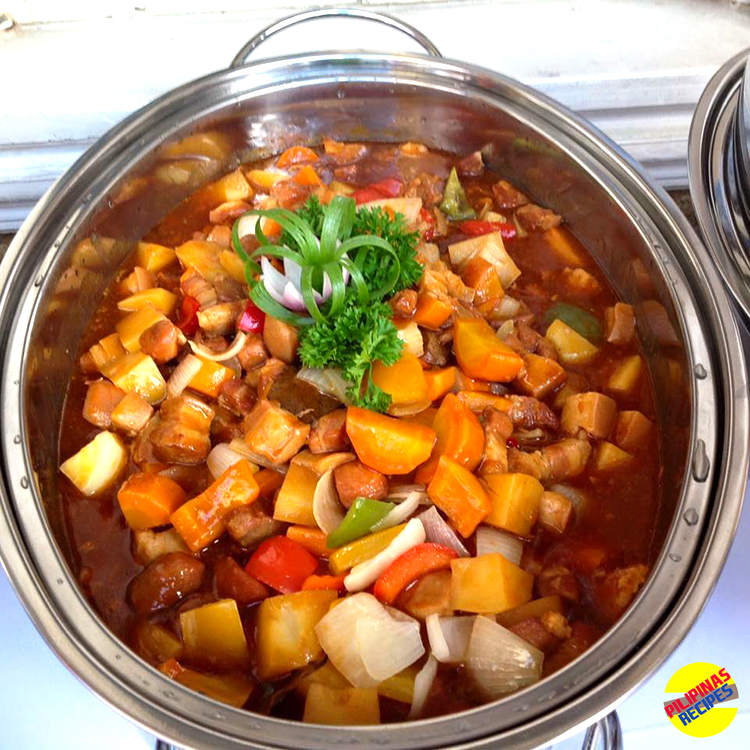 Pork Afritada Recipe Preparation
In cooking Pork Afritada, therefore, is to first fry the meat and other vegetables before stewing it in tomato sauce.  Adding some common vegetable ingredients such as potato, carrot and bell pepper.  Other ingredients can add green peas to add more sweetness. Adding hotdog in the dish for more flavor and kids love it.  Ketchup can be a substitute for tomato sauce.  And can add chili pepper to add more spices.  This dish is similar to "Menudo" and "Caldereta" and adding bay leaf give an extra flavor and aroma.  The similarity of "Afritada" to other tomato based dishes, to identify this dish is quite confusing unless can cook by its own originality based on the ingredients.
Pork Afritada Cooking Tips:  Let the meat simmer over low heat to bring out their natural juices.  It makes the dish tastier and tender.  Tomato sauce should be well-cooked, thick and dark red color.  Bright red color means undercooked and it tastes sour.
Savory meat and the bright flavor of fresh vegetables are bathed in garlicky tomato sauce over hot rice.
---
Ideas and Suggestions to improve this recipe are much appreciated. Just comment below. Also, don't forget to like our Facebook Page for more Free Filipino Recipes. Search "Pilipinas Recipes" on Facebook or simply click this LINK. Thank You!