Bibingka is a Filipino rice cake, traditionally eaten around Christmastime in the Philippines.  It is one of the most popular "kakanin" (dainties) during the Holiday season.  Bibingka Recipe has a soft spongy texture similar to "puto", another Filipino rice cake.
When I was younger.  My family used to attend "Simbang Gabi" ("night Mass or Misa de Gallo) from December 16 to December 24 each year.  After the mass, I'm so excited and eager to go outside.  At the door of the church, you can smell the aroma of Bibingka and other "Kakanin". You can see vendors around the vicinity of the church offer you anything.   There is one vendor who can cook delicious Bibingka.  I remember Bibingka being cooked in front of us.  She will ask you if you like "Regular or Special". The difference is Special Bibingka has Egg White while Regular Bibingka has none.  While waiting for our Bibingka, I will go to other vendor selling "Puto Bumbong, another sweet delicacy and popular during Christmas.  It is steam glutinous rice cooked in a bamboo tube with distinctly purple color.  Bibingka and Puto Bumbong are the perfect match eaten right after the mass paired with "Tsokolate" (hot chocolate) and "Salabat" (ginger tea).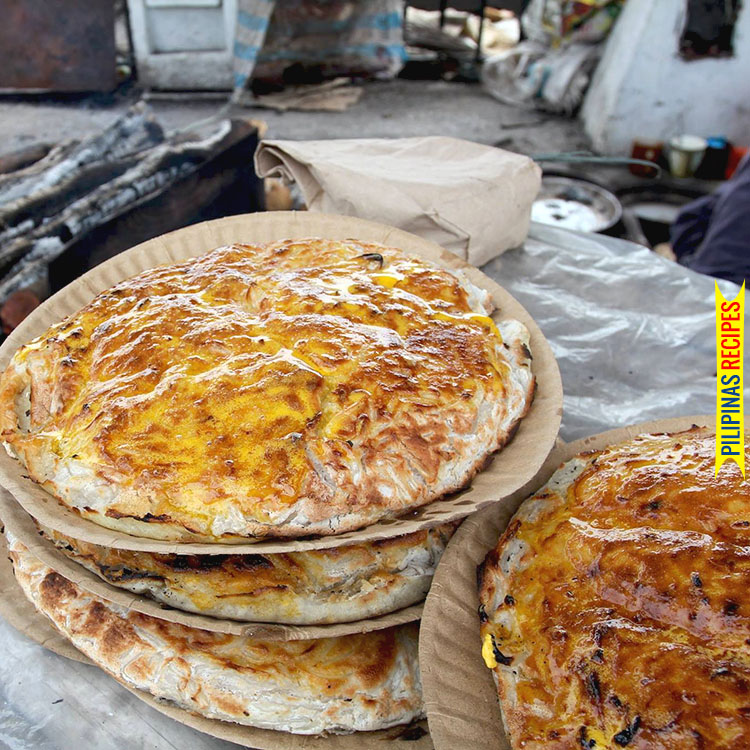 Bibingka Recipe
Author:
Pilipinas Recipes
Ingredients
2 Cups Rice Flour
1 Cup Sugar
2 tablespoons Baking Powder
½ teaspoon salt
1 (13.5 ounces) can Gata (Coconut Milk)
2 tbsp. melted Butter
5 beaten Eggs

For Toppings

2 Salted Egg (Sliced lengthwise)
Cubed Kesong Puti or Keso de Bola
Softened Margarine
Grated mature coconut
Sugar to taste

Equipment

Banana leaves (optional)
3 Aluminum Pie Pans
Instructions
Rinse banana leaves under warm water and trim away thick edges.
Cut leaves into about 10-inch diameter rounds (large enough to cover bottom and sides of baking pan).
Quickly pass and heat leaves over stove flames for a few seconds or until just softened.
Line pie pans with the leaves, making sure they are intact with no rips.
In large bowl, combine rice flour, sugar, baking powder and salt.
Whisk together until well dispersed.
In another bowl, combine coconut milk and butter and stir until blended.
Add to rice flour mixture and gently stir until batter is smooth.
Add beaten eggs and stir until blended.
Divide mixture and pour into the prepared pie pans.
Arrange egg and cheese slices on top.
Bake in a 350 F oven for about 20 to 25 minutes or until golden and toothpick inserted in the middle comes out clean.
If desired, place under the broiler for about 1 minute or until nicely charred.
Remove from heat and spread margarine on top.
Garnish with grated coconut and sprinkle with sugar to taste.
Craving for Bibingka? 
Bibingka Recipe Tips & Preparation
Bibingka can sometimes be complicated to make and can be a time of consuming.  Basically, The Bibingka recipe is primarily a cooked battered mixture of rice flour and water or coconut milk.  Other ingredients such as whole egg, fresh milk, butter, baking powder and sugar are often times added to the batter in order to enhance the texture and flavor.  The mixture pours into clay pots with a piece of banana leaf brush with butter.  Another piece of banana leaf is added to the top baked over and under hot charcoal.  You can cover with more preheated coals if needed.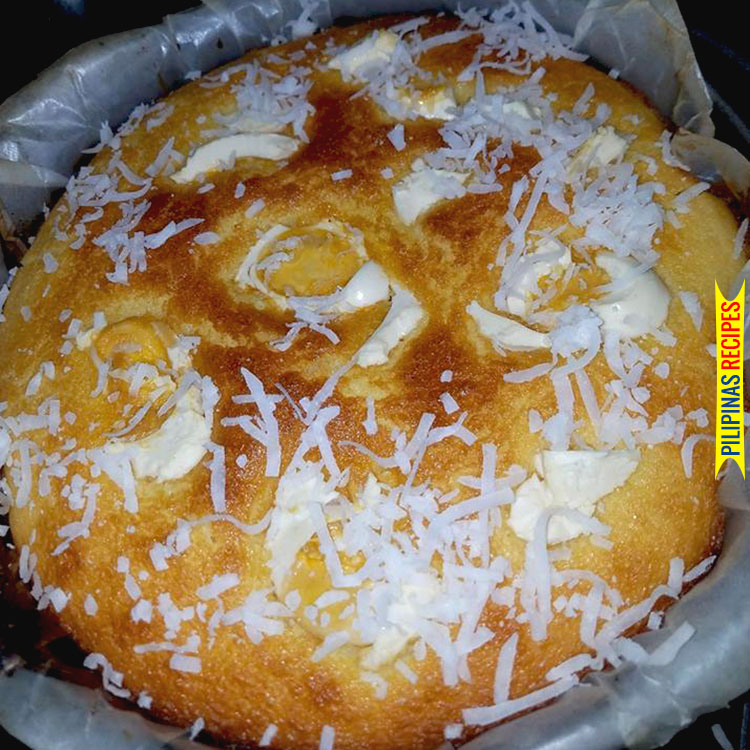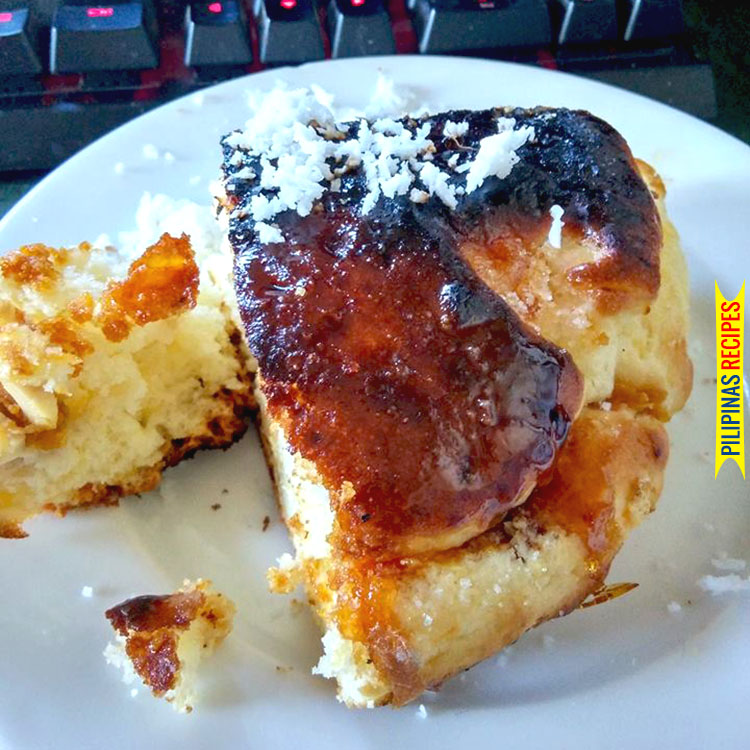 Special Bibingka Recipe will have cheese and salted egg.  Toppings with grated coconut, sugar, and butter.
PS: Ideas and Suggestions to improve this recipe are much appreciated. Just comment below. Also, don't forget to like our Facebook Page for more Free Filipino Recipes. Search "Pilipinas Recipes" on Facebook or simply click this LINK. Thank You!