The La Paz Batchoy Recipe is a signature dish from Visaya.  This dish originated from the district of La Paz in Iloilo City, which is located on the island of Panay.  It is also the classic Ilonggo cuisine.I have never been to Iloilo but the dish has been one of my favorites since my friend from Iloilo introduced it to me.  I'm impressed with the tastefulness of their batchoy.  It is very hot and delicious.  Once I tasted it, I keep asking her to cook for me.  I remember whenever she visited me during Sunday, she always cook La Paz Batchoy.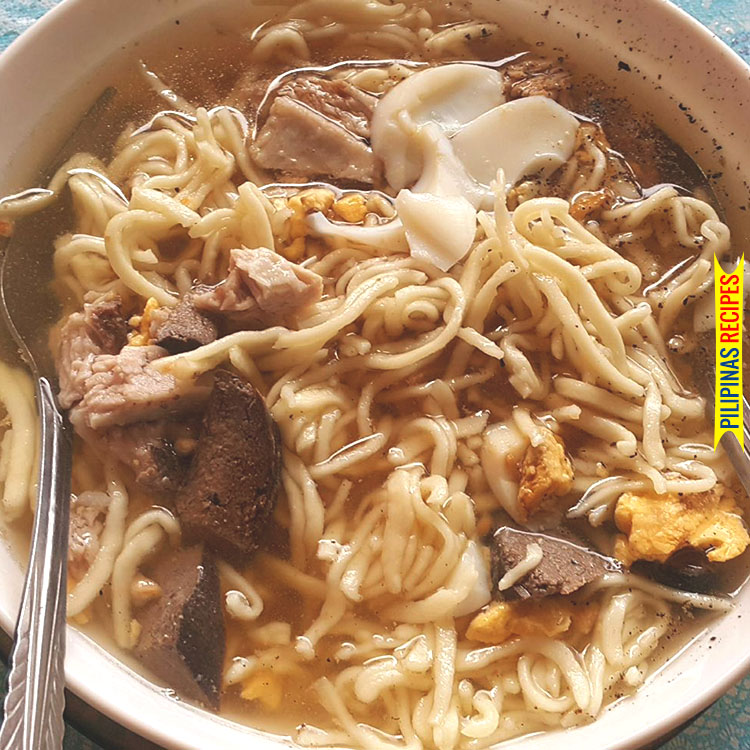 Once I ask her what is the difference between La Paz Batchoy and Batchoy Tagalog.  She will tell me that although both share the same name and use pork innards as ingredients.  Batchoy Tagalog is taste like a taste of "Tinola" due to its use of more ginger and chili leaves.  But still being Ilonggo, she will always choose La Paz Batchoy.  She even teaches me how to cook simple Batchoy.

La Paz Batchoy Recipe
Author:
Pilipinas Recipes
Ingredients
For the Batchoy
500 g Miki or Egg noodles
300 g pork belly, sliced into small pieces
150 g pork liver, sliced into small pieces
2 pcs pork heart, sliced into small pieces
1 medium sized white onion, finely chopped
6 cloves garlic, minced
½ tsp freshly ground black pepper
4 cups pork stock
4 cups beef stock
4 cups shrimps stock (you can make this by frying then boiling shrimp heads)
1 tbsp sugar
1 tbsp soy sauce
1 tbsp sautéed shrimp paste
fish sauce
oil
For Garnishing
Chicharon, crushed
Fried garlic
Spring onion, chopped
Fresh Egg
Instructions
In a pot add boiling water together with pork belly and pork heart, boil for 5 minutes then remove meat from the pot then rinse with cold water to remove any scum.
Using the same pot and water add the pork liver and boil for 5 minutes, drain then rinse with cold water to remove any scum.
In a separate clean pot add oil then sauté garlic and onion, stir-fry until onions turn translucent.
Now add the three types of broth, pork belly, pork heart, black pepper, sugar, soy sauce and shrimp paste.
Bring to a boil then simmer for 30-40 minutes or until meat is tender.
Now add the liver and season it with fish sauce (use according to your liking), simmer for additional 10 minutes.
Cook the noodles according to instructions.
Then once cooked place in a bowl.
Pour hot boiling broth in the noodle bowl together with meat then top it with crushed chicharon, fried garlic, spring onion and raw egg.
Serve and stir in raw eggs while broth is still hot.
La Paz Batchoy Recipe Tips
So here it is, my simple and easy to make La Paz Batchoy Recipe.  First, I make the broth, it is made of pork bones with onions, salt and pepper to taste.  I also add pork meat and pork innards for later use.  Boil them together for hours until the pork meat and pork innards softened, removed them and cut into strips.  Continue boiling until the chunks of meat in the bone fall off, partially dissolve and get mixed into the broth.  While the broth is simmering, sauté the garlic and ginger until fragrant. Now you can add the pork and liver and season with fish sauce.
To prepare, place miki noodles in a bowl, put pork meat, pork innards, liver on top, then pour enough hot broth over.  Garnish with crushed "chicharon" (pork cracklings), fried garlic bits, sliced spring onions and sliced whole eggs.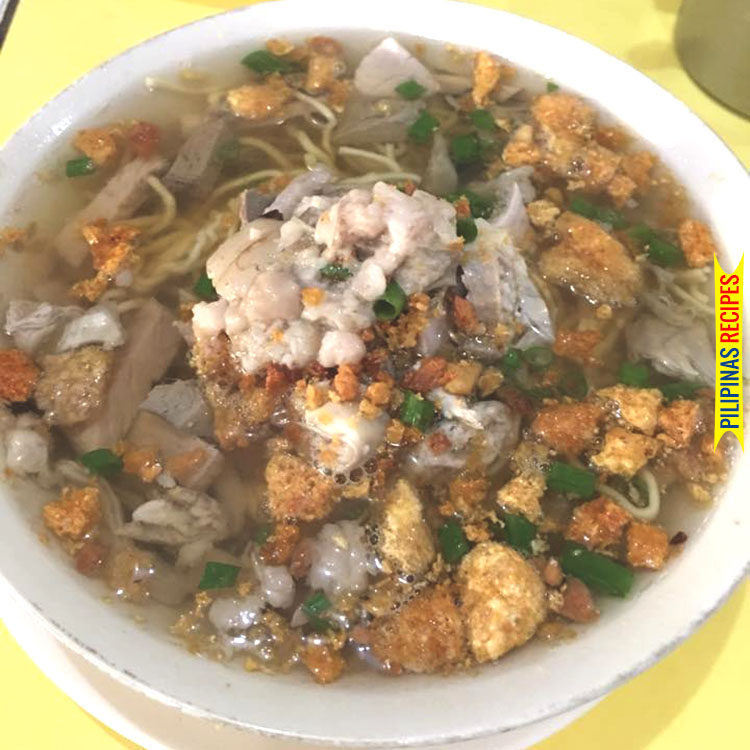 Serve immediately with Kalamansi half and fish sauce on the side.  Pair your La Paz Batchoy with "Puto" or Bibingka.
—
PS: Ideas and Suggestions to improve this recipe are much appreciated. Just comment below. Also, don't forget to like our Facebook Page for more Free Filipino Recipes. Search "Pilipinas Recipes" on Facebook or simply click this LINK. Thank You!