Tinolang Manok is a kind of Chicken dish which is cooked by sauteing garlic, onions, and ginger the adding Chicken and letting it turn a little brown. Water is used for the broth and Sliced Papaya or Sayote (Chayote) is added as well as malunggay or Dahon ng Sili (Chili Sprouts) before you turn off the stove. Salt or fish sauce is added to give some salty or umami taste. Follow the step by step procedure to make this special Tinolang Manok Recipe.
Tinolang Manok Recipe is can be prepared by first gathering all ingredients. First, it's advisable that the chicken you use is a farm-bred one. It's healthier and uses no hormones for the chickens. Papaya or Sayote can easily be found in markets and grocery stores across the Philippines. If you're using Papaya, try finding one that is almost ripe because it lends a sweet taste to the dish which you'll love. But if you can't find that kind then just buy one and let stand for a day or two until it's a little soft but not too soft.

Tinolang Manok Recipe (Chicken Tinola)
Author:
Pilipinas Recipes
Ingredients
1 Whole Chicken (chopped)
2 pieces Sayote or a Medium sized Papaya
3 cloves of garlic, peeled and minced
2 thumbs of ginger, julienne
1 medium-large onion, sliced
3 cups of chicken broth or 1 Knorr chicken cube (dissolved in 3 cups of water)
1 bunch of Malunggay
2 tablespoon of fish sauce (patis)
1 tablespoon cooking oil
salt to taste
Instructions
Heat oil in a pan, saute garlic, onion, and ginger.
Add the chicken and cook, stir for 3 minutes or until chicken juice run clear.
Pour the fish sauce, mix occasionally for 2 minutes.
Add the chicken broth or the dissolved chicken cube.
Cover and simmer for 40 minutes.
Uncover and add sayote or papaya, mix and cover for 5 minutes. Let it cook.
Add the salt. Stir well and cook for 2 minutes.
Serve with Hot Rice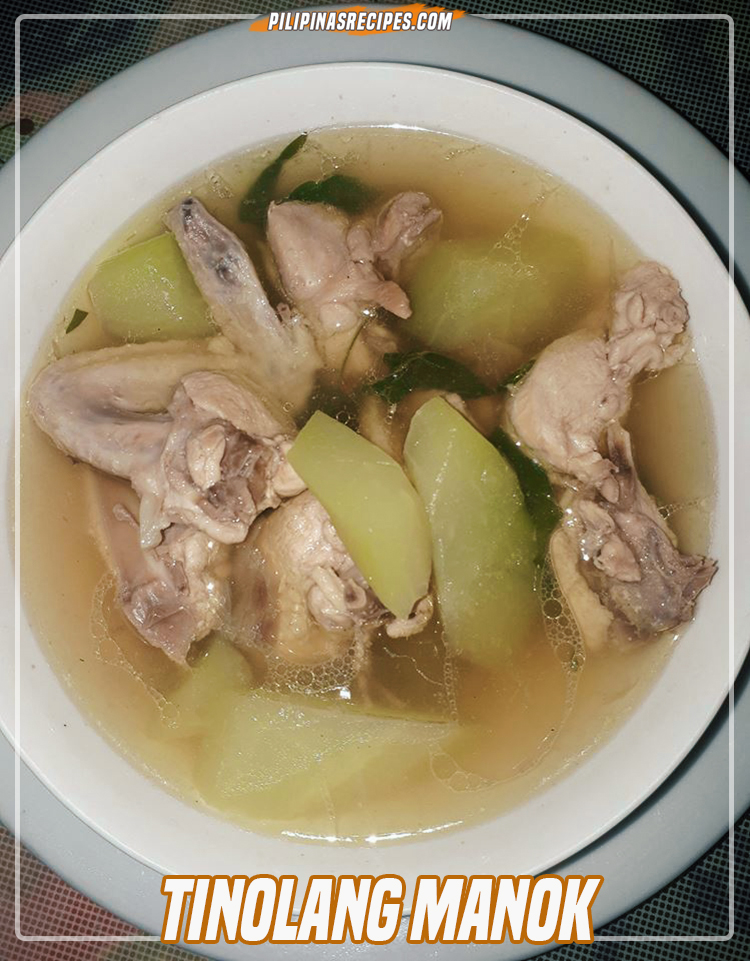 Tinolang Manok Recipe and Cooking Tips
Using Malunggay or Dahon ng Sili has its different tastes and benefits. Using Malunggay gives your body some vitamin A, B, and C while using Dahon ng Sili has citric acid, palmitic acid, and capsaicin which are also beneficial to your body. Aside from the health benefits, you'll love the taste any of this two give. Both give a unique taste and aroma to the dish. This Tinolang Manok Recipe is a comfort food so when you have a tummy ache you can sip the broth and you'll feel better. It's also a food that's so nice to eat with rice when it's a little cold.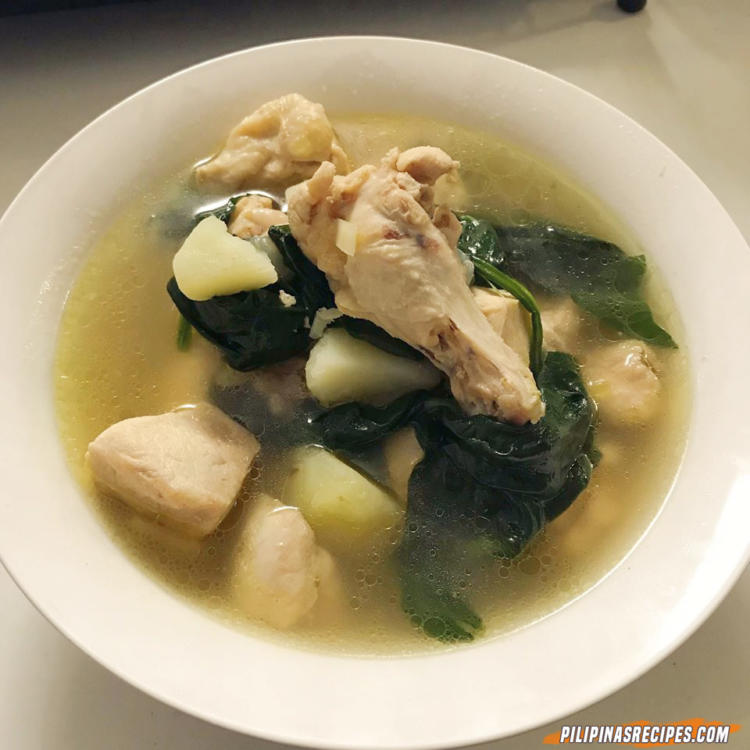 Remember This:
Don't put too much oil when you're stir-frying the garlic and onions so when you put water, it won't overpower the clear soup. You need to make sure too that you only cook papaya fast because it's not good to let is turn mushy. Also, make sure you don't overcook Dahon ng Sili as it gets tender quite easily. But if you're going to use malunggay then you must cook it well so your stomach can digest the green vegetable easily. You can store your leftovers in the fridge for a couple of days as long as the temperature is really cold. Enjoy this Tinolang Manok Recipe with your family.
Questions Regarding the Recipe? Leave a comment below. Also, Please Like our Official Facebook Page for more Free Recipes.