You would think that Pininyahang Manok or Pineapple Chicken is a dish coming from the Caribbean Seas or somewhere in Hawaii because of the pineapples. Well, there aren't any concrete pieces of evidence as to where the dish came from but one thing's for sure; Pininyahang Manok is a superb chicken dish that has been past down from generations to generations. This dish is rich, creamy, decadent and has an umami taste. There are two types of Pininyahang Manok Recipe. The first one makes use of Kakang Gata (coconut milk) and the other one makes use of evaporated or full cream milk.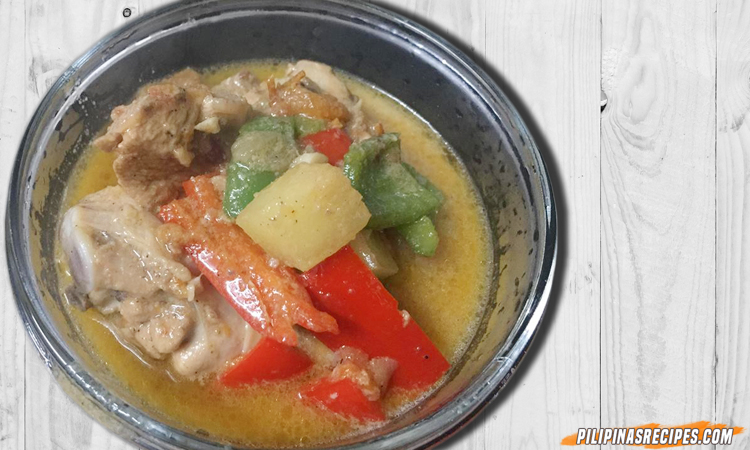 The Pininyahang Manok Recipe which makes use of coconut milk is a little heavier compared to when evaporated milk is used. The coconut milk also adds a sweet and Umami flavor. Another ingredient which adds sweetness is pineapple. The Philippines grows pineapple in abundance in its many provinces. Pinoys love pineapples which can range from sweet and semi-sweet or mild. You can freely buy pineapple in different preparations (fresh or canned) in markets or grocery stores. There are bell peppers and tomatoes in the dish so it gives a tropical vibe which is perfect since it's always summer in the Philippines. The dish is cooked by stir-frying garlic and onions then add the chicken. Other ingredients need to be added when the chicken is tender.

Pininyahang Manok Recipe (Pineapple Chicken)
Author:
Pilipinas Recipes
Recipe type:
Main Dish : Chicken
Ingredients
1 Kilo chicken, Legs, and Thighs (bite size)
4 tablespoons cooking oil
2 medium carrot - sliced
2 medium potatoes - cut into wedges
4 cloves garlic - minced
2 medium onion - chopped
3 tablespoons fish sauce
1 cup pineapple chunks
2 medium red or green bell pepper - sliced
All-purpose cream
Ground black pepper
Instructions
Heat oil in a pan, cook the carrots, potatoes for up to 3 minutes or until edges are slightly browned. Remove from oil and set aside.
In the same oil, saute onions and garlic until softened.
Add chicken, and stir until lightly browned.
Lower heat and add the fish sauce and pineapple chunks. Stir then cover and simmer until chicken is tender (chicken will release its own juices).
Add back the pre-cooked carrots and potatoes and also the bell peppers. Pour in the cream and stir. Season with pepper to taste.
Continue to simmer for about 5 minutes or until sauce is slightly thickened.
Serve with Rice and with Cold Drinks.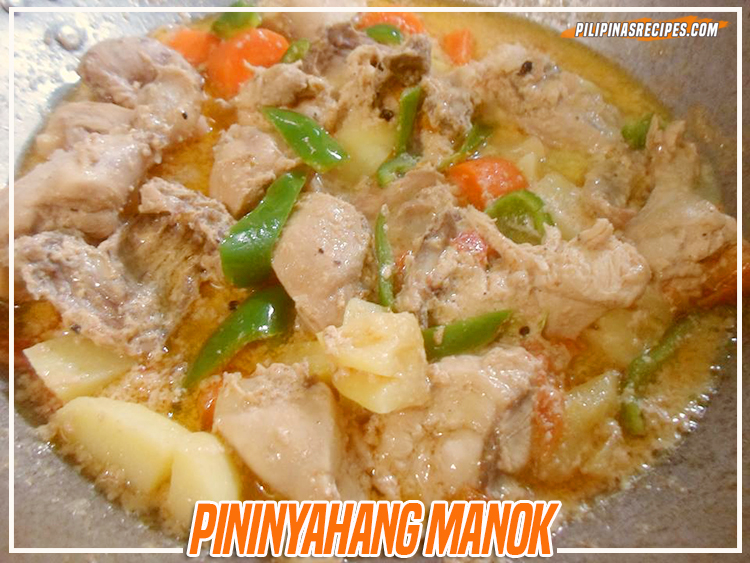 Pininyahang Manok Recipe Variations and Cooking Tips
Some variations of this Pininyahang Manok Recipe has hotdogs while some make does with vegetables like carrots. It doesn't take long to make this dish a masterpiece. Just make sure you assemble ingredients before you start cooking. Peel and chop away and get your cooking utensils ready. Put this in the freezer if you're serving the dish the day after you cook it. The dish can go bad quite easily because of the coconut milk or regular milk content. You also must make sure that you reheat it before eating the day after.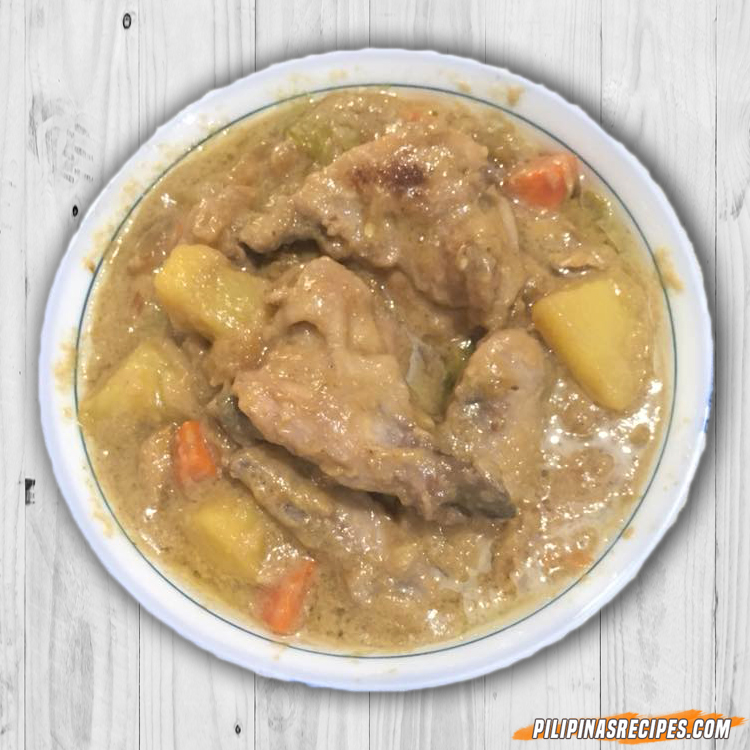 You'll find that this Pininyahan Manok Recipe that you prepared is addictive. It's a burst of flavor ranging from sweet to umami to a bit salty. It's the best dish if you're looking for comfort food and any Pinoy or foreign friends will just thank you for preparing such a dish. You should eat it with steamed rice and drink pineapple juice or have pineapple smoothie with it. You don't have to add other dishes because this dish is already special. It's supposed to make a dinner get together appealing to your guests and loved ones. Aside from Pininyahang Manok Recipe, You may also try our Adobong Manok sa Gata Recipe.