This Fish Ceviche is the national dish of Peru. It's also a food staple in several nations like Colombia, Chile, El Salvador, Belize, Guatemala, Honduras, Ecuador, United States, Panama and other tropical countries like the Philippines. Here in the Philippines, Fish Ceviche is locally called Kinilaw na Isda. The most common way to prepare it is marinating it in vinegar for a certain number of minutes and putting vegetables and chili after it's been cooked. This Fish Ceviche Recipe is a unique dish that you should try but it's not for the faint-hearted since the cooking is only done through acid ingredients.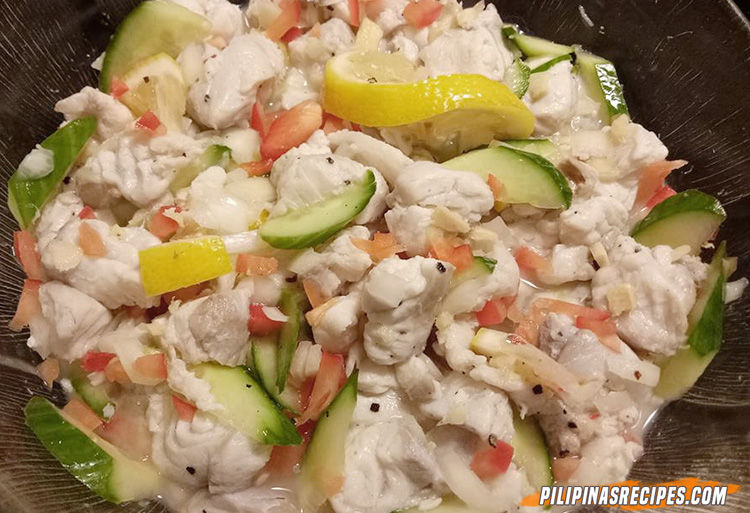 Fish Ceviche Recipe Preparation Tip
You need to remember a few things to make a good Fish Ceviche Recipe. First is to use the right fish. This is the most basic part and should be followed no matter what. You want a white fish that's flaky and avoid oily fish like Mackerel or Tuna. You must use the freshest fish since you won't be cooking by fire. There are a lot of people who have sensitive stomach issues so fresh fish is also a must to avoid digestive problems. If you bought a fresh fish but couldn't prepare it right away, keep it cold. Remove the bloodline, skin, and bones so eating will be a breeze. You must make sure that you cut your fish evenly to ensure that each part is well-cooked.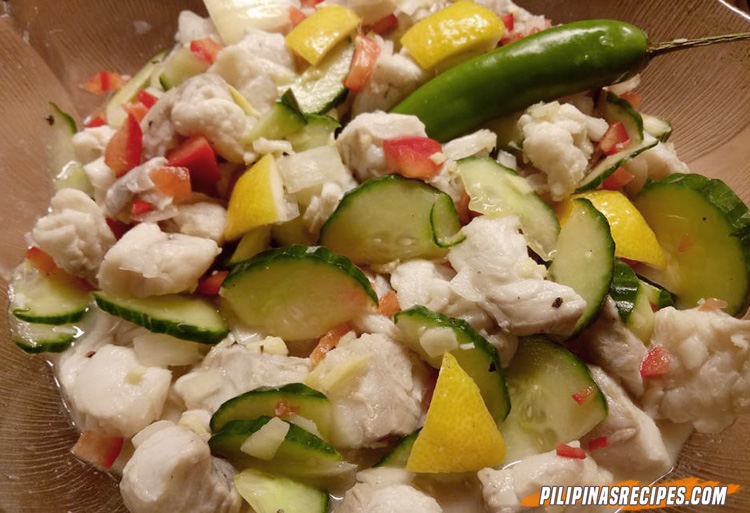 Fish Ceviche Recipe (Kinilaw na Isda)
Author:
Pilipinas Recipes
Ingredients
1-Kilo (Tanigue, Tuna, or Tilapia), cut into cubes
¾ cup Vinegar
1 thumb size Ginger, grated
4 cloves Garlic, chopped
medium Onion, sliced
2 pcs. hot chili
Salt
Pepper
Instructions
Wash and clean your fish.
Slice your fish into cubes, scales and bones removed.
Simmer the vinegar for 20 minutes to remove the excess acidity. Let it cool.
Marinate the fish in vinegar for 15 minutes then drain.
Combine ginger, garlic and onion then add fish.
Add coconut creme ( optional)
Season with salt and pepper put the chili.
Add Chili and other ingredients according to taste.
Serving:
Don't over marinate the fish but at the same time, you must cook it well. Put enough acid in the fish and don't put your vegetables and chili the same time you put your acid. Cook your fish in acid first then put your accompaniments after. Drain your acid after you've marinated it to avoid the fishy smell. Following these guidelines for Fish, Ceviche Recipe ensures that you'll get a clean fish taste that's easy on the palate. This dish is perfect if you're planning to have drinking sessions with your buddies. You can prepare other dishes with ceviches like Sisig, Beef Salpicao, and Buffalo wings.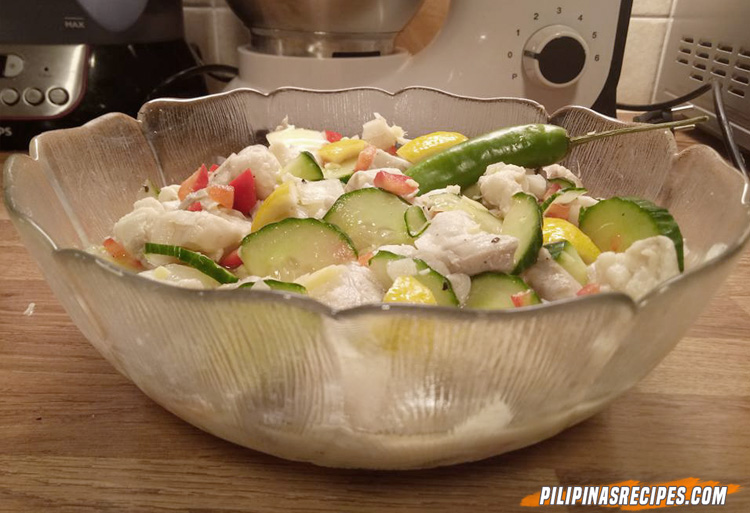 This Fish Ceviche Recipe is also great to eat at any time of the day or in any season. It goes great with Beer or Lemonade if you don't like alcohol. It's best to serve it once you've made it and avoid any leftovers. This dish is always best to be eaten fresh. Make this special recipe today and surely you'll be doing repeats in the coming weeks. Questions regarding the recipe? Leave your comment below. 🙂