Do you love Ilocano dishes? The Pinakbet Recipe (Dinengdeng) is the most well-known Ilocano dish. This is one of my most favorite dishes and has also been a favorite even in other regions. Pinakbet is a combination of different vegetables, fish paste, and grilled milkfish or Pork; this is the Ilocano Version. In other regions and most common in the Philippines, they have been using Shrimp Paste or Bagoong Alamang and Pork or sometimes Chicharon instead but nevertheless, it is still delicious.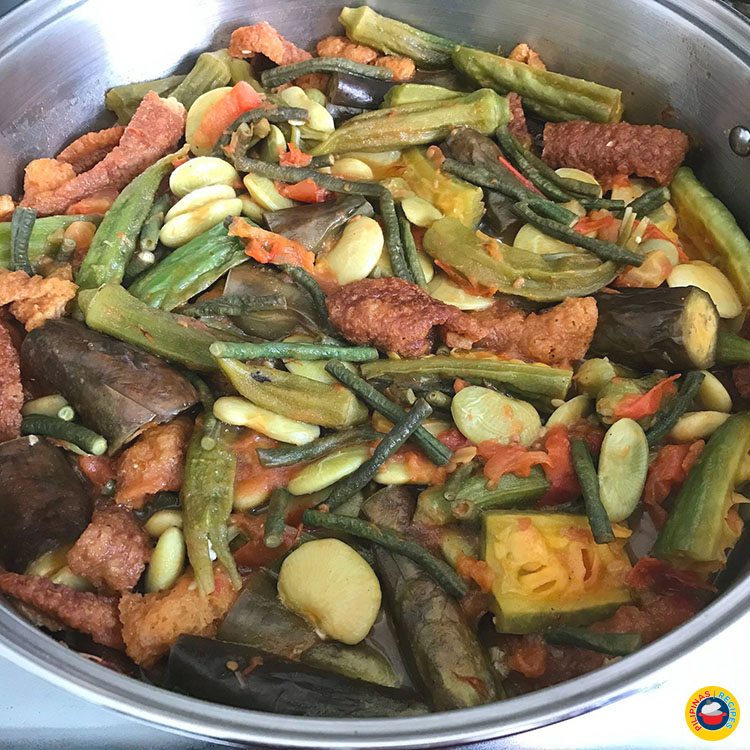 Pinakbet Recipe
Author:
Pilipinas Recipes
Ingredients
¼ kilo pork belly, cut into strips
Chicharon (Optional)
3-4 tablespoons shrimp paste
Medium squash (Cut into cubes)
1 pc. onion (chopped)
3 minced Garlic
1 tablespoon oil
2-3 medium tomatoes (chopped)
2 to 3 cups of water
5 pcs. young okra (cut into halves diagonally)
½ bunch string beans (cut into 3-inch lengths)
1 medium Ampalaya (cleaned and cut into slices)
1 large Eggplant (cleaned and cut into cubes)
Instructions
In a pan, saute onion and garlic over medium heat until tender and aromatic.
Add pork and cook for 3 to 5 minutes or until lightly browned.
Add the shrimp paste and continue to cook for about 2 minutes.
Add tomatoes and cook for about 5 minutes or until softened.
Add water and bring to a boil.
Simmer for 10 to 15 minutes or until pork is tender.
Add more water in ½ cup increments as needed to maintain about 1 cup of liquid.
Add squash and cook for 4 minutes.
Add okra, long beans, Ampalaya, and Eggplant.
Continue to cook for about 4 to 5 minutes or until vegetables are tender yet crisp.
Add Chicharon.
Best serve with Rice.
Pinakbet Recipe Preparation
This is a very simple dish if we're talking about the cooking procedure. If you have the vegetables in your backyard, it will make it even more delicious because you will be eating fresh vegetables and free from pesticides. When you cook this, you just have to put the onions, tomatoes, and garlic together and when it starts to boil, you can add the eggplant, okra, Bitter Gourd (Ampalaya), winged Seguidillas beans (Sigarilyas).
You can also add sponge gourd (Patola) if you wish; this will be a tasty addition to your Pinakbet Recipe and will make you love it even more. You can add Pork on the Recipe and Chicharon. After a few minutes, the fish paste can be added.  The measurement of your fish paste depends on how you prefer your pinakbet to taste. Usually, when the Ilocanos are cooking this, they tend to put more fish paste because they like it a bit salty and tasty of course. When this comes to a boil, the Grilled Milkfish (Bangus) can now be added. After around two minutes, turn off the stove.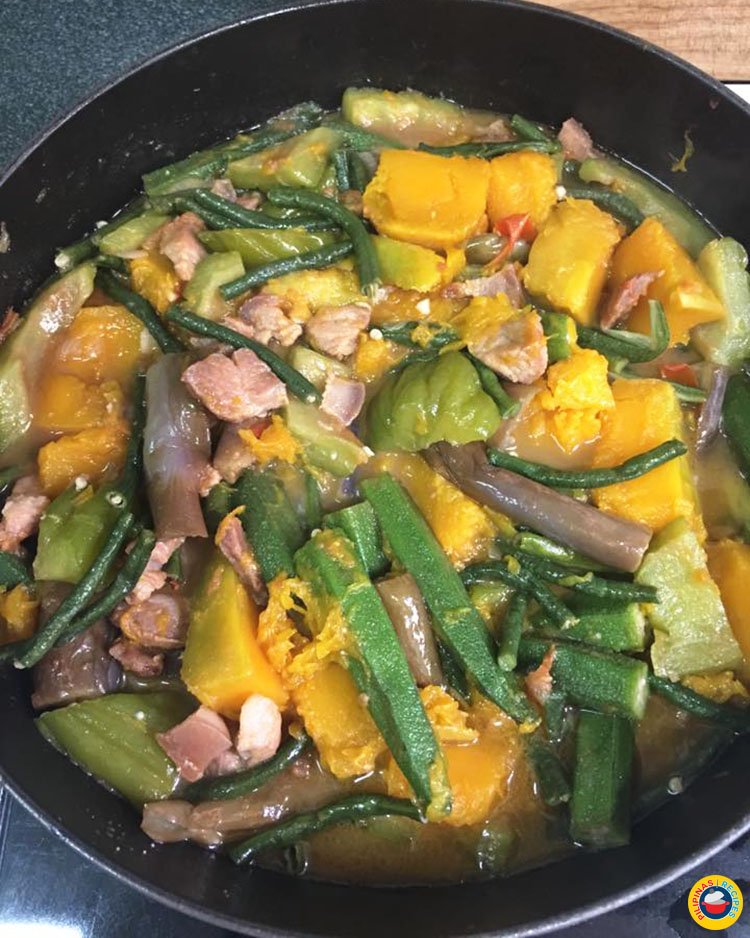 Now, you're ready for your own Pinakbet. Grab a plate and have a cup or two of steamed rice and savor the wonderful taste of this dish. You will probably ask for more once you savor this dish. This combination of the grilled fish and fish paste surely makes this mouthwatering that you will crave for it on the coming days. This will surely become an additional part of your menu.
PS: Ideas and Suggestions to improve this recipe are much appreciated. Just comment below. Also, don't forget to like our Facebook Page for more Free Filipino Recipes. Search "Pilipinas Recipes" on Facebook or simply click this LINK. Thank You! Please Rate our Recipe below.