Filipinos are pork lovers. Pork is something that locals love to prepare whether there is a special occasion or just a simple get together. Famous pork dishes are Lechon, Sisig, Dinuguan, Menudo, and Sinigang. But there is also another pork dish that you simply can't miss. Pork Pochero is as special as the other more popular pork dishes. This Pork Pochero Recipe is packed with all the ingredients which are not just healthy but tasty too. This recipe is also the better version of Pork Nilaga (pork cooked in broth with vegetables and plantain Bananas).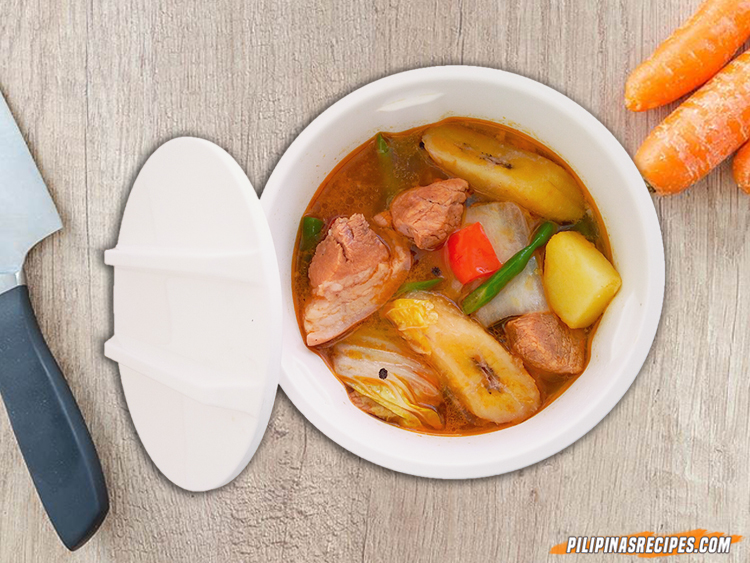 This Pork Pochero Recipe makes use of Plantain Bananas (Saging na Saba) which gives any dish a sweet taste. There are also carrots in the dish which add sweet notes to the sourness of the tomato sauce in this recipe. The addition of potatoes makes the sauce starchy so it's nice to eat it along with steamed rice. Additional water is needed too so you must prepare a broth from pork ribs or knuckles to give an umami taste to the dish. Chickpeas are included in the dish as well as garlic and onion for sauteing.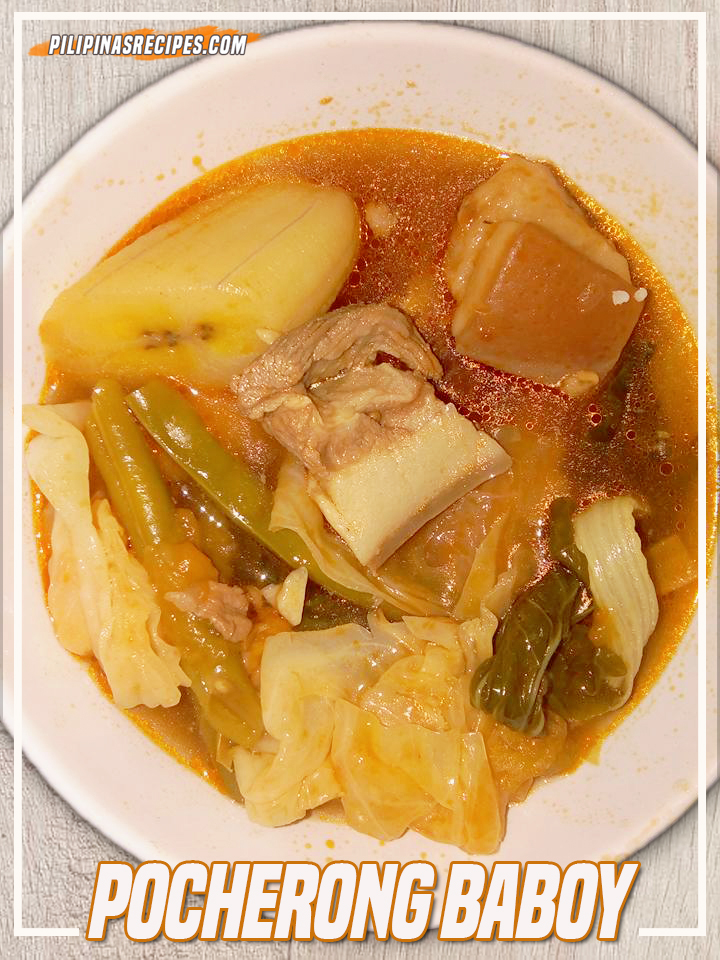 Pork Pochero Recipe Tips and Preparation
As a Filipino stew, this Pork Pochero Recipe has bok choi (Pechay). Bok Choi is a local favorite aside from Kangkong (water spinach). It's used in many preparations like Kare-Kare, Ginisang Pechay na may Itlog (stir-fry bok choi with scrambled eggs) and many more. It's filled with fiber so it can help you if you have constipation. Actually, all the ingredients in the recipe have health benefits as long as you use natural and fresh ingredients. Even the pork meat has protein in it which builds muscle strength in humans.

Pork Pochero Recipe (Pocherong Baboy)
Author:
Pilipinas Recipes
Ingredients
1 Kilo Pork (Belly / Liempo), bite size
Garlic, chopped
1 pc. medium size onion (chopped)
4 pcs. Saba (Banana), diagonal slice
2 pcs. small size potato cuts into a quarter
100 grams green beans, trimmed
½ small cabbage, quartered
1 bunch Pechay
A small amount of Patis / Fish Sauce
Tomato Sauce
1 Tbsp. peppercorns
salt to taste
cooking oil
Instructions
In a cooking pot or pan, saute garlic and onions
Add Pork Belly and stir-fry for about 5 minutes.
Add Fish Sauce / Patis and the Tomato Sauce.
Stir for a few minutes then add the 3 cups of water.
Add the White Beans and Peppercorns.
Wait to Boil and then simmer for 30 minutes or until the pork and the beans become tender. Remove Scums and add a small amount of water.
Wait for the Pork to become Tender then add the Tomatoes and cook for another 3 minutes or until the tomatoes are already tender and soft.
Add the remaining ingredients such as green beans, Cabbage, Pechay and Saging na Saba and cook for another 5 minutes or until the last ingredients are cooked.
Adjust seasonings according to taste.
Serve with Hot Rice.
Just follow the instructions well and you'll have a delicious pork meal in no time. You can cook this ahead of time and it will still taste good. Just put it in the freezer. Alternately, if you have a really cold fridge, you could put it in the lower sections of the ref. You can also come up with a theme for your gathering and add other dishes like fried chicken or chicken pork adobo and desserts to make it a food feast. Stir some Philippine lime juice to the bunch and you really got something. Cook this Pork Pochero Recipe now if you want the best dish to serve your friends and family.Who are you going to prepare this meal for? Question about the Recipe? Comment Below.
Like our Facebook Page
for more Pinoy Recipes