Have you noticed in parties that there's this reddish chicken dish with lots of veggies and saging na saba and chorizo? That's a Filipino dish called Chicken Pochero. Aside from Chicken, You can also use Pork and Beef for this kind of dish. Pochero or Puchero is a type of stew. It's originally a Spanish dish but since the Philippines is heavily influenced by the Spaniards, it's common that Pinoys have incorporated their cooking style. This Chicken Pochero Recipe is made special with Tomato Sauce. It also has potatoes which make the sauce thicker due to its starch content.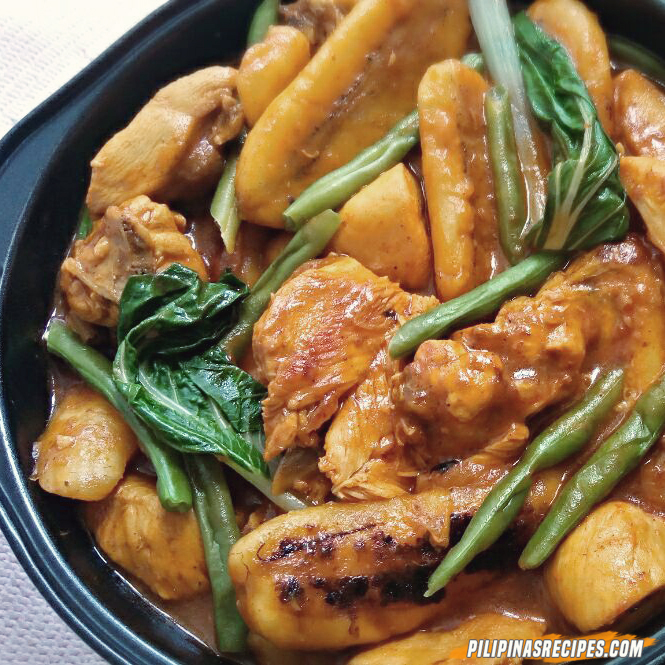 This Chicken Pochero Recipe can be cooked and frozen for the next day's dinner or you can include it in your kid's packed lunch. It's a versatile dish because you can either eat it with rice or with egg noodles. You can even eat it with ciabatta bread if you're not into rice. You could also say that the dish is packed with nutrients. First, the chicken has protein which is where you can get your energy for all your day to day activities. The vegetables like cabbage and Bokchoy in the dish have vitamin C, fiber, antioxidants and many more. Tomato sauce has lycopene and saging na saba can help improve blood circulation as well as treat stomach ulcers.
Chicken Pochero Recipe Preparation
Aside from its health benefits, what you'll love about this Chicken Pochero Recipe is its sweet and sour taste. It includes a lot of ingredients so there's a burst of flavor. The tomato sauce gives richness and sourness while the saging na saba gives the sweetness. The chorizo also gives sweetness as well as the onions used in sautéing the meat. The chicken has a robust flavor and the vegetables offer lightness to the dish. You'll see that the taste becomes better and better as you get done with your cooking. The flavors all complement each other.

Chicken Pochero Recipe (Pocherong Manok)
Author:
Pilipinas Recipes
Ingredients
1 Kilo Chicken (cut into serving pieces)
1 bunch Pechay
1 bundle green beans, cleaned and ends trimmed
4 pcs. Saging (Saba)sliced
1 medium-sized onion, diced
2 tsp whole peppercorn
2 tbsp fish sauce
1 tsp garlic
1 small can tomato sauce
Instructions
Heat oil in the pot and fry the banana until color turns golden brown.
Once done, set the bananas aside
Sauté the garlic, onion, and tomato
Add the Chicken and cook for 5 minutes
Add the fish sauce, tomato sauce, and whole peppercorn and mix well
Add the water and simmer until meat is tender
Add the bok choy and string beans and turn off the heat.
Cover the pot for 5 minutes to cook the Pechay.
Serve Hot.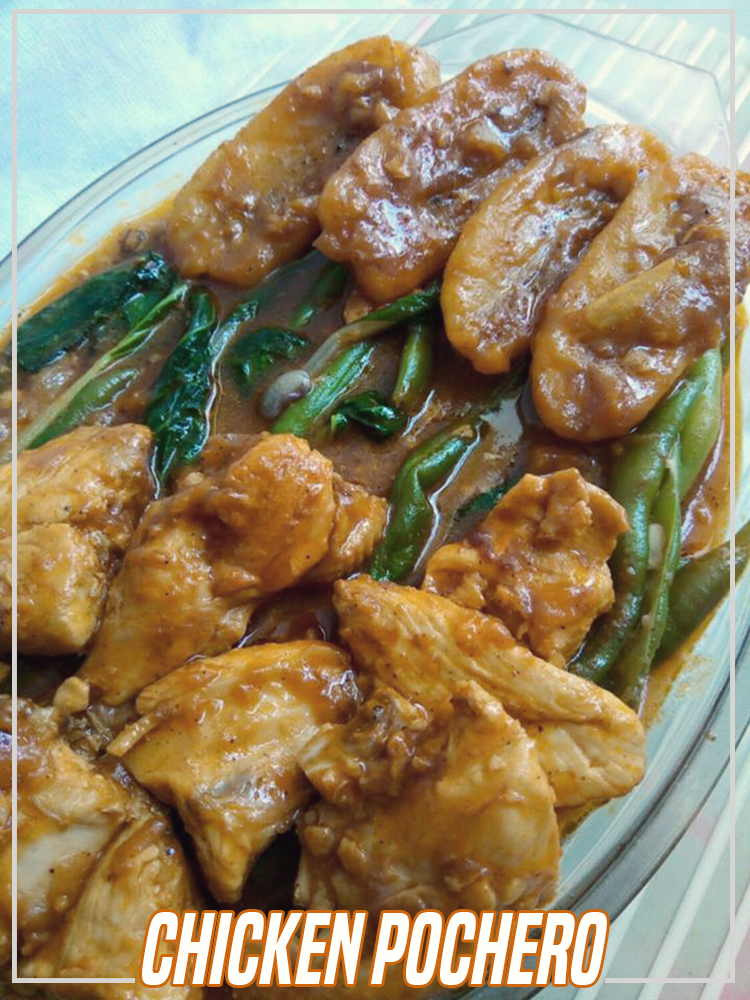 Get only the freshest ingredients if you're planning to cook this Chicken Pochero Recipe. Don't overcook your vegetables so they won't lose their nutrients. It's nice to partner this dish with Fried Porkchops and Steamed Fish with different toppings. This is truly a party dish that can go well with other spectacular food preparations. The adults will love it and so does the kids. You can add more dishes if you still have time to prepare and you can also make specialty drinks to go with your food feast. Enjoy the company of friends and loved ones with this special dish.
Questions regarding the Recipe? Comment below. Like our Facebook Page for more Pinoy Recipes. Mabuhay!!