One of the Philippines' signature dishes is the Relyenong Bangus. It is a milkfish stuffed with its meat that is mixed together with green peas, raisins, grated carrots, bell peppers, chopped onions, tomatoes and garlic and seasoned with salt, pepper and Worcestershire sauce. To complete the Relyenong Bangus Recipe, flour and egg are added to bind the stuffing together. It is then fried then served hot and eaten with Rice or Paella and sometimes people use a special sauce to keep it moist sweetened tomato sauce. It is also served whole allowing people to dig in and cut the piece they want.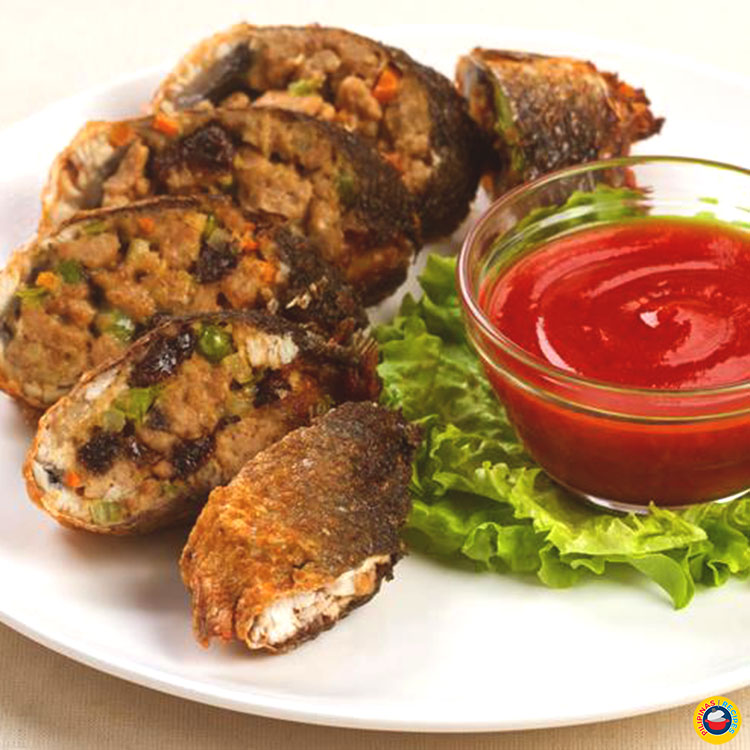 Relyenong Bangus Recipe Preparation
All over the Philippines, Relyenong Bangus is very popular with many stalls especially near public markets selling it. Even some bangus vendors and home cooks are selling their Homemade Relyenong Bangus but nothing will beat cooking your own Relyenong Bangus Recipe. Some market stalls offer to debone your fish while getting the meat and saving it for you for an additional fee so if you're not an expert in doing this method, you can pay for them to do so but it is an added experience to learn this procedure not to mention that once you learn how to do it, you can even start a Home Business of your own selling this specialty.

Relyenong Bangus Recipe (Bangus Relleno)
Author:
Pilipinas Recipes
Ingredients
1 Large Bangus (Milkfish)
¼ kl. Ground Pork
1 bulb onion, minced
3 cloves garlic, minced
1 medium carrot, minced
¼ cup of chopped red bell pepper
1 egg
1 small pack of raisin
50 grams of pickles
1 teaspoon salt
1 teaspoon ground black pepper
Banana Leaves for wrapping (Optional)
Marinate
¼ cup Soy Sauce
4 pcs. Calamansi (Juice)
Instructions
Preparation:
Ask the Vendor to Remove the Fish Bone from the Meat or for Relyeno instead,
Marinate the Skin with the mixture of soy sauce and calamansi for half an hour.
Boil the bangus meat in 1 cup of water for 5 minutes.
After which, remove the bones from its meat.
Cooking Instructions:
Saute garlic and onion.
Add ground pork and milkfish meat. Seasoned with salt and pepper to taste.
Stir-fry for about 3~5 minutes. Set aside until it cools down.
On a separate bowl, mix the sauteed pork and fish meat with carrot, raisin, pickle, bell pepper, and beaten eggs.
Stuff the sautéed ingredient inside the fish.
Wrap the staffed Bangus with Banana leaves and tie it.
Put cooking oil in a skillet and Deep Fry the stuffed bangus fish.
Cook at least 5~7 minutes on each side.
Serve best with Ketchup.
Notes
You can also cook the Relyeno in an oven. Set your oven to 375 deg F (190 deg C). Cook for 30 Mins.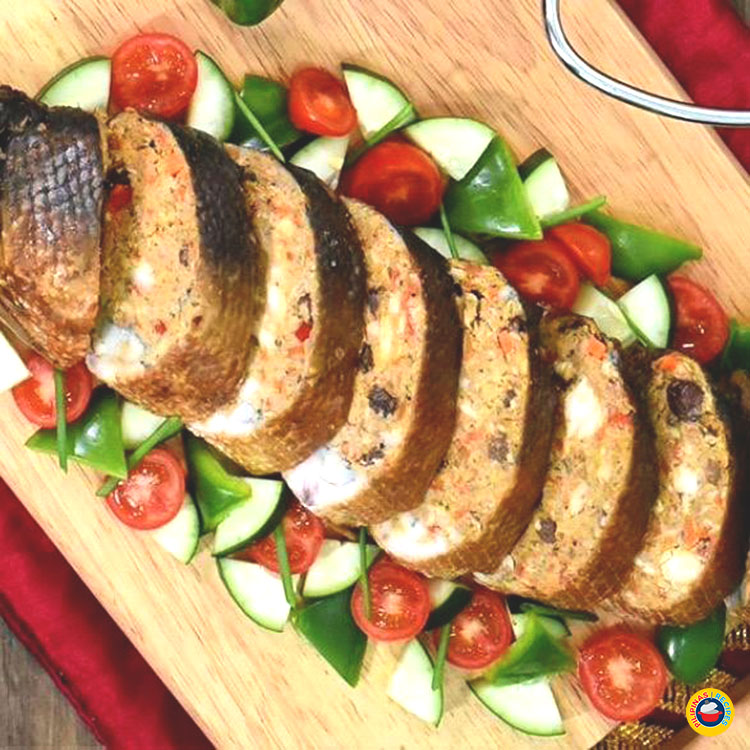 Tips for Serving
If you're only interested in serving this to your hungry guests or family members then you can make do with the paid service you can avail from the market stalls. You can even make this Relyenong Bangus Recipe in advance and just freeze it for later use. Just don't defrost your ref because you don't want bacteria contaminating your food. You only fry it when you're about to eat it and the most common dipping sauces are vinegar and soy sauce dip, Philippine Lime and soy sauce dip and sweet red sauce made of tomato sauce, soy sauce or sweet soy sauce and pepper. Happy Cooking!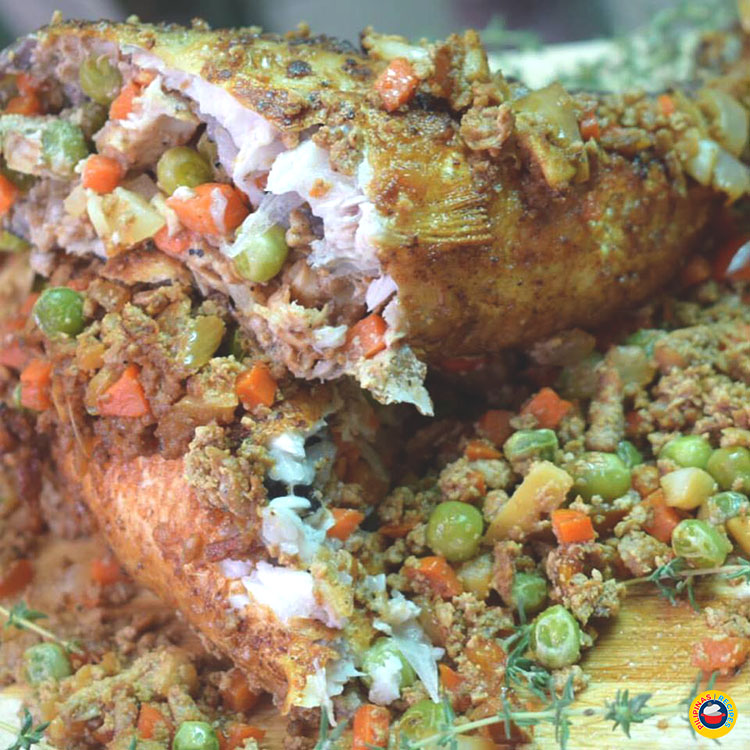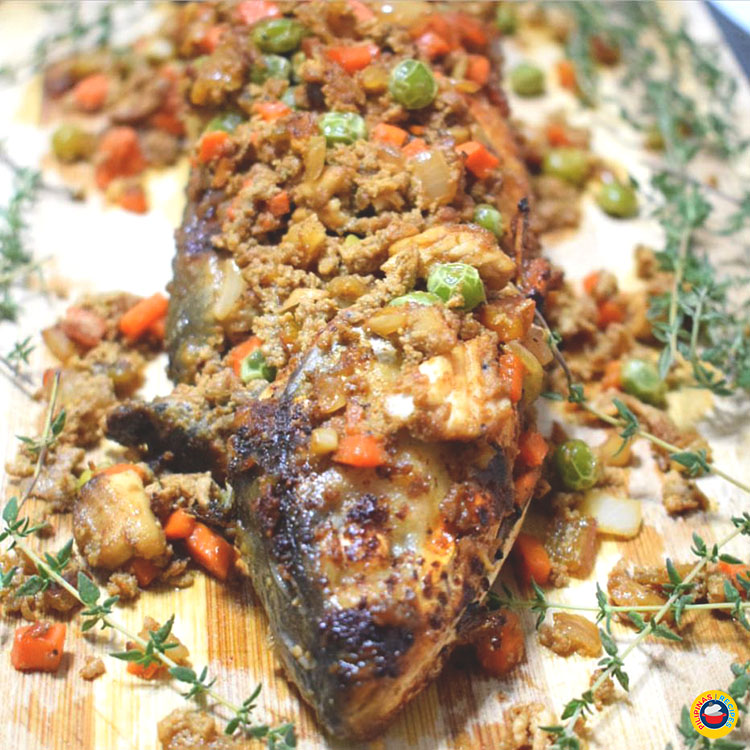 ---
Ideas and Suggestions to improve this recipe are much appreciated. Just comment below. Also, don't forget to like our Facebook Page for more Free Filipino Recipes. Search "Pilipinas Recipes" on Facebook or simply click this LINK. Thank You!