Steaming is one of the simplest and most natural ways to cook food. A food steamer is of course needed to steam your food but you may improvise like putting a stainless drainer above a casserole full of water to steam foods. Steaming is very healthy because there are no added oil and no preservatives or artificial flavorings used. You can Steam almost any raw vegetables and seafood. This Steamed Fish Recipe is guaranteed to help you maintain a healthy lifestyle while letting you enjoy the food you are eating.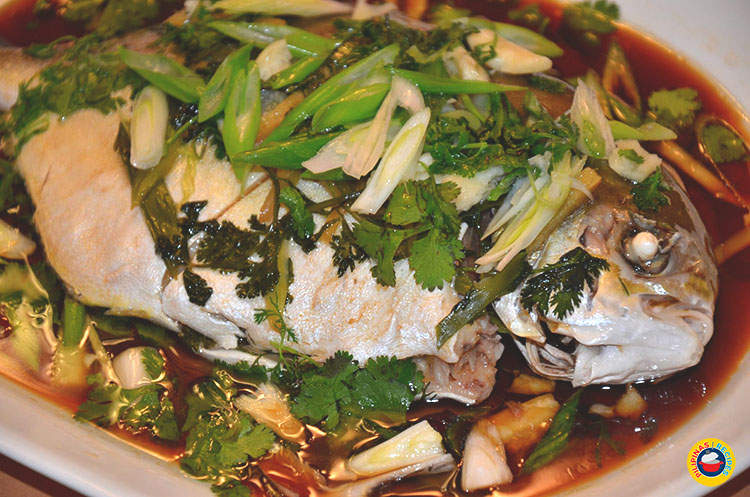 Because the food being cooked is not directly placed in the pot, you need to boil your water hot enough to cook your steamed food, in this case, your Steamed Fish Recipe. Steamed foods are actually common in many Asian Cuisines particularly Chinese food and even Pinoy food because we are heavily influenced by our Chinese friends. A good Steamed Fish starts with a high-quality fish and only the freshest ingredients to bring out the flavor of the fish. You need to look for a big fish that only has bones in the middle so you won't get distracted trying to pick them apart.

Steamed Fish Recipe
Author:
Pilipinas Recipes
Ingredients
1 Whole Pompano
Pinch of salt
Green onions, julienned
Crushed garlic
Ginger, sliced into strips
Roughly chopped cilantro
SAUCE
Soy sauce – 3 to 4 T
Sesame Oil
2 Tbsp. Sweet Cooking wine or sherry Wine
Water
Vegetable oil
Instructions
Cut 2 or 3 slits on each side of the fish. Sprinkle very slight salt on fish, then on a skillet, with very little oil, sear each side for approx. 1 to ½ minutes each. (Don't add more salt. The sauce will complement the taste.) Remove the fish from skillet.
Insert green onions, garlic and ginger, and cilantro inside fish cavity.
Place some on top of fish also but save some for later use.
Steam fish in a steamer until skin flakes. Approx. 16 minutes for a Pompano
While fish is steaming, mix and heat up the sauce.
Also, heat up the vegetable oil until very hot.
When the fish is cooked, remove and place on a platter.
Pour the sauce over the fish.
Place the rest of the green onions garlic, ginger, and cilantro on and around the fish.
Pour the very hot vegetable oil on the fish and hear the sizzling sound.
Serve with Rice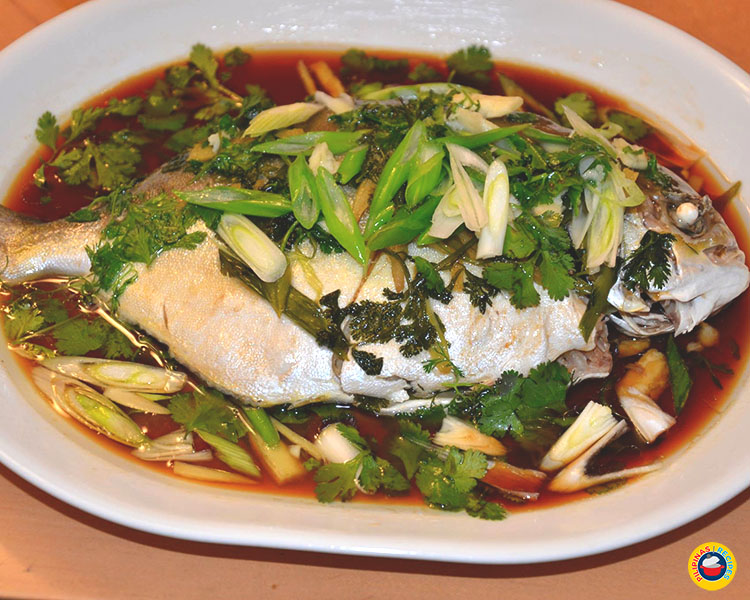 Every time you make this Steamed Fish Recipe, you are on your way to a healthier lifestyle and it can even help you lose weight in the long run. You can still partner this dish with hot rice and add some chili garlic dip since chili is also known for its wonderful health benefits as well as garlic. You can also add some green vegetables to brighten the color and soy sauce to make the broth nice to look at. It is also helpful to know that steaming is more nutritious than boiling your veggies or seafood since boiling causes the nutrients to evaporate and while steaming can also lose some vitamins and minerals it is of fewer amount than boiling.
---
Ideas and Suggestions to improve this recipe are much appreciated. Just comment below. Also, don't forget to like our Facebook Page for more Free Filipino Recipes. Search "Pilipinas Recipes" on Facebook or simply click this LINK. Thank You!