Pancit may be handed down to us by our Chinese friends but it is undeniably one of the most loved dishes here in the Philippines. And second to rice, Filipinos eat pancit on a regular basis. There are many variations of pancit; the most common is Pancit Bihon while the more special pancit is Pancit Malabon but let us not forget that Pancit Canton is also a star in itself. Often times, this Pancit Canton Recipe is oily and cooked with pork or beef liver, pork or chicken meat, cabbage and carrots that are half-cooked, Kinchay (parsley) which is optional and seasoned with soy sauce and pepper. Calamansi juice is also added to give it a sour twist. You can also add some boiled eggs on top of the dish before serving if you wish.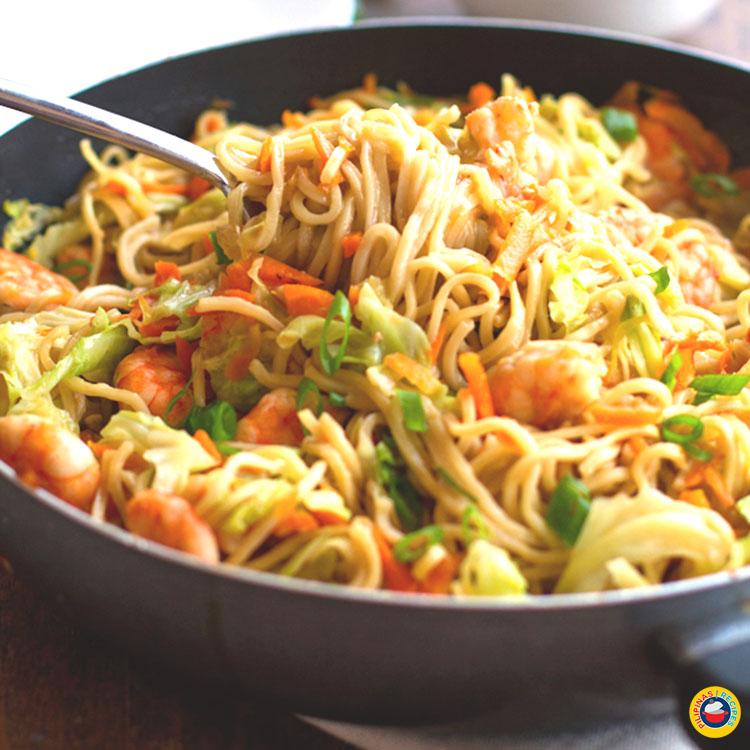 Pancit Canton for Special Occasions
Like other variation of Pancit, the Pancit Canton Recipe is also birthday celebrations' staple because it signifies a long life and many people do this to ensure they live their life to the fullest. When there is a celebration people put out their big cauldrons to make this dish and visitors are excited to sample the feast. Pancit Canton can easily make your stomach full because the noodles we use to make it is heavier than the normal kind of noodles but never the less it is enjoyable to eat it and will really satisfy your cravings. It is an all-in-one-meal because there are meat, vegetables, garlic and onions in it.
If you are having friends over especially friends from other countries, you can try making this Pancit Canton Recipe along with other delicacies such as Buko Pie, Palitaw, Maja Blanca, Biko and other Filipino Delicacies. you are expert at and marvel at how easily they will devour your Pancit because foreigners love new dishes from the places they visit and they will thank you repeatedly for preparing them this special dish. And you can expect upcoming request from them for another get-together.

Filipino Pancit Canton Recipe
Author:
Pilipinas Recipes
Ingredients
1 Kilo Canton noodles
½ lb pork belly, cut into strips
1 pc chicken breast, cut into strips
Raw shrimps, deveined
2 medium carrots, julienned
8 pcs green beans, cut into diagonal strips
½ medium cabbage, cut into strips
1 small onion, sliced
3 cloves garlic, minced
¼ cup soy sauce (adjust according to taste)
4 cups chicken broth
Salt and Pepper to Taste
Instructions
Heat a Large Pan.
Salt pork belly with ⅛ tsp salt and let it brown. Let fat dissolve and come out.
This step takes about 8-10 minutes. Discard oil leaving only 2 tbsp for sauteing.
Saute Chicken breast until brown (max. 4 minutes)
Add Shrimps and cook for 3 minutes.
Saute Garlic and Onions for 3 Minutes.
Add Carrots and Green beans.
Sauté for 3-5 minutes then add the soy sauce and ground black pepper.
Cook for 2 minutes till halfway done but please do not overcook.
Put Pancit into a container and set aside.
Pour 4 Cups of Chicken broth in a Pan where you saute the meat and the vegetables and let boil.
Add Pancit Canton and Cabbage.
Lower heat to medium-low and mix.
Cook for 2-5 Minutes.
Add the sauteed meat and veggies to the Skillet and mix until cooked and dried up.
Serve hot. Best served with Kalamansi
Notes
You can adjust the recipe itself by adding or removing some ingredients like the Green beans or the Carrots. Can be cooked with Pork if no Shrimp and Chicken available.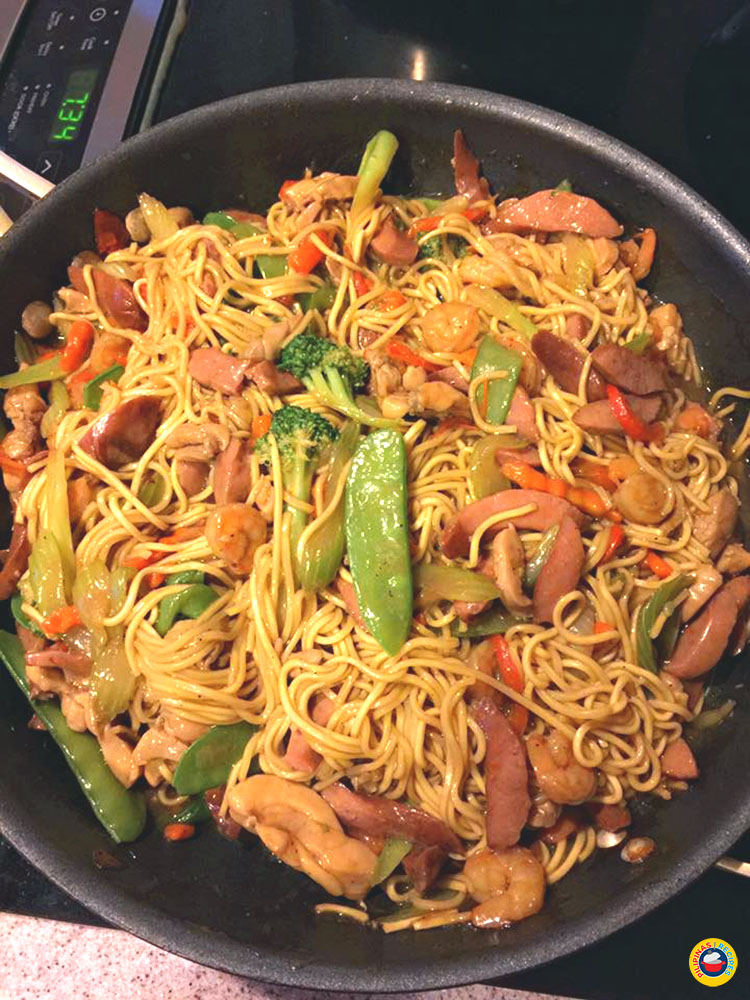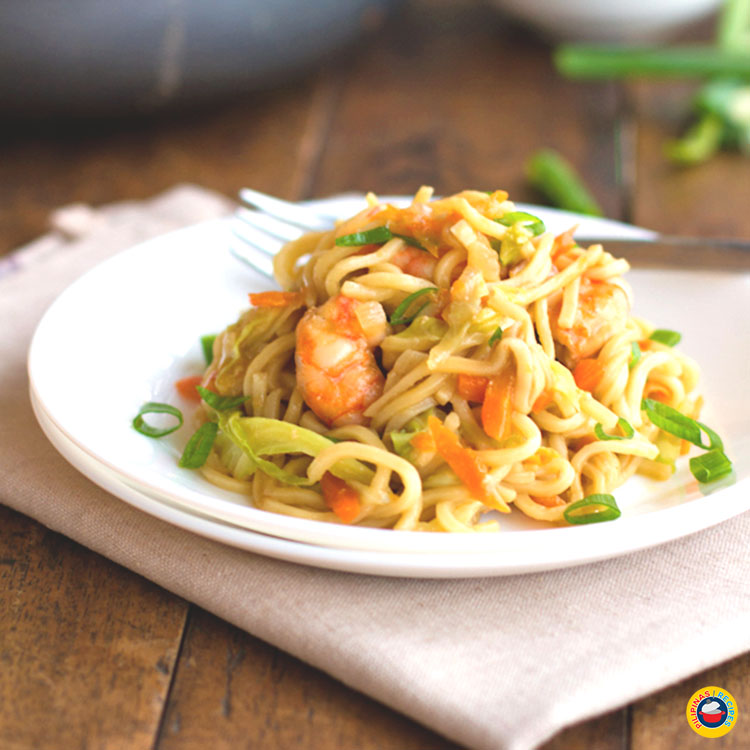 PS: Ideas and Suggestions to improve this recipe are much appreciated. Just comment below. Also, don't forget to like our Facebook Page for more Free Filipino Recipes. Search "Pilipinas Recipes" on Facebook or simply click this LINK. Thank You! Please Rate our Recipe below.