The Filipino Pork Barbecue is everyone's favorite where the skewers are grilled on fire right in front of you.  It is a marinated slice of pork thread in a skewer and grilled to perfection. During summer vacation, it is the time for me and my family to relax, sit back, and get a sunburn, play and having fun.  It is the only thing that as a family really look forward every year.  A relaxing picnic with my family and friend is the perfect way to enjoy a beautiful summer's day.  This Pork Barbecue Recipe is one of my favorites aside from the Filipino Chicken Barbecue and my family always request every time we have a swimming.  This Pork Barbecue tastes great and I was able to cook them for a family picnic.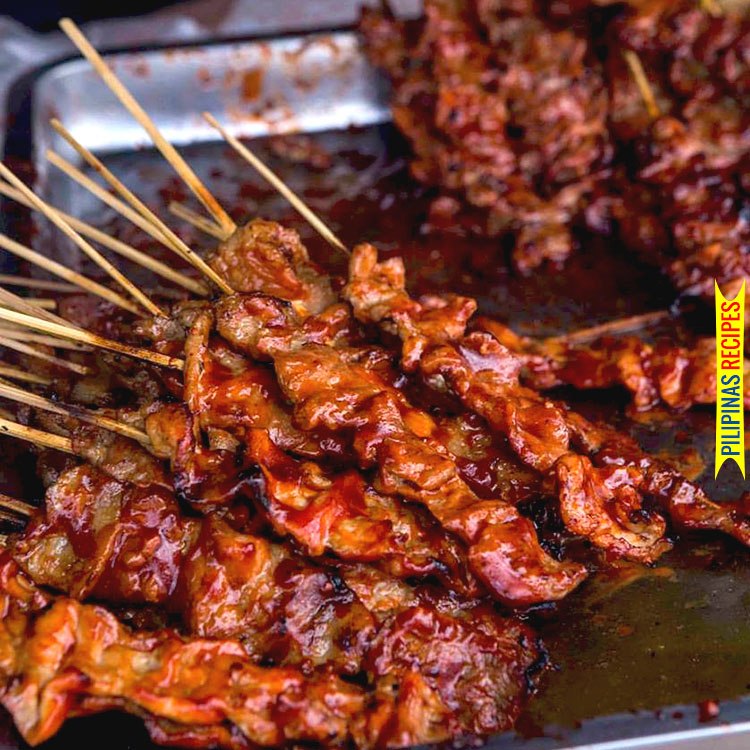 Filipino Pork Barbecue Recipe
Author:
Pilipinas Recipes
Ingredients
Pork Shoulder or Belly - 1½ Kilo, slice in 1-inch cuts, ready to skewer
1 Tsp. Garlic, finely minced
½ cup - Soy Sauce
¼ cup - Calamansi Juice
½ cup - Banana or Tomato Catsup
1 Can Sprite or 7-Up
½ cup - Brown Sugar
1 Tsp. Salt
1 Tsp. freshly ground black pepper powder
Bamboo skewers - pre-soak for 20 minutes before placing skewered meat
Instructions
Mix the marinated ingredients together in a bowl
Minced garlic, soy sauce, calamansi juice (or use lemon), banana catsup (or use tomato catsup), half of the ginger ale, salt, black pepper.
Leave the ½ cup of the marinade plus the sugar, aside for the grilling glaze. Pour the rest of the marinade over the pork.
Keep in a non-reactive container.
Cover with plastic wrap and refrigerate the pork overnight.
The next day, pre-soak the bamboo skewers in water for about 20 minutes.
Then skewer the pork pieces into each bamboo stick, allowing approximately 6 to 7 pieces on each one.
Preheat the outdoor barbecue grill to a medium high heat.
Get ready with the grilling glaze set aside from the day before, add the sugar and remaining ginger ale.
Grill the barbecued pork, about 12 minutes on each side while rotating the skewers.
Total grilling time should take about 30 minutes.
Baste the pork barbecue every few minutes so that it gets moist and shiny.
When cooked, serve hot with "Atsara" or Hot Rice.
Choosing the Best Barbecue
Pork is a delicate meat and it needs a gentle heat for barbecuing.  Food cooked over coals or glowing embers has an exciting flavor.  When I choose cuts of meat to barbecue, I look for flesh that is light pink with creamy white fat, this indicates a tender cut.  Meat to be barbecued generally need little preparation.
Marinating Filipino Barbecue Recipe
This is simple to make but it does take a little bit of time to Marinate. Marinating the pork longer the better the taste.  For making this Pork Barbecue Recipe, pork should be marinated with soy sauce, crushed garlic, calamansi juice, black pepper, brown sugar, banana ketchup, and a can of Sprite or 7-Up.  Refrigerate for at least one hour or up to overnight.  After I marinate and refrigerate the pork, I allow the meat to come back to room temperature before barbecuing.  This is to ensure even cooking of meat. String the marinated pork on skewers.  Grill on medium heat until cooked with continuous turning and basting.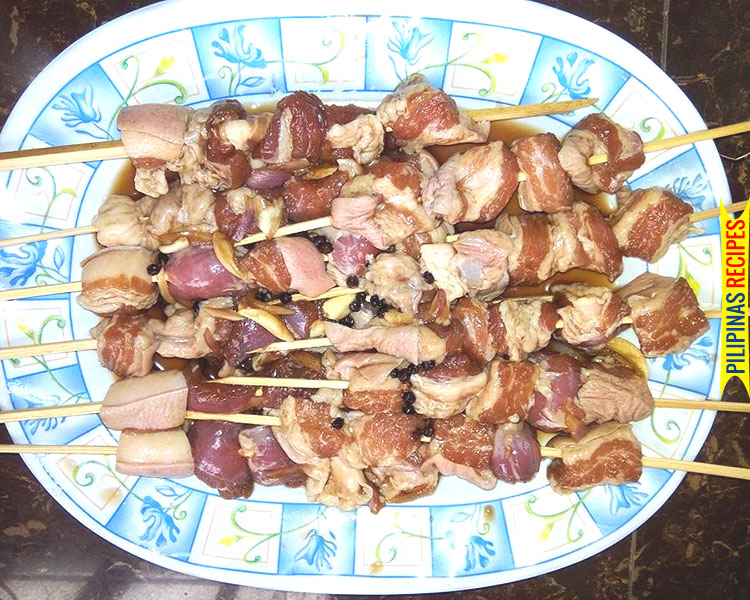 Remember to soak bamboo skewers in cold water before use to prevent them burning while barbecuing.Pork Barbecue would be perfect dipped in vinegar, chopped onions, and chilis.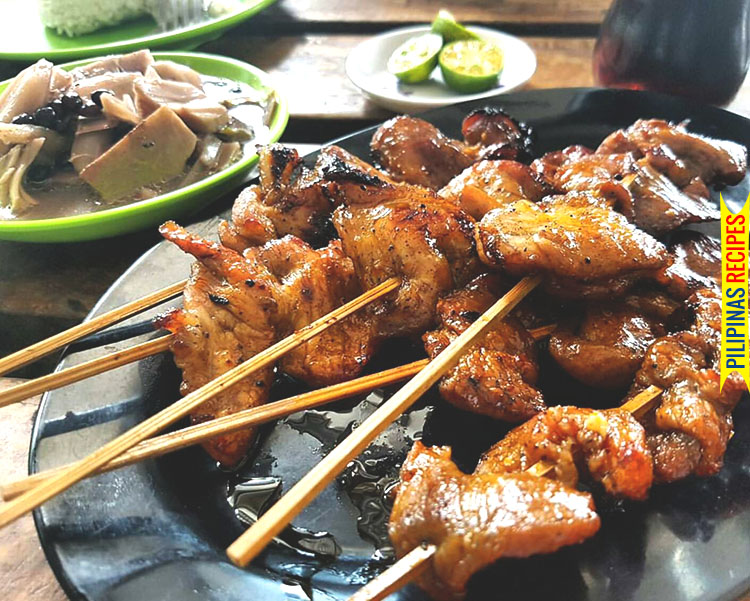 —-
PS: Ideas and Suggestions to improve this recipe are much appreciated. Just comment below. Also, don't forget to like our Facebook Page for more Free Filipino Recipes. Search "Pilipinas Recipes" on Facebook or simply click this LINK. Thank You!