Crema de Fruta is one of the favorite desserts in the Philippines; it is also a traditional dessert that is sure to please people all over the world, whatever their ethnic background is. It usually consists of Sponge Cake topped in succeeding layers of Custard Cream, Gelatin and Fruits. This recipe is enriched by an amazingly easy to make Cream Sauce, and this sweet dish is served during holidays like Noche Buena and Christmas Eve and big festive occasions. However, you don't really need to wait for Christmas just to have this treat. It can be eaten of course as a dessert, as comfort food or even an afternoon snack, whenever you feel the urge you can get yourself a Crema de Fruta.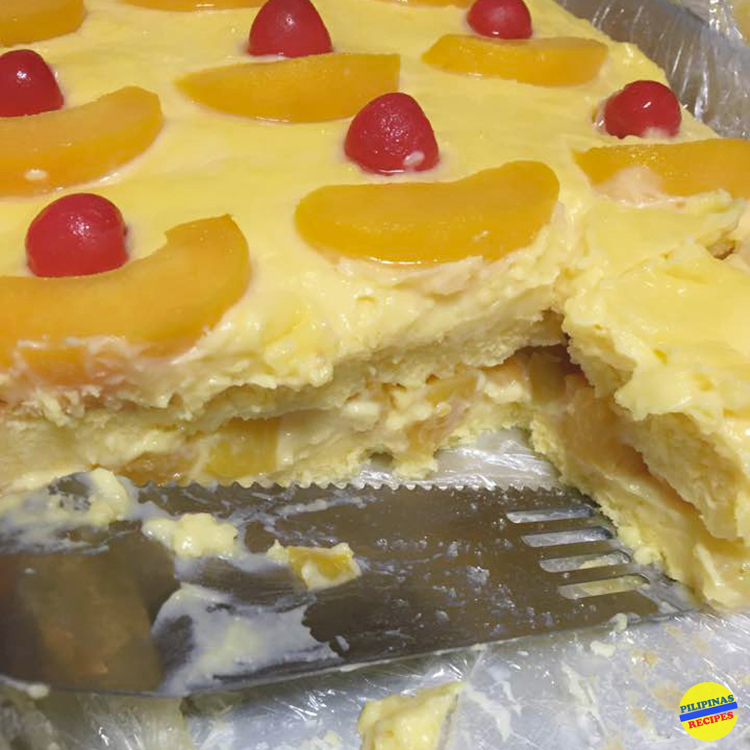 Crema de Fruta Recipe
Author:
Pilipinas Recipes
Ingredients
½ cup all purpose flour
¾ cup sugar
1 can evaporated milk
1 cup water
6 egg yolks, beaten
2 tbsp melted butter
graham crackers
unflavored gelatin
fruitcocktail and/or peaches, pineapples, etc.
Instructions
Put in the flour, sugar, water, evaporated milk, egg yolks and butter in a saucepan until well mixed.
Simmer in low heat while stirring constantly until the mixture thickens. Remove from heat.
Arrange the first layer of graham crackers in a square pan or tray.
Spread the prepared mixture over the graham crackers.
Top the mixture with another layer of graham crackers. Repeat until 3 to 4 layers depending on your size preference.
Top with fruit cocktail and/or peaches.
Cook the gelatin as instructed in the label and pour it over the graham and fruit layer.
Let it cool for a while and put in the fridge. Best served when chilled.
Crema de Fruta Preparation Tips
They say that Crema de Fruta is complicated to make and time-consuming process, but once it's done it's all worth the hard work.  Because of the cleverness of many Filipinos, making Crema de Fruta has gotten easy. This is now a No-Bake recipe. You can use Graham Crackers as substitute for Sponge Cake, also you can use different types of fruits depending on your taste, as for this dessert fresh fruits will be a success to an excellent outcome and tastier dish.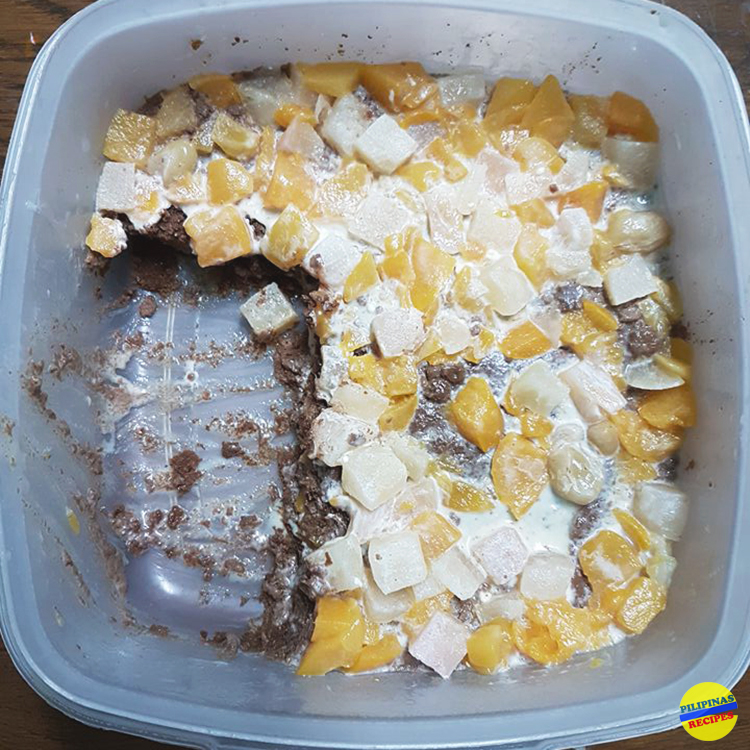 Ideas and Suggestions to improve this recipe are much appreciated. Just comment below. Also, don't forget to like our Facebook Page for more Free Filipino Recipes. Search "Pilipinas Recipes" on Facebook or simply click this LINK. Thank You!