This sweet Bun originally made from "Saim" or good quality "Lard" is called Ensaymada. It's said that its origins come from the Moors during their conquest of Hispania and that the coiled shape of the Bun depicts a Moorish Turban.  In the Philippines, different renditions of Ensaymada Recipe can be found in many bakeries, both big and small throughout the Philippines. The most common versions of it are Macapuno, Ham-filled and Ube flavored Ensaymada. Some bakeries slather lots of Margarine and sprinkle a good amount of sugar while some offer Ensaymadas that have a lot of grated cheese as toppings.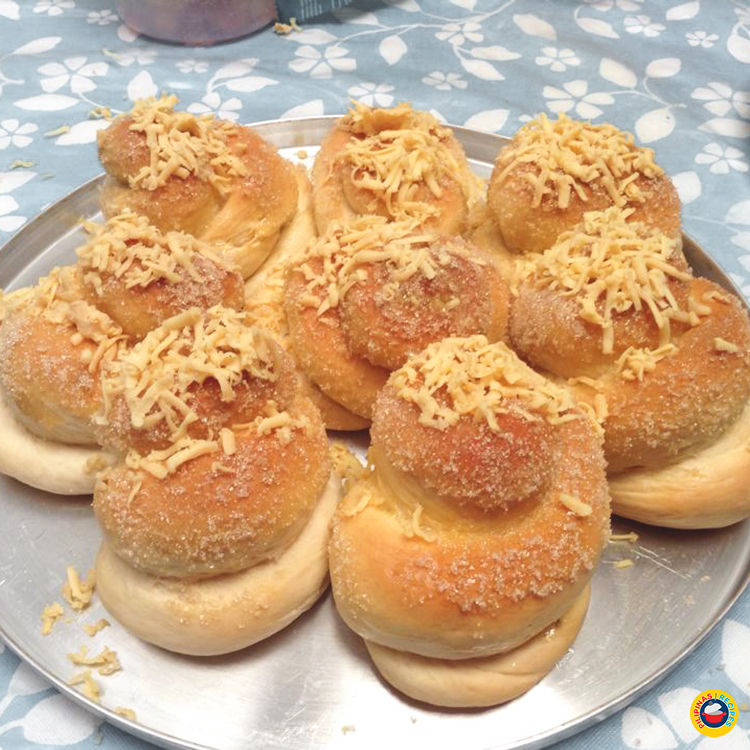 The Pinoy Version of Ensaymada Recipe
The Philippines version of Ensaymada Recipe is different from the original. One of the most common differences is that instead of using lard, there are many pastry Chefs who make use of Butter. Topping also varies from bakery to bakery. Some boast of Queso de Bola as their special topping while some use Cheddar. There are also versions which make use of Salted eggs as toppings but still, the most common type of Ensaymada in the Philippines is the slathered Margarine and sprinkled Sugar because almost all the bakeries in every Barangay (Barrio) sell this version and Pinoys just love it.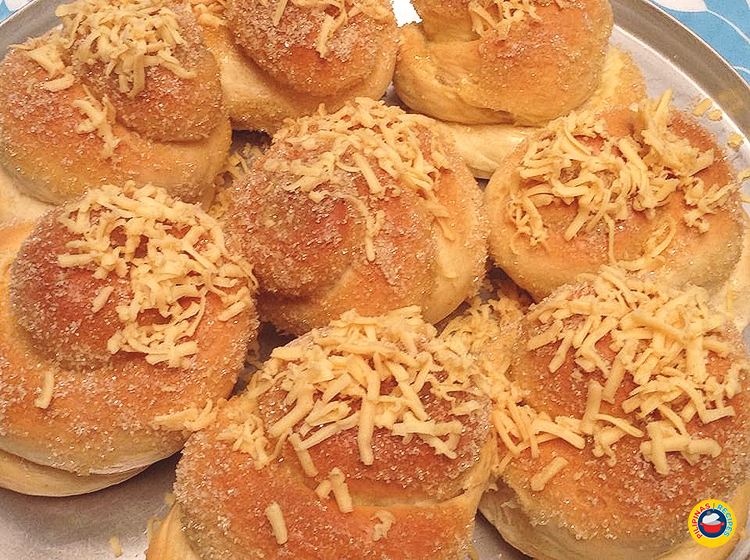 Ensaymada Recipe
Author:
Pilipinas Recipes
Ingredients
2 Tsp Instant Yeast
⅔ cup Water
3¾ All Purpose Flour
⅓ cup Sugar
3 Large Eggs
¼ cup Evaporated milk
⅓ cup Butter, unsalted
Topping:
Butter, Unsalted creamed
Cheddar Cheese
Sugar
Instructions
Preheat the oven to 325 F
Dissolve yeast in ⅓ part of water. Set aside.
In a mixing bowl with a dough hook or flat beater attachment, place the sifted all-purpose flour, sugar and salt. Mix at low speed until incorporated.
Add the dissolved yeast, remaining water, eggs and evaporated milk. Mix 2 minutes at low sat low speed then mix at medium speed for approximately4 minutes.
Add unsalted butter and continue mixing until gluten is slightly developed.
Transfer the dough to a greased bowl cover with plastic.
Let the dough rest for about 15 mins at room temperature.
Punch down the dough and divide it into pieces weighing 60 grams each
Let the dough for 15 minutes then cover with PLASTIC SHEET to prevent from drying.
Roll out the piece thinly into 8″x5″ rectangles. Brush with butter.
Roll into a long rod and twirl into shape, locking ends to seal.
Place each piece in a greased ensaymada molder.
Let the dough rise until it doubles in size(approximately 1 hour 30 mins at room temperature)
Bake for 17 minutes or until golden brown
Let the bread cool and remove from the molder
Brush the top of each ensaymada with creamed butted and sprinkle with grated cheese and sugar.
You can also try doing this Ensaymada Recipe in your own household and the best part is you can modify it however you want to. You'll find this recipe easy to do as long as you have basic Baking skills. It's also easy to serve this during afternoon Merienda when you're just lounging with your family or you're entertaining unexpected visitors. While coffee is the common partner for Ensaymada, you will find that drinking it with hot choco can really be delicious especially if you've put some
Cinnamon
on top of your drink. It's also easy to pack it so you can have your friends take home some. You just need a clear cellophane and scotch tape and you're all set to put in in a paper bag.
Questions Regarding the Recipe? Comment Below or visit our Facebook Page for more Free Filipino Recipes.